While the world has been slow to adopt to the art of social distancing throughout the coronavirus pandemic, the typical ways people exercise have been wiped out. Classes are cancelled for the foreseeable future and many gyms have been forced to close—so how do those who rely on their daily workouts continue with their routines from the safety of their own homes?
Thankfully, we have plenty of options for you, whether you want to follow our programs or use workout apps and streaming YouTube videos. You can stay active without a whole gym full of equipment easily, just as long as you focus on your effort and form above everything else.
But not everyone has their act together. As always, social media can also a great place for you to see what your online friends are trying to accomplish—and there's a good chance that however you feel about home workouts, you're most definitely not alone.
When the pets interfere during the most important things:
Progress report of day 1 working out at home in qurantine: cookie didnt let me pic.twitter.com/oNdoXLzEfm
Kyra is very confused with me working out at home. pic.twitter.com/QqTwaaYFqv
Time to throw an 80's spin to #WFH!
work from home? more like working out at home, amirightladies pic.twitter.com/mZbDYucPrK
Looking for new ways to change my routine:
Time to start working out at home pic.twitter.com/KDJPCBm0WL
This pet is looking to get in a workout too:
For everyone working out at home during this time – here's Timmy giving you a high five! 🐶🤚🐾 pic.twitter.com/GWl9yz0Yo6
When in doubt, dance it out!
Me without the gym working out at home pic.twitter.com/gxcchmqXP1
This whole workout from home thing is just… confused:
Me now that the gym is closed and I'll be working out at home
pic.twitter.com/zX0DsibOaX
When you're hoping for a minimal run on the treadmill:
This is exactly the amount of effort I've put into working out at home so far pic.twitter.com/JnH2tyzqo5
When you don't know how to dress for a home workout:
me working out at home for 5 minutes before heading back to the couch for another 10 hours pic.twitter.com/MV5w8SZzIb
Time to bring the dog to the party!
Working out at home with Rossby since the gym is closed pic.twitter.com/rpw3IkIAcl
There ain't nothin' bout to stop my flow:
Working out at home gym with dumbbells & running outside since they ordered the gym closed pic.twitter.com/D4gPuRCuxY
Me at home working out with my furniture since the gyms are closed. pic.twitter.com/eVkr7uz1TP
Trying to get creative:

Everyone working out at home: pic.twitter.com/PrITjxdn9D
How is that home workout going for you?

Working out at home is going swimmingly. pic.twitter.com/M1F8WWRIKo
I just can't catch a break!
Soon as I start going to the gym, corona happens, and now I'm still fat. Can't catch a frEAKINg break.
And for those of you who are still working out at home, pic.twitter.com/I2HyFaN95T
Exactly how much can I lift?
Me working out at home during quarantine pic.twitter.com/2fNv3nDYRK
What working out at home feels like:
What it feels like working out at home amidst the coronavirus pic.twitter.com/eyB4YljeQx
Look at that cat doing a pull-up!

#QuarantineLife
even if you are stuck at home there are ways to exercise and have fun! 😹😸😽
💕 pic.twitter.com/KwoYiNga4O
How do I protect myself if I go for a run?
me walking around my neighborhood to make up for the exercise that I'm not getting by being at home all day pic.twitter.com/srCyZIMvyN
Must. Not. Break. Routine!
Day three of working from home and I've already made two cakes👩🏻‍🍳Think I'm going to need to up my exercise over the next few weeks #AcademicChatter #baking pic.twitter.com/MR9sJhXIgk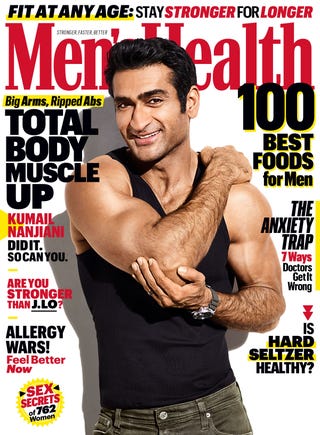 Men's Health
Men's Health Subscription
SHOP NOW
Source: Read Full Article