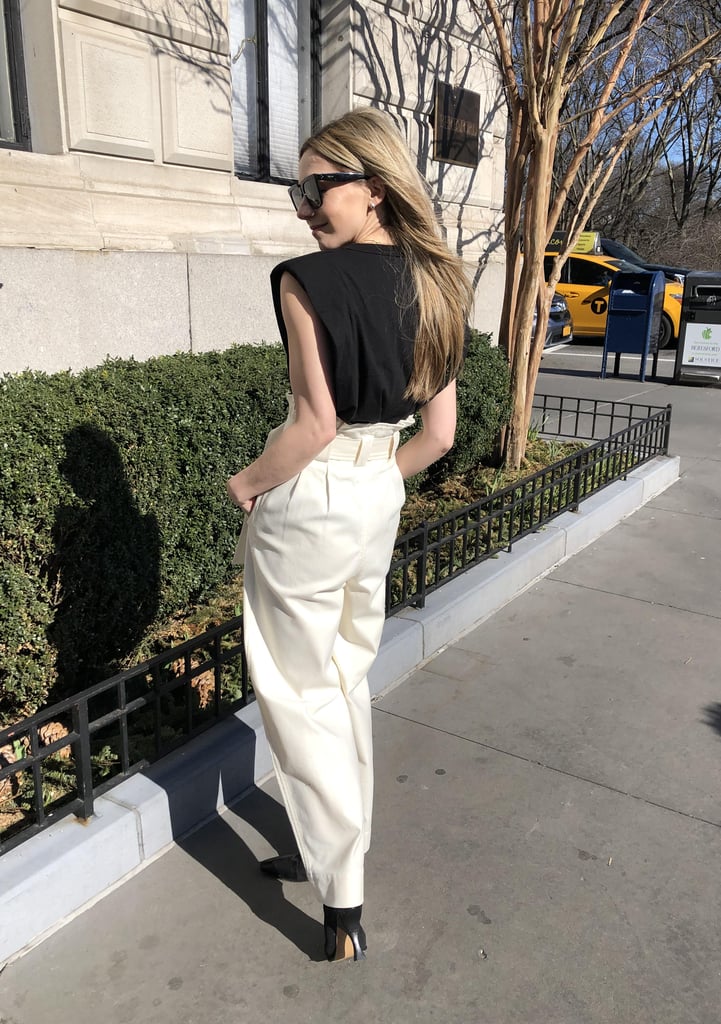 Influenced: I Bought the Fashion-Forward T-Shirt That's All Over Instagram

There are certain images on Instagram like swirly lattes, #aboutlastnight snaps, and trendy disposable camera uploads that we can double tap, possibly comment on, and move on. Then, there are those lusty little posts like an #OOTD shot or accessory detail that hook us. Not only do we see an item or outfit and swiftly like it, but we're influenced to the point of wanting to shop, hence our new series. Recently for me, one of those got-to-have-it items has been a padded-shoulder muscle t-shirt from the It brand and retailer Frankie Shop. If you follow your fair share of fashion influencers, you have undoubtedly seen it and already understand my fixation. If you haven't, allow me to continue.
First appearing on my feed in a crisp white shade, Frankie Shop's Eva t-shirt quickly became a cult item among bloggers and fashion editors I routinely keep up with. I saw it tucked into leather pants. Then jeans. Utilitarian trousers and skirts soon followed. Before I knew it, a black version debuted, and I was desperate to get my hands on it. Unsurprisingly, it was sold out. But I wasn't discouraged. I put my name on the wait list, and not too long after, I received an update that it had been restocked in black. You better believe I clicked through that email, added it to cart, and had a purchase confirmation in my email minutes later. As for the white version, I found a similar style from another site I love, Pixie Market. I was set! Although I've now discovered the olive and mocha colorways and might just have to scoop up those, too.
As is the case with many a cult item, fast-fashion brands from Zara to Mango have created their own versions. So, while certain Frankie Shop styles are periodically sold out, you can shop affordable alternatives and live your best padded muscle tee life like me. I do, however, suggest adding yourself to the Frankie Shop wait list if you're dead set on that specific style — with the continued success of the tee, a restock is definitely imminent.
After owning both the black and white versions of this padded tee for a few weeks now, I can attest to the fact that it's a real game changer. Especially if you live in wardrobe basics, subscribe to a minimalist aesthetic, love neutral colors, or all three, like me. So far, I've paired my tees repeatedly with cargo pants, rigid jeans, leather trousers, and structured skirts. When the weather warms up, I'll definitely try them with my new favorite outfit formula of long shorts and tall boots.
To give you a swell visual of my influenced status as it pertains to this padded muscle tee, I snapped a couple of pics in it and included them ahead. Of course, I've also rounded up some of my favorite Instagram posts featuring the tee to give you plenty of outfit ideas (over 20, in fact!). Plus, I'm giving you the ripe opportunity to shop it, and similar versions, before they, too, sell out.
Source: Read Full Article