Finding the right pair of jeans is pretty much impossible.
There's so much to consider: the fit and your build, the level of distress, which pairs can be worn to which occasions, and if they'll need altered. Ugh. It's all enough to give you a headache so severe that you give up shopping entirely. Your heart rate probably just went up reading this, let alone actually doing it.
So, what the hell do you do when you've given up hope?
As is the answer in most cases, leave it to the internet.
In this case, finding jeans doesn't have to be so exhausting when you have someone else doing it for you. These 25 jeans are all very different, but each can be found online through reliable retailers. No matter your taste or budget, there's a pair right for you. Looks like the impossible has become possible after all.
Amazon Essentials Men's Slim-Fit Stretch Jean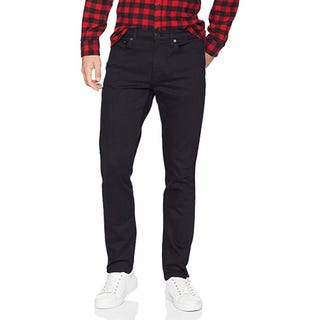 Amazon Essentials
BUY IT HERE
Good jeans don't have to cost an arm or a 32″ leg. These top-rated jeans will be your go-to for all occasions and help you save your hard-earned dollars with an affordable price tag.
Carhartt Rugged Flex Straight Fit Jeans for Men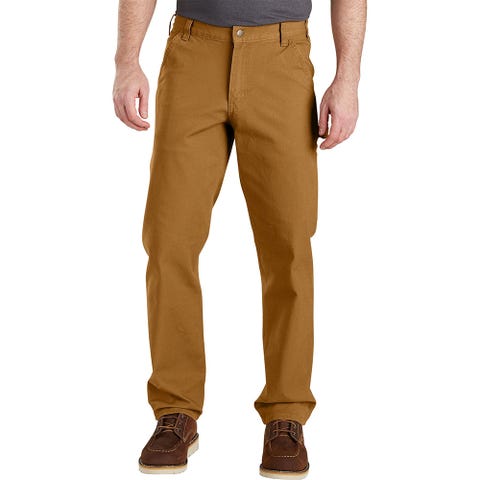 Carhartt
BUY IT HERE
Like all of Carhartt's rugged offerings, these straight-fit jeans have the ultimate durability guys need for their active lifestyles. Not only will these bad boys last wear-after-wear, but you'll move with ease during your busy, thanks to the cotton-spandex fabric blend.
Uniqlo Heattech Slim-Fit Jeans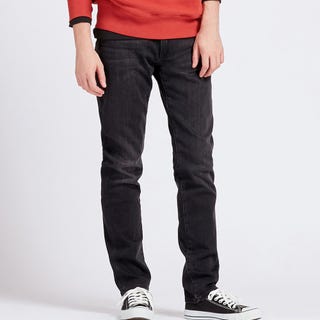 Uniqlo
BUY IT HERE
Yes, Uniqlo really does make some of the best jeans and this winterized style is one of them. With Heattech technology to keep you warm in freezing temperatures, you'll only need your one bottom layer in a flattering slim fit to brave the cold with high style.
AE Ne(X)t Level AirFlex Skinny Jean for Men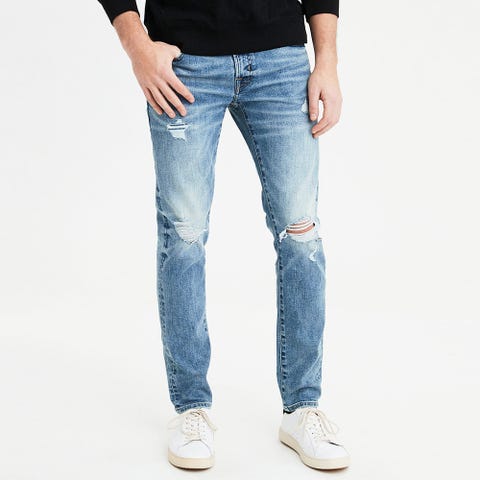 American Eagle
BUY IT HERE
Quite literally, these jeans are next level. They're tapered and tailored but still breathable, nowhere near too-skinny territory. Their "Ne(X)t Level stretch" means they won't end up bunching, puckering, or looking baggy after hours of wear.
Uniqlo Men's Ultra Stretch Skinny Fit Jeans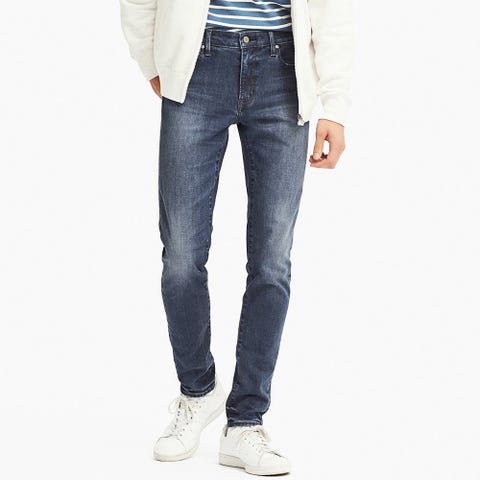 Uniqlo
BUY IT HERE
If you're not scared to enter ultra-skinny territory, Uniqlo has you covered. Known for their high quality and low prices, the retailer's skinny jeans are no exception to the rule.
Wrangler Classic 5 Pocket Jeans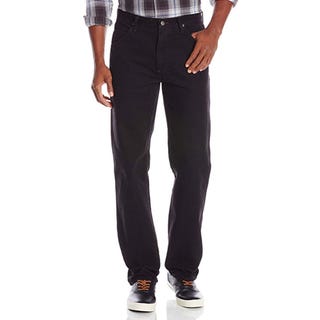 Wrangler
BUY IT HERE
If it's not broke, why fix it? Wrangler's classic 5-pocket style is a top-seller on Amazon for a durable pair of denim jeans with a comfortable fit to move freely throughout your busy day.
Revtown Sharp Denim Jeans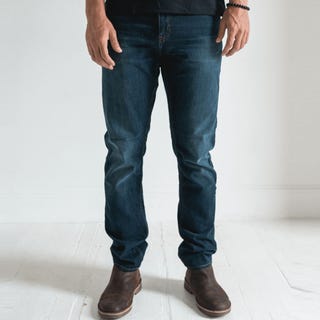 Revtown
BUY IT HERE
Revtown's Sharp style could be considered the Goldilocks of denim jeans with just the right hint of stretch and the perfect slim-not-skinny fit. But what sets this option apart from the endless offerings on the market is its superior durability. Wear them to the office, on the weekend, or even to the gym (when you're on a time crunch) without ever having to worry if your jeans can keep up with your active lifestyle.
Buck Mason Maverick Slim Jeans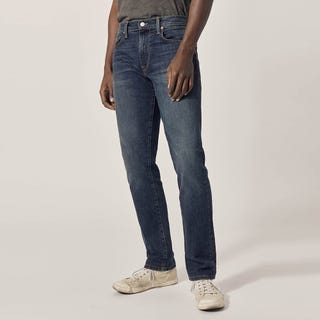 Buck Mason
BUY IT HERE
Raw denim is great for achieving that perfectly worn-in look, but requires more effort than most guys would like. Thankfully, Buck Mason has a solution. Modeled after a pair of raw jeans worn over a 12-month period, the Maverick has the rugged look you've been looking for, but without the tedious break-in period needed to achieve the perfect look.
APC Petit New Standard Skinny Fit Jeans for Men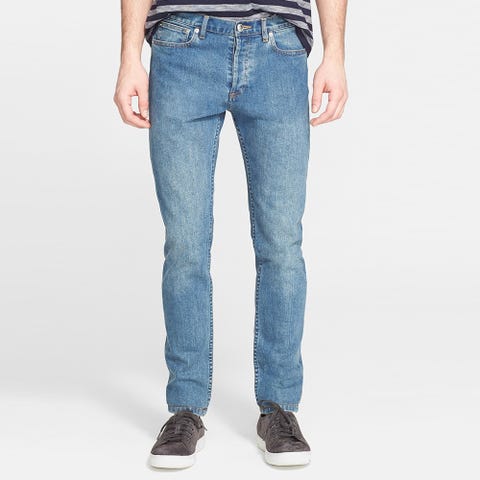 APC
BUY IT HERE
For guys with slim legs, APC's skinny fit jeans have the slender silhouette you want, without completely clinging to your thighs and calves. Plus, the low rise hits at the hips for a rockstar vibe.
DSTLD Men's Skinny Slim Raw Denim Jeans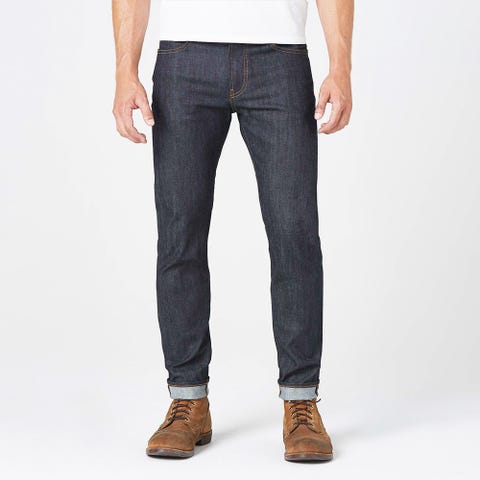 DSTLD
BUY IT HERE
Some denim enthusiasts swear by raw denim, but working the tough, thicker fabric into a shape that forms to your body can be enough work to replace your full-time job. To wear the deep indigo denim with comfort, DSTLD incorporated 2% stretch and sanforized the fabric to minimize shrinkage.
Bonobos Men's Premium Stretch Jeans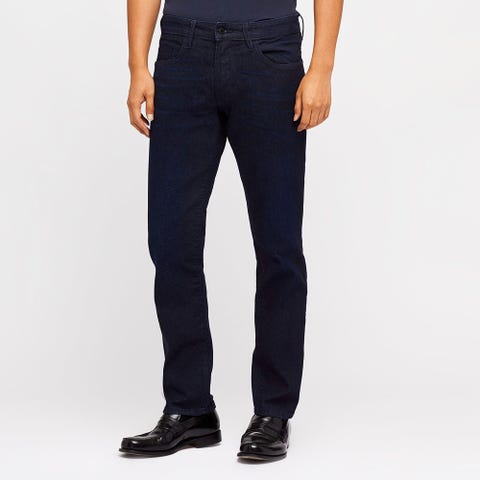 Bonobos
BUY IT HERE
Just as you'd expect from Bonobos, the brand offers one of the most comfortable jeans on the market, available in every wash you could imagine, fits that range from tailored to straight, and they even come in the full range of sizes for every man to find his perfect match.
J.Crew 484 Slim-Fit Stretch Jeans for Men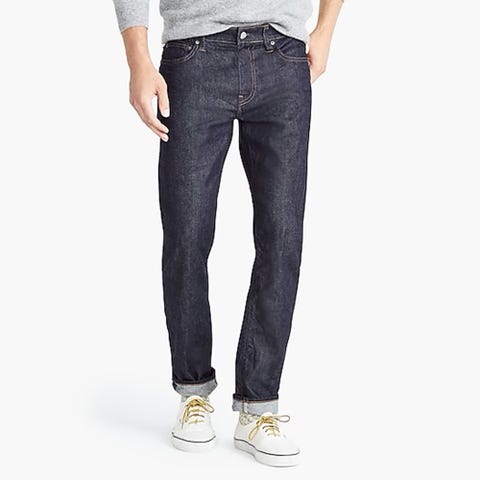 J.Crew
BUY IT HERE
Just in case you were looking for the perfect jeans to wear to work on a casual Friday, J. Crew has you covered. These maintain an air of put-together formality but without looking or feeling at all stuffy.
PAIGE Transcend Lennox Fit Jeans for Men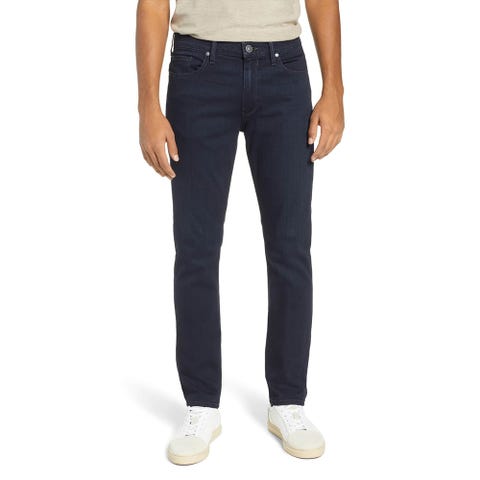 Paige
BUY IT HERE
If you need anything denim or you're willing to go all-out on a Canadian tuxedo, PAIGE is an invaluable source. Their Lennox fit jeans prove exactly that.
Polo Ralph Lauren Men's Hampton Straight-Fit Jeans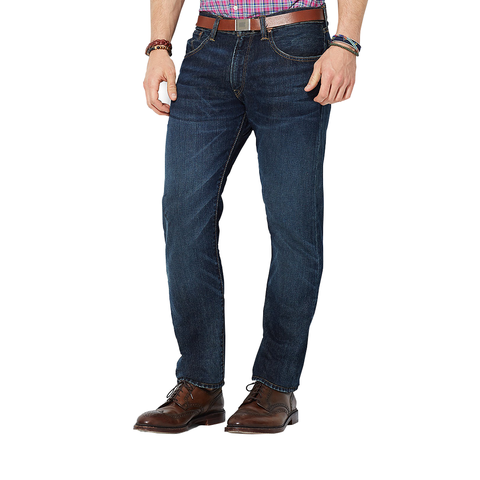 Bloomingdale's
BUY IT HERE
Just like Polo Ralph Lauren as a brand, these jeans combine vintage, old-world charm with modern, cool touches.
Ksubi Chitch Philly Jeans for Men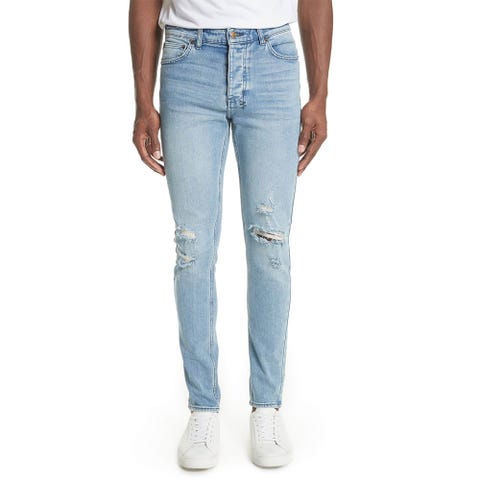 Ksubi
BUY IT HERE
If you're into the distressed denim, consider Ksubi's options with just the right wear-and-tear in spots they would most naturally occur. In light indigo with a white T-shirt and fitted bomber jacket, you can channel the effortless cool vibes of a modern James Dean.
Levi's 512 Slim-Fit Tapered Jeans for Men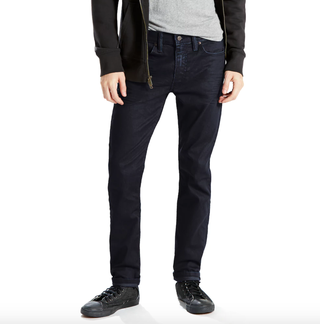 Kohl's
BUY IT HERE
Levi's has never been one for outlandish designs or otherworldly colors, but when they do innovative, it comes in the form of soft fabrics, cozy textures, and flattering silhouettes.
Rag & Bone Fit 1 Jeans for Men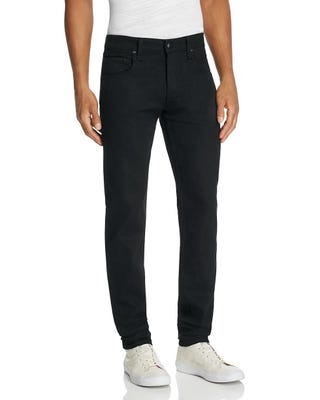 Bloomingdale's
BUY IT HERE
Rag & Bone's black jeans help you achieve two things: looking long and looking lean. They trick the eye into thinking the legs are longer and thinner, so get ready for more than a few compliments.
Frame Jagger True Skinny Jeans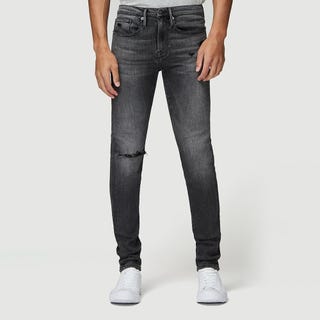 Frame
BUY IT HERE
Distressed jeans make every guy look infinitely cooler, but not every man is down to sport a completely tattered style. These Frame stunners have just the right amount of distressing for cool factor, but without that stuck-in-the-shredder look.
American Eagle Ne(X)t Level Skinny Jeans for Men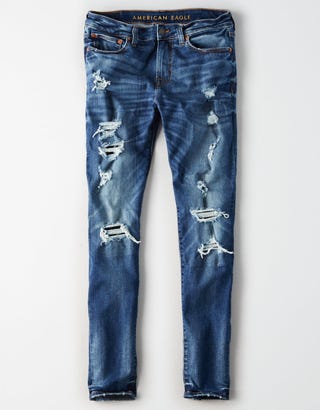 American Eagle
BUY IT HERE
As mentioned, American Eagle has kind of perfected its jeans, and not just in a slim fit. If you don't mind tight jeans, you're going to be obsessed with their Ne(X)t Level skinny jeans, which never lose their fit and form.
Mavi Zach Brushed Cashmere Straight Leg Jeans for Men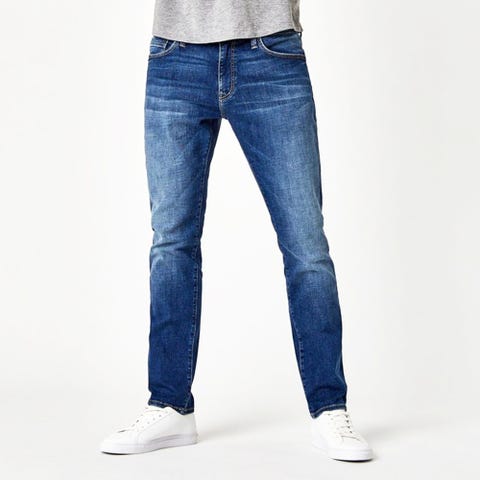 Mavi
BUY IT HERE
If you've ever had the privilege of cozying up in cashmere, you'll know the crazy soft fabric comes for a sky-high price. Mavi's reasonably-price Zach jean has that same soft, comfortable cashmere feel, but in the form of denim jeans you can and should wear anywhere—you're welcome.
Abercrombie Men's Athletic Slim Jeans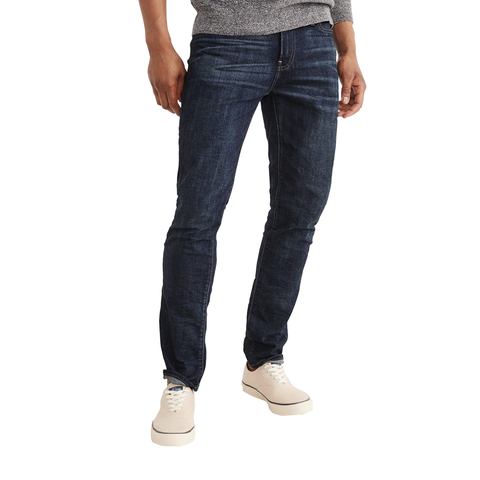 Abercrombie
BUY IT HERE
And you thought you'd left Abercrombie behind in high school? Their jeans defy the confines of age, particularly because of their diverse amount of different fits, colors, and styles.
J Brand Men's Tyler Slim-Fit Jeans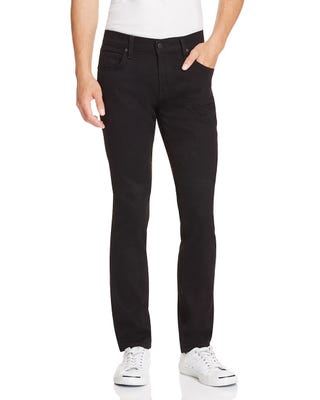 Bloomingdale's
BUY IT HERE
Black jeans (without the rips) instantly make you look slimmer and slightly more dressed up. They can be paired with a t-shirt to be more casual or with a button-up to work for a special occasion. Consider these an investment.
Levi's 511 Slim Fit Jeans for Men
Levi's
BUY IT HERE
And of course, there will always be the classic 511s from Levi's. They've withstood the test of time and have remained just plain cool for generations. That's pretty impressive for a pair of jeans.
3×1 M5 Low Rise Slim Jean Parc xx5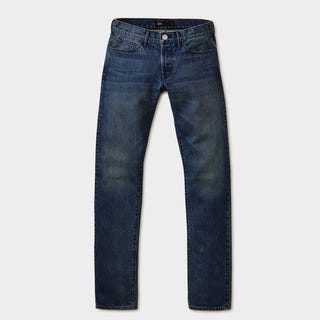 3×1
BUY IT HERE
A good low-rise is hard to find these days, but thankfully 3×1 is always reliable for a well-tailored option that'll make any man look damn good. The front rise is lowered just the way you like it and the back is slightly raised to reduce any risk of plumber's crack—it's genius.
RE/DONE Slim Jeans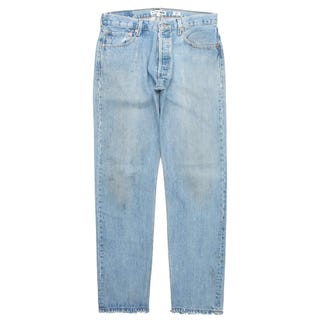 RE/DONE
BUY IT HERE
You heard the chunky sneakers your dad use to wear were cool, but did you know "dad jeans" are a thing, too? Sure, you can score some classic Levi's and wear them in over time, but why do that when RE/DONE can do the work for you. The company sources the best vintage Levi's jeans out there, gives them a tailoring tweak to modernize the fit, and bam, your very own one-of-a-kind jeans that are a million times cooler than your old man's pair.
Source: Read Full Article