Aaron Carter announced some exciting news last night on his Instagram Live. He told his fans that he and Melanie Martin are expecting a child. It looks like Carter is going to be a father. The news comes shortly after they confirmed via social media that they're back together. Read on to learn about all the details.
Fans have been trying to figure out if Aaron Carter and Melanie Martin areback together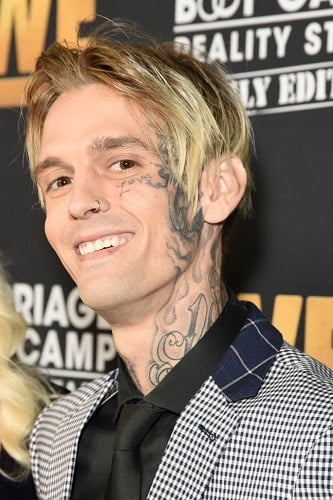 Up until this confirmation, fans were speculating if the twowere back together after their very public and messy falling out. Martin hassince appeared on Carter's Instagram page, prompting fans to wonder what wasup.
Martin was arrested on Sunday, March 29 at Carter's Los Angeles home. She was arrested on a felony domestic violence charge. TMZ reports that the situation occurred at about 11 p.m. The L.A. County Sheriff's Department was called out when a verbal altercation became physical. Martin was held on a $50,000 bond until she posted bail and was released. After that, it seemed like the two were broken up, but not for long.
Aaron Carter reveals that Melanie Martin is pregnant with his child
Fans have been speculating about the situation since they'reboth following each other on Instagram again and Martin re-added pictures ofthem together.
According to E!News, Carter announced on Instagram Live on Tuesday that they're expecting achild together. Carter was doing what he usually does on Live, making music,when he revealed a positive pregnancy test.
"Obviously I have a baby on the way," Aaron said about thesituation. "I'm going to be a busy father for sure."
Carter also made it plain that this was the "officialannouncement" that they are indeed expecting a child. "We're pregnant," Cartersaid.
Martin posted an image of the two locking lips
Martin recently posted a very PDA-type image of the two kissing for the camera. "Love wins," Martin captioned the post. The comments are turned off, presumably so fans can't say anything inappropriate or negative. It looks like the two are officially back together and expecting a child.
Carter posted a photo showing off his 'dad bod'
It sounds like Carter is taking this whole father thingseriously. He recently posted an image of himself brushing his teeth. He has noshirt on and captioned the postwith "Dad bod." Martin also took the time to comment on the image with "🙌🔥."
Fans responded to let Carter know how they feel about this latestimage and the news of him being a father. "Such great news for you andMelanie, congratulations," a fan commented on Instagram.
Another fan couldn't believe Carter is comparing his body toa dad bod. "Lol dad bod? I wish most men looked like this," the fan said.
One fan says they don't know many dads looking like Carter. "Idon't know many dads with face tats," they joked.
It looks like Aaron Carter is going to be a dad. He seems morethan excited at the prospect, and many fans are as well. We'll keep you updatedwith all the latest on Carter and his girlfriend, Melanie Martin.
Source: Read Full Article