When it comes to today's most visible female rappers, Megan Thee Stallion and Cardi B top the list. Both of them are killing it in their respective careers, racking up hit after hit and solidifying their places in rap history.
With the industry thriving on drama and rivalry, it's easy to think the rappers would view each other as competition. But is that really the case, or is there actually love here? Let's take a closer look at the relationship between Megan Thee Stallion and Cardi B.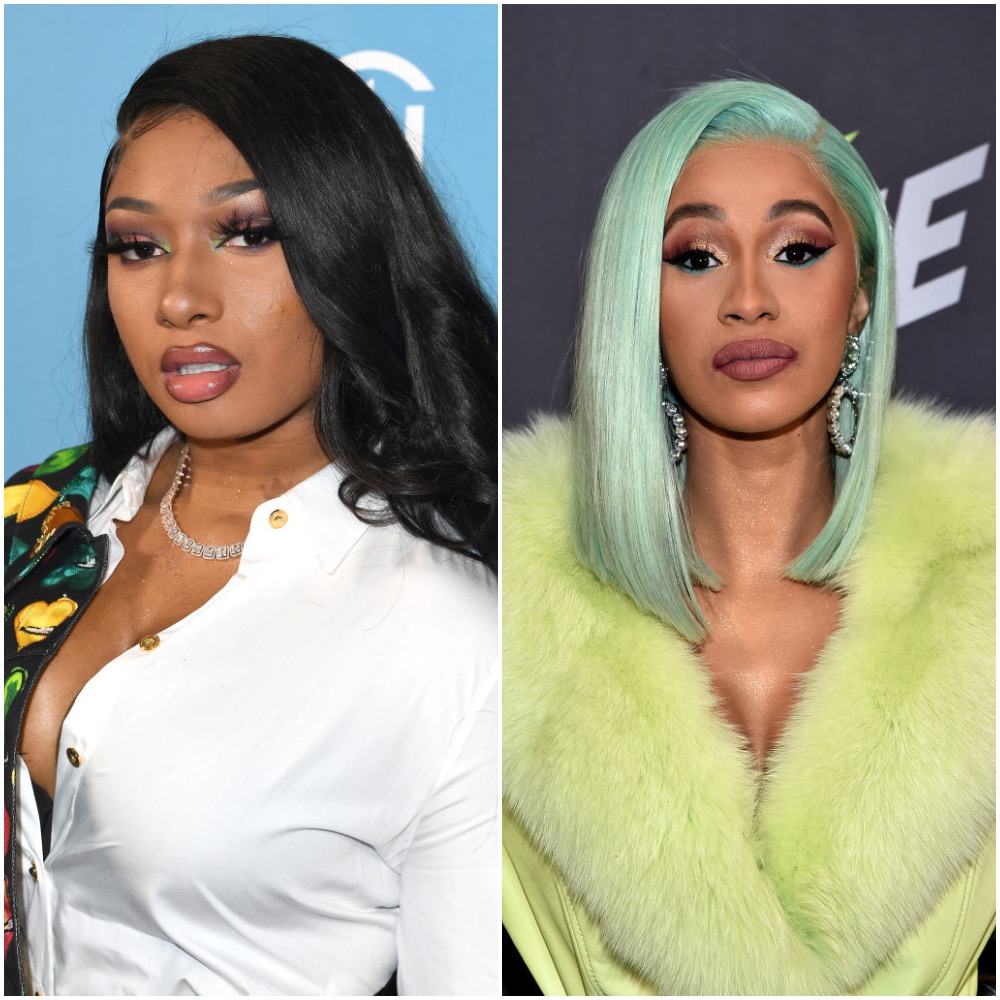 There have been beef rumors between Megan Thee Stallion and Cardi B
Amid Megan Thee Stallion's 2019 rise to mainstream stardom, there were whispers that Cardi B was allegedly jealous of the Fever rapper.
Cardi B did not directly address the rumors, but she seemed to respond to them in messages posted on Twitter in March 2019. In one particular post, she reportedly said no one could ever take her place.
"Ain't no h*e taking my spot. Stop BAPPIN," she wrote (via Capital Xtra).
Although she did not say names, fans were convinced the message was directed at Megan Thee Stallion. But the "Bodak Yellow" rapper appeared to suggest otherwise in a follow-up tweet.
"I barely been getting online. I haven't been talking to nobody just straight promoting! Stop putting me in bullsh*t let me keep minding my business in peace. Thank you," tweeted Cardi B.
Feud rumors have continued to plague the rappers
Despite Cardi B's apparent attempt to quell the speculation, feud rumors have persisted.
This is mostly due to Megan Thee Stallion's close relationship with Nicki Minaj, who has a longstanding feud with Cardi B that peaked in September 2018 when they got into a fight during New York Fashion Week. But Megan Thee Stallion made it clear to E! News' Daily Pop in August 2019 that she has not sided with one over the other.
"I really hate the fact that [people do that]. It's really like a lot of the fans," she said in the chat (via iHeartRadio). "They really make it seem like you're picking sides. I really, really, really like both of them. They're two different people, two different rappers. It's not even the same. I feel like we need to stop trying to compare them."
Megan Thee Stallion added that she would "definitely" love to collaborate with Cardi B one day.
Cardi B returned the love in a later interview
In October 2019, Cardi B did an interview for T.I.'s ExpediTIously podcast, in which she talked about how hard it can be for female rappers to achieve fame. She said female rappers, for one, have to have a voice that sticks — like Megan Thee Stallion.
"Look at Megan Thee Stallion. She got that voice that sticks," Cardi B explained to T.I. (via AllHipHop). "Not only do she rap good – a lot of girls rap good – but she got that voice and she got that confidence that sticks. So now, there's no excuse for it."
Those appear to be Cardi B's latest comments on the "Cash Sh*t" rapper.
With that, it seems safe to say that there's no bad blood between these emcees. While it's too early to label them friends, it's great to see them show love and respect for each other. After all, that's the start to any real friendship.
Source: Read Full Article