Dog the Bounty Hunter's daughter continues to support his new relationship.
Duane "Dog" Chapman turned some heads after getting engaged just ten months after his wife Beth passed away from lung cancer, especially since he publicly stated he would never marry again. His relationship with Francie Frane was initially met with skepticism from fans for that reason, but the Chapman family was always on board. 
Now that the couple is newly engaged, Dog's daughter is once again coming to their defense. Bonnie Chapman, the reality star's daughter with his deceased wife, took to Instagram to plead with critics of the relationship. 
In a long comment on her father's engagement announcement, Bonnie wrote:
"As usual very thankful for those who are supportive, to those who want to criticize: please just let my father live in peace. Let him be happy, please for the love of god let him be. My father has gone through so much this past year without my mother. It's been extremely difficult to see one parent pass, and the other so intent on following. My father deserves to be happy. He's still got my mothers name on his chest, he'll never forget her and the love she gave him. She would be happy my father is in love and finding peace. Please keep your comments to yourself, and if you can't then it reflects more on you than him. Life has never been easy for my dad, but love is something that comes naturally to him. Francie is a wonderful woman, as usual no one can replace my mother; but it's okay to let new people in. Life is filled with so much sorrow and hurt, in times like this is when love is found unexpected. For those who claim to know my mother's wishes: please remember that we as a family went through every excruciating and painful detail of what was next. I had this talk with her, my mother had so much love for my father, she would never want him to be alone. My mom wanted him to be happy no matter what.
There is always going to be one and only one Mrs. Dog. Welcome to the pack, Francie."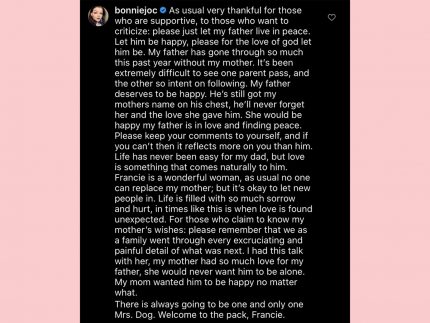 In addition to leaving her own message, the 21-year-old replied to some of the fans' comments as well. Responding to someone who brought up that it "was Beth's one wish that he would not remarry," Bonnie said:
"this is something we all talked about, her feelings changed as her condition worsened. We all thought she'd have more time, she put her full faith in god, but her time with us wasn't as long as we expected. My mother wanted my dad to be happy at all costs. There will never be another mrs. dog, but there can be a mrs. Chapman."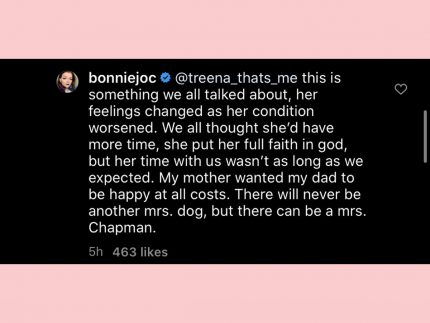 Bonnie, who revealed on her own Instagram that she's been working at a grocery store during the coronavirus crisis, also wrote that the relationship has made her father "want to live again," acknowledging that Francie has also experienced loss. "I'm not a religious person, but I feel that they were genuinely brought together for a reason," she stated.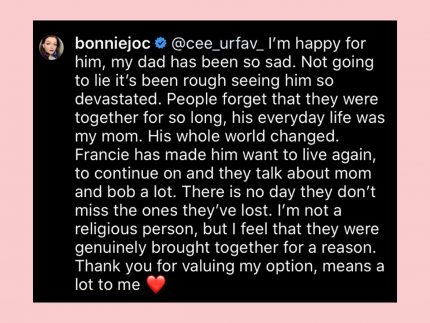 In response to a fan who insisted the engagement is still "too soon," she had this scathing reply:
"well tony, you didn't watch your wife deteriorate day by day from cancer. Like the others out there who have been in the same boat and done the same thing, unless you've lived through it, it doesn't make sense. My dad took care of my mother while she was in a coma, everyday sat by her side and she weakened. I sure hope you don't ever feel the pain of losing your soulmate and be met with the same criticism you show my father"
Damn!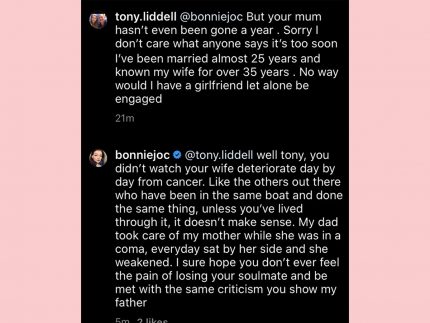 Dog is definitely lucky to have such a supportive family. We're sure Bonnie's mom is proud of her for how she's handling this!
Related Posts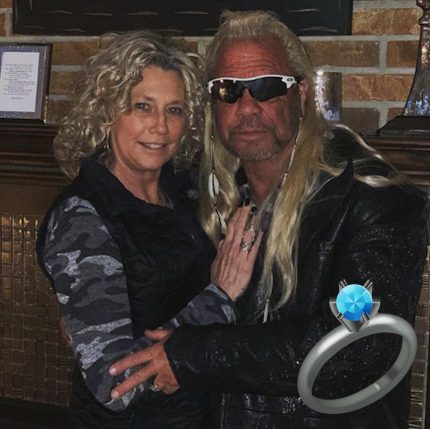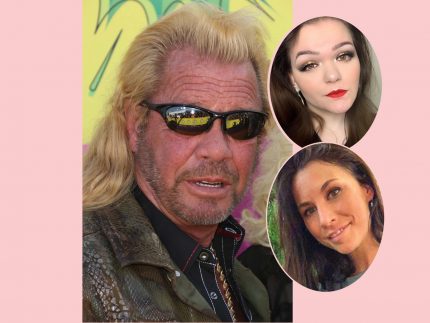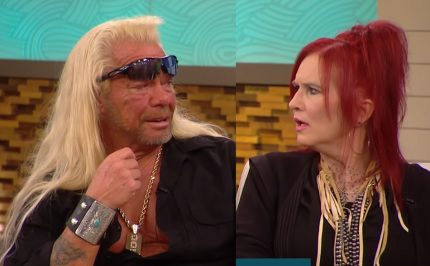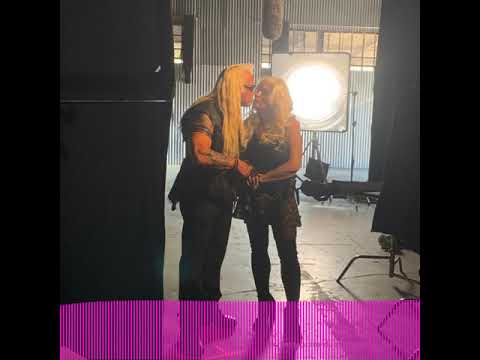 Source: Read Full Article