There's a new member of the Duck Dynasty family!!
As you're likely aware, family patriarch Phil Robertson and his longtime wife Kay Robertson are parents to four sons: Jep Robertson, Willie Robertson, Jase Robertson, and Alan Robertson, but there's now a sister joining the bunch.
In the latest episode of their podcast, Unashamed with Phil Robertson, it was revealed that Phil unknowingly has an adult daughter, Phyliss. Alan explained he and Jase both received similar letters from their sister, but initially brushed it off as they receive many letters from individuals purporting to be family members asking for money, autographed photos, etc. They soon realized this was something else entirely.
Alan shared:
"So basically, it was from a woman who said that by a DNA search, she thinks that dad might be her dad."
At first, they were obviously skeptical given their public status, and that the woman's birthday was after the time Phil had become a Christian. The brothers decided to do some investigating of their own, so as not to potentially upset their parents if it wasn't true.
Later, their cousin got in contact with 45-year-old Phyliss and assured Alan she wasn't "out for anything," as they tried to figure out doing a DNA test for confirmation. He recounted:
"I started thinking about it—I thought there's a 45-year-old woman out there that doesn't know who her dad is, and she's looking. And I thought, even if it's not dad, she needs to know it's not dad."
The 55-year-old told his parents about the letter eventually:
"Of course, Dad didn't remember anything, no specifics about it…Mom remembered a lot more than you did."
He noted that Phil had been "drunk the whole time and not in your right head." After doing a DNA paternity test, it was determined that it was a 99.9 percent match.
Phil shared:
"It's a pretty cool explanation of redemption, reconciliation, love. As it turns out, 45 years, you have a daughter that you don't know about, and she has a father she doesn't know about. 45 years—that doesn't sound like very long, but you say, that's a while. So finally, after all those years, we come together."
Aww, so sweet!!
And as for Kay, she has been largely supportive despite the circumstances:
"Miss Kay was absolutely awesome during the whole process."
Watch more from the fam (below):
Related Posts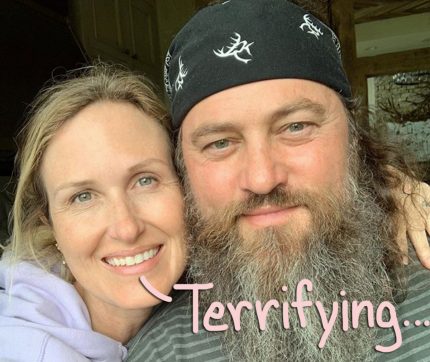 Source: Read Full Article