People often dream of being famous but for Emily Ratajkowski being known worldwide is a "bizarre thing." The 28-year-old model known for sharing snapshots of her breathtaking outfits on Instagram is also an entrepreneur, a political activist, and an actress. 
On the cover of British GQ's June 2020 issue, Ratajkowski appeared in a series of snapshots taken by her husband, film producer Sebastian Bear-McClard, from their home in New York City, New York.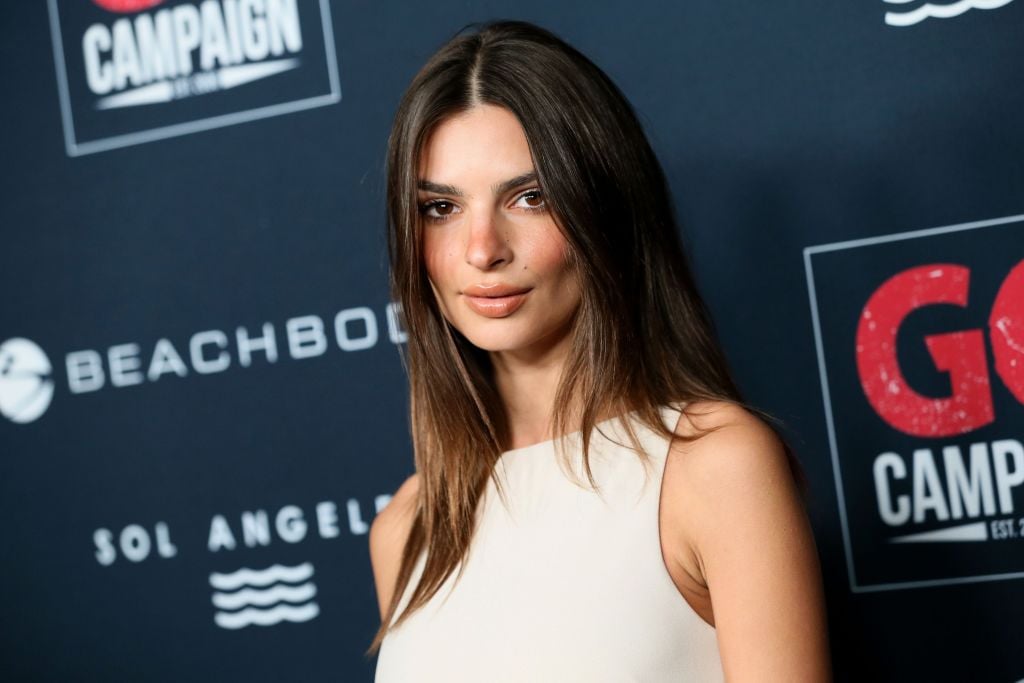 In the magazine's accompanying cover story, Ratajkowski discussed her marriage, quarantining because of the coronavirus, and, of course, her rise to fame. With 26.2 million Instagram followers at the time of publication, Ratajkowski is, whether she likes it or not, famous. 
She rose to fame in the music video for 'Blurred Lines'
As a kid, Ratajkowski loved theater but as a teen, she found her way to modeling. At the age of 14, she signed a contract with the modeling agency, Ford Models, and started booking jobs for department stores such as Nordstrom and Kohl's. She also worked as an actress. She landed a part in Nickelodeon's iCarly then the thriller, Gone Girl, opposite Ben Affleck.
The public's introduction to Ratajkowski may have been in the music video for Robin Thicke's 2013 song, "Blurred Lines," but she'd already been working as a model and actress for years at that point. Before her name became synonymous with "Blurred Lines" she'd already appeared in two music videos; "Fast Car" by Taio Cruz and "Love Somebody" by Maroon 5. 
Her career went to a new level after the release of Thicke's controversial music video that featured her and other women wearing crop tops and shorts. In an unrated version that got banned from YouTube, Ratajkowski went topless. 
Emily Ratajkowski: 'Fame wasn't something I had really expected or really wanted'
Speaking over the phone to British GQ, Ratajkowski opened up about her career as a model saying that while there were certainly pros, fame wasn't necessarily one of them.
"Modelling was an amazing way to make money and gain stability; fame came with that and it was a bizarre thing, " she said. "Fame wasn't something I had really expected or really wanted – although deep down probably every 20-year-old girl wants to be famous a little bit."
She continued, sharing how people reacted to her fame left her puzzled but ultimately taught her a lesson. 
"I was confused by some people's reaction for a long time," she said. "People saying, 'You can't do all these things.' It taught me a lot about sexism and misogyny in the world, because the idea that a woman who looks a certain way or presents herself a certain way can't talk about politics or read books? Ridiculous."
In the years since "Blurred Lines" catapulted her to fame, Ratajkowski has continued to challenge norms. In 2016, she posted to Instagram a photo of her and Kim Kardashian West standing next to each other topless while they gave the camera the middle finger. 
"We are more than just our bodies, but that doesn't mean we have to be shamed for them or our sexuality," Ratajkowski captioned the photo followed by the hashtag "liberated."
She now runs her own clothing brand
Today, Ratajkowski runs her own business, Inamorata. Initially launched with only a few products, the Los Angeles based brand has since expanded to include swimsuits, suits, tops, and more.
Source: Read Full Article