Florence Pugh is clearly tired of defending her much-older boyfriend. 
The actress spoke once again about the controversial 21-year age difference between herself and Zach Braff. Criticism of the relationship came to a head back in April after Pugh posted a loving birthday post for the Scrubs alum. At the time, the 24-year-old called the backlash "bullying" and admonished her followers for the reaction. 
On an episode of the podcast Sue Perkins: An Hour or So With…, Pugh reiterated her thoughts on the matter, which basically boils down to: none of your business! She said:
"I've always found it funny, how I can be good enough for people to watch my work, and support my work, and pay for tickets, and I'm old enough to be an adult and pay taxes, but I'm not old enough to know who I should and should not have sex with."
Well, when she puts it that way, we can definitely see her point! It doesn't really address concerns about power dynamics that can come up in large age gap romances, but at the end of the day, she's empowered to make her own choices. 
But just because she's clearheaded about those choices doesn't mean the backlash doesn't affect her. She described her feelings towards the public reaction thus:
"Once again, making a young woman feel like s**t for no reason. I think I did feel s**t for awhile about admitting that, and then I thought, 'How ridiculous is that? I'm 24 and I can't choose who I love. That's so unfortunate.'"
The Little Women star also alluded to why she found an older man so attractive in her response to the trolls. She explained:
"There's a reason why I'm not with someone my age. It hasn't worked. So who are you trying to match me up with?"
Pugh called the public's constant opinions on her private life "boring," but admitted that the "lines get very blurred" within the entertainment industry. She shared:
"People want to have a say on who you go out with, where you go to lunch. And I think for me, I've just always found that part of this life—even when I grew up watching actresses—I've always found that weird how people have a say over your private life. The fact is I'm not a reality TV star, I don't let people into my life like that. Since when has it been OK for people to shout at someone for their relationship? It's crazy to me."
When it comes to that defensive Instagram post, the Oscar nominee, who recently apologized for past cultural appropriation, had no regrets. She concluded:
"I'm glad that I said it."
We personally love that Florence always speaks her mind! Good for you, girl!
Related Posts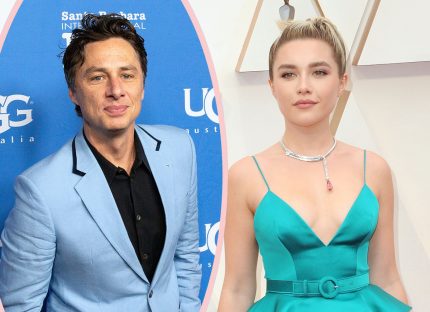 Source: Read Full Article