Well, this reality TV feud just got real.
Thursday night's season finale of Jersey Shore: Family Vacation finally revealed the explosive fight which caused Nicole "Snooki" Polizzi to walk away from the reality show on which she first made a name for herself.
It all started at Angelina Pivarnick's wedding when the girls — Snooki, Jenni "JWoww" Farley, and Deena Cortese — turned their bridesmaid speech into basically a roast of the bride.
Photos: Surprise! Raven-Symoné Is Married!
Angelina thought all the off-color jokes were way out of line and went on to say so for the next couple hours.
The ensuing feud was the straw that broke Snooki's back, pushing her over the edge after months of stress from trying to play a party animal on the show while actually being a mom and businesswoman IRL. And she quit.
But the war wasn't over. Months later when the wedding episode actually aired, it all started back up again. During Thursday's finale Angelina live-tweeted about how upset she was, mostly on behalf of her husband:
"My husband said he was not okay. And I snapped."
JWoww had a different take on everything. She talked about how the girls had "reached out multiple times and apologized over and over" and how she had felt so guilty: 
"I cried for days thinking i took away her beautiful day. I questioned who i was. She never once reached out privately until she was forced too."
In fact, Jenni says it affected ALL of them — and Angelina loved it:
"I watched my best friend quit because she couldn't handle the stress. I stayed up so many nights hearing Deena cry over being called names she didn't deserve. All while Angelina basked in the attention she was given. 7 months I waited for tonight."
Deena agreed. She wrote after the show in a single post:
"Sorry I didn't tweet with you guys tonight. I was watching and your wonderful tweets didn't go unnoticed. But if I'm going to be honest this was one of the most dramatic things I've ever been a part of filming…especially when part of the 'speech' footage got leaked and Nicole, Jenni and I were getting threats for months. Those months put me in a very unhealthy mental state. I truly just wanted this episode to come and go and not relive it. If you all watch the show you know I don't have a mean bone in my body, and my heart is always in the right place. I love you all so much and it warms my heart that you have stuck with us this long."
JWoww responded:
"I love you so much D. I wish I could have taken that pain away… but I'm so thankful for your friendship and knowing after tonight's episode you would be okay. You are so amazing and don't ever forget that ❤️"
Awww…
Meanwhile Angelina was still angry. She threatened to expose a "group chat" in which her castmates allegedly badmouthed her on her wedding day. Only behind her back this time, not during a toast. She posted:
"I wasn't going to say anything but do you really want me to show the world the group chat that you guys didn't know I was in talking s**t about me the night of my wedding? And you wonder why I couldn't let things go."
That sounds like a threat to us! What was in that group chat that was worse than what aired??
Snooki apparently wasn't worried; she sarcastically responded:
"Expose the mean girls Angelina . Do what you need to do so we can all peacefully move on with our lives. ??? "
When JWoww heard Angelina was talking more trash on her Instagram Live, she wrote:
"I kept my mouth shut for 7 months for the integrity of the show… but now the shows over @angelinamtvjs… you should unblock me if your gonna lie on IG live… because texts don't lie"
Later a fan on Twitter asked Angelina if she had made peace with her co-stars since the wedding, and she spilled more tea:
"Yes I texted all of them and I spoke to them. Deena and me had a nice convo. Nicole I've texted and we spoke jenni I texted I wanna move past this and she wrote me a novel about how I tried to sabotage her brand etc. Not saying sorry at all."
Oof!
JWoww responded early Friday morning LIVID over that characterization:
"You texted 5 months later after MTV forced you. We texted 2 minutes after the speech and you watched us cry while you chose to scream at production instead of accepting our apology. It sure as f**k was a novel. You knew about the death threats and chose to say to nicole and I 'if you acted right, none of my fans would attack you' Angelina we are moms first, family second and you chose to make us coworkers. We are not family and you will never know what that's like cuz you chose this route."
Wow, was Pivarnick really that callous over death threats??
That was not the aspect she focused on, instead responding to the MTV claim:
"MTV DIDNT FORCE ME !!!!!!!!!! @ItsTheSituation and I had a nice convo and I took his lead to try to squash this !!!!! Ask your boy. I'm done with your lies !!!!!!!!!!!!!!!!! U texted two min after speech then two hours later how u guys ars done"
Seems like all this will never be over — though at least we can have peace, right? Well, until next season anyway…
Related Posts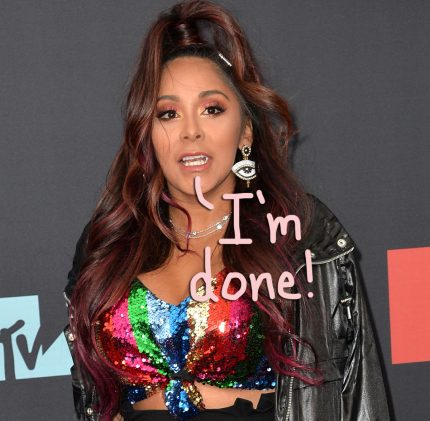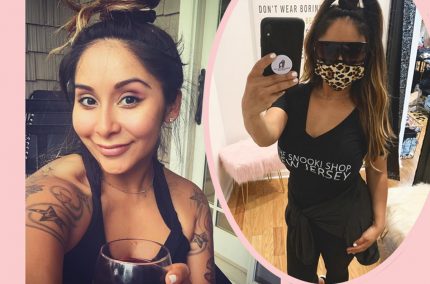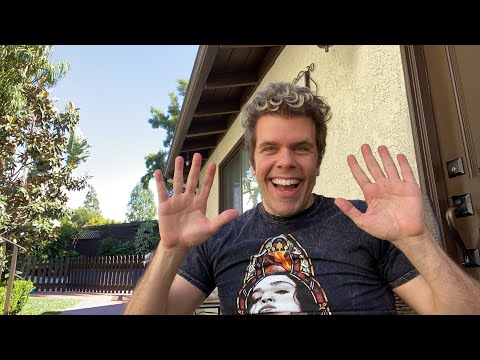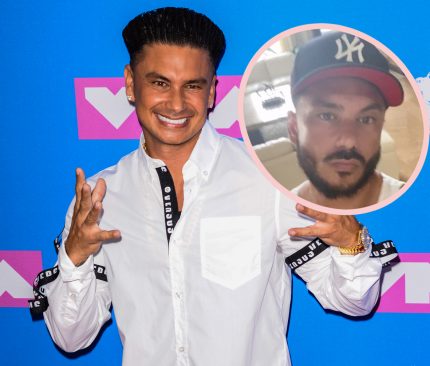 Source: Read Full Article