JJ Redick is known to NBA fans as being an expert three-point shooter. But there's more to the man than what he does on the court. Redick has a robust set of "essentials" he takes with him on NBA road trips.
Let's take a closer look at some of Redick's favorite essentials as well as why he travels with two pairs of his favorite sneakers. 
JJ Redick's career overview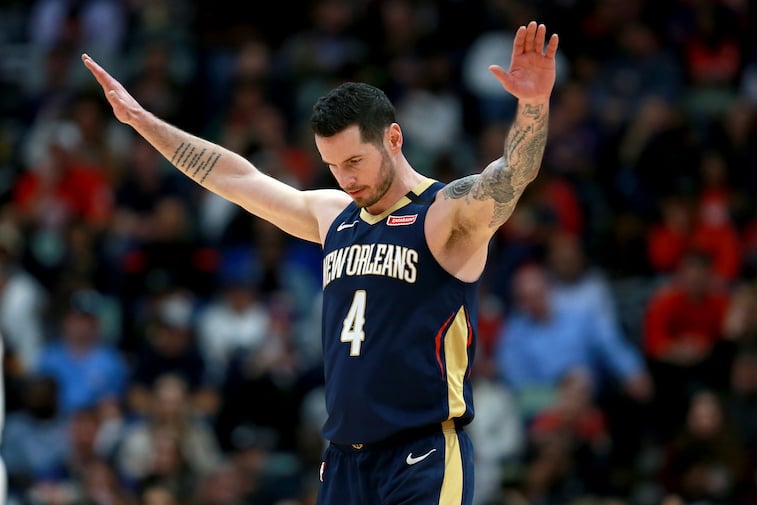 Redick has carved out a nice career for himself as a three-point sharpshooter for multiple NBA teams. While he's never quite made it to that superstar level, he's nonetheless stuck around the league for a long time because of his ability to do one thing really well: shoot three-pointers.
Redick first gained prominence playing collegiately for Duke University under head coach Mike Krzyzewski. Redick was a four-time All-ACC player, a Wooden Award winner, and a two-time ACC Player of the Year.
While he never won a national title in his four years at Duke, one of the best programs in the country, he did average 19.9 points per game and shot over 40% from beyond the three-point arc for his career there. 
From there, the Orlando Magic selected Redick with the 11th pick of the 2006 NBA Draft. In 13 NBA seasons, he's played 890 games, while averaging 13.0 points per game.
Redick has logged time with the Magic, Milwaukee Bucks, LA Clippers, Philadelphia 76ers, and New Orleans Pelicans. He's made over 45% of his three-pointers in the pros, showing exactly why he's been able to have such a long career. The NBA is a game based on players with specific skill sets excelling, and that's exactly what Redick does. 
But how does Redick maintain that consistency? It's with some of the accessories that help him look and feel his best.
JJ Redick's favorite (non-shoe) essentials
Redick sat down with GQ Magazine to talk about some of the essentials that accompany him when traveling to other NBA cities. He had quite a long list, including:
A lightweight, unstructured travel blazer. Redick said he takes it on every road trip. It provides him with the flexibility to go to a nice restaurant if he so desires.
A wine bottle opener. NBA players have become notorious for being wine aficionados. Redick is no different. His wine bottle opener is for whenever he runs into players on the road who are into wine.
A book. Redick will also bring books with him on the road. He noted how important books are to him – they're all over his apartment, and he always travels with at least one book. He also stated that he needs to have a physical book he can hold – no Kindle or eReader for this three-point marksman. He loves the look, feel, and smell of a book.
Concentrated beet crystals. Redick sings the praises of beets as a nutritional supplement. These crystals he puts into water help him get all the benefits of beets on the road without having the actual vegetable in his hand.
JJ Redick's essential shoes
Redick's favorite essential item is his Common Projects sneakers. He said he always has at least two pairs of Common Projects. Each one has a different purpose:
A clean pair. This is what he wears for events and public outings.
A dirty pair. Reddick wears these in more casual, informal settings.
Redick's strategy is to avoid wearing the clean pair in situations where they may get dirtied. As soon as they begin to look musty, he makes them the dirty pair and buys a new clean pair.
It's quite a dedication to a type of shoe. But judging on how successful he's been in his basketball career, Redick is clearly a man who knows how to judge a pair of sneakers. 
Source: Read Full Article