Lisa Rinna's daughter is admitting things on social media that are probably better kept secret!
The 19-year-old was accused on Sunday of lying about having an eating disorder in order to get "more air time" on Rinna's popular Bravo reality TV show The Real Housewives of Beverly Hills. Only it's what the teenager said in response that really caught our attention!
It all started on an Instagram Story Sunday afternoon, when Amelia Gray Hamlin got frustrated with another IG account that had been accusing her of faking her long-standing eating disorder. The motivation, according to that other account, was for Hamlin to pop up with more frequent air time on the hit Bravo realty TV show. Only one problem there: apparently it's like pulling teeth to get Amelia to film with her mother! That's what the teenager herself said in response to the accusation, at least, and we've got a screenshot of the damning moment for posterity (below):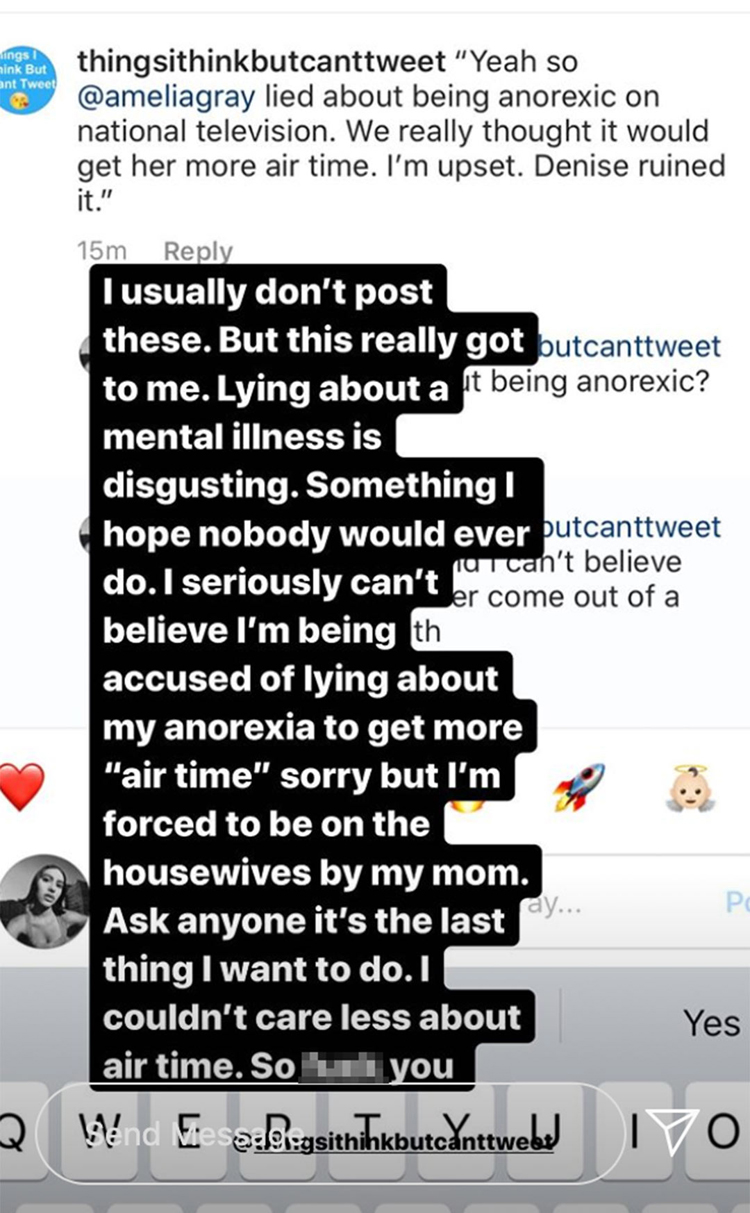 Amelia has been so serious about battling back against anorexia over the last several years, sharing touching, personal messages straight from the heart about her battle and recovery. So, it's really disgusting someone would call her out for lies. Take this post from March of 2018, for example:
Welp!
Soon after the story got picked up, Amelia backtracked her statements about being forced to join the show and explained:
"CAN EVERYONE PLEASE CALM DOWN AND STOP!!! My mom is so so amazing. She 'encouraged' me to be on the show in my opinion. I was 12 and didn't know what it was going to be like. And I'm so glad that she encouraged me to do so. I've been able to touch so many souls with my story. I should have said ENCOURAGED NOT FORCED!!!! THAT WAS THE WRONG CHOICE OF WORDS. All I was trying to say was that I'm not just on this show for a f**king story line you guys chill."
She continued:
"I just literally said no to something I did not know anything about. My mom ENCOURAGED ME to do so. Obviously it's been six years. I could have stopped filming long ago. Can you just all chill? I haven't 'cause I have a story to tell to HELP people and now I've become super close to all the women and I love them."
Well then, case closed!
Related Posts

Source: Read Full Article