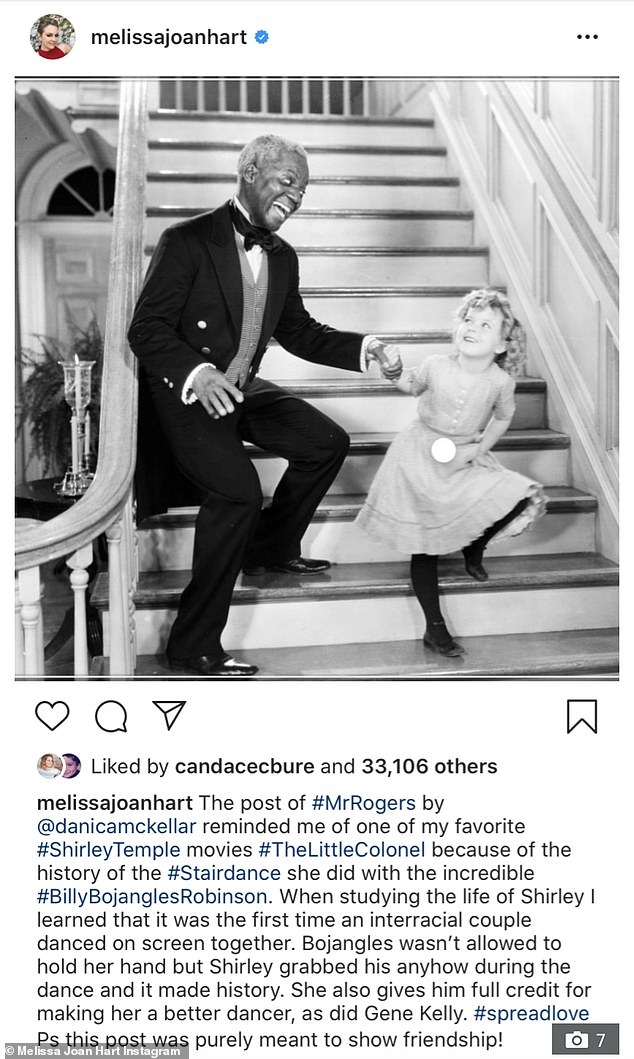 The last time we talked about Melissa Joan Hart was in early 2019 when she was defending teaching her son that Jewish people go to hell. When people called her antisemitic she said she was misunderstood and basically proved that she's antisemitic. So it's not surprising to hear that she's racist too. On Monday, Melissa posted the Instagram above [via Daily Mail], of Shirley Temple dancing with Bojangles in the 1935 movie The Little Colonel, as evidence of white people being gracious to black people or something, I think her point was that it would be great to go back to that time when white people were gatekeepers. She was inspired by a post that Danica McKellar did on Mr. Rogers washing his feet in a pool with a black cop in 1969 as a form of protest against segregated swimming pools. Danica's post was definitely tone deaf at this time, but Melissa's was ten times worse. A screenshot is above and here's what she wrote.
The post of #MrRogers by danicamckellar reminded me of one of my favorite #ShirleyTemple movies #TheLittleColonel because of the history of the #Stairdance she did with the incredible #BillyBojanglesRobinson. When studying the life of Shirley I learned that it was the first time an interracial couple danced on screen together. Bojangles wasn't allowed to hold her hand but Shirley grabbed his anyhow during the dance and it made history. She also gives him full credit for making her a better dancer, as did Gene Kelly. #spreadlove Ps this post was purely meant to show friendship!
Melissa deleted this but of course she didn't issue a statement about it. As of publication, she still has her tweet up pointing to the Instagram that's now deleted. The Twitter responses say it the best. This is offensive, tone deaf and just awful. Bojangles was playing a servant on a plantation and the seven year old girl had more rights than he did. Plus Shirley Temple was a child! They were not an "interracial couple" because she deigned to hold his hand while they were doing a performance. Melissa also defended herself because of course she did. She basically repeated her claim that this shows friendship and said it doesn't matter that it's on a plantation: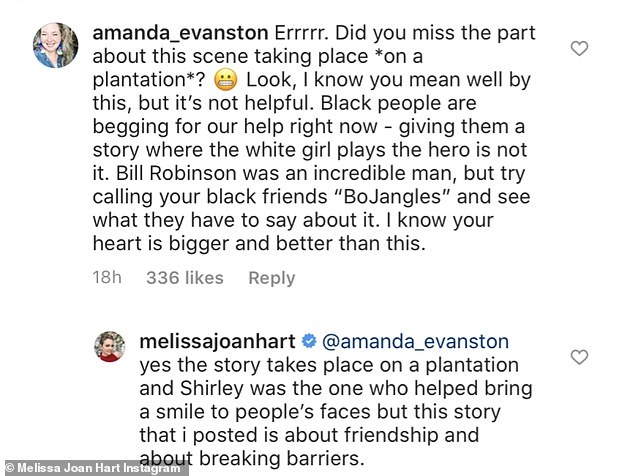 "Friendship and breaking barriers" because we should let the black people who perform and do services for us also hold our hands when they're playing backup characters in movies. White people can save the day when they pick who to befriend. She's the worst. She was already canceled, I just wanted to complain about her.
Thanks Rhiannon and everyone at the Zoom meeting for the idea to cover this!
— gritty pablo (@navyplush) June 2, 2020
— Angry Lady (@am_geeky) June 2, 2020
— Diana Townsend (@poetrytealove) June 2, 2020
— G. Barton-Sinkia? (@gbartonsinkia) June 2, 2020
Also one of her eyes is so wonky. I can say that because she's an awful person.
Embed from Getty Images
Embed from Getty Images
Source: Read Full Article