Avengers actor, Robert Downey Jr. has a lot of friends in high places. With over 40 years in the business, Downey's friendships and relationships have run the gamut. Back in the day, he and a former girlfriend shared a cat named after one of Downey's closest friends. Here's a look inside that rekindled friendship years later.
Sarah Jessica Parker shared cats with Robert Downey Jr.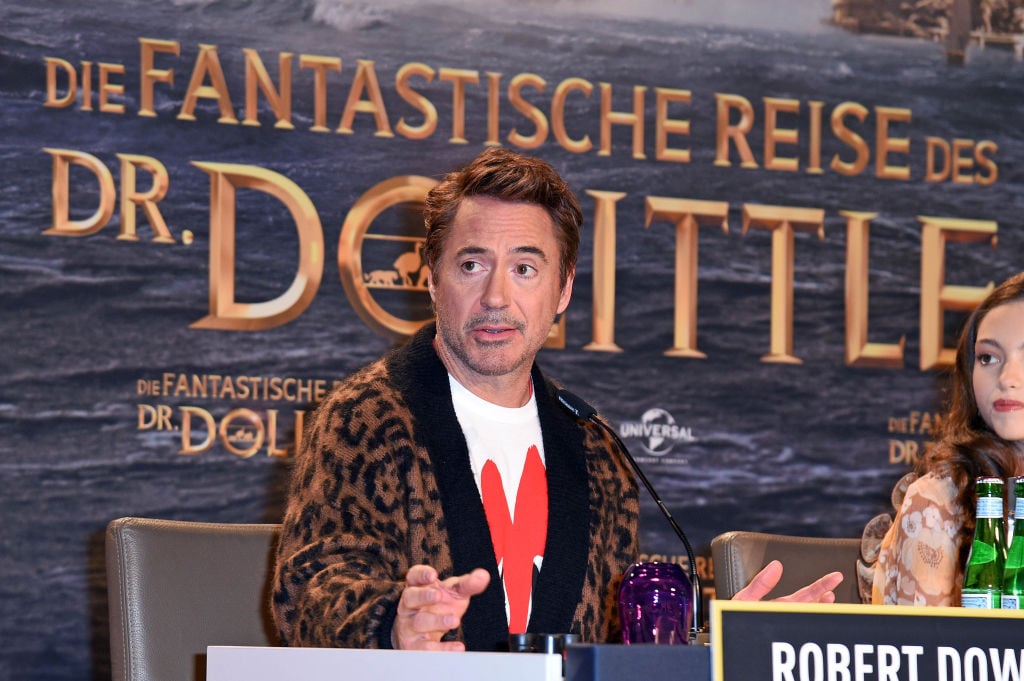 RELATED: 'Age of Ultron' May Have Suffered Because It Was Released Too Soon, Some MCU Fans Think
In the late 1980s, Robert Downey Jr. and Sex and the City star, Sarah Jessica Parker, were the couple of the moment. The two met on the set of the movie, Firstborn when they were both 18 years old.
The relationship moved at a rapid pace with the two moving in together two weeks after they began dating. Their relationship remained a secret until the movie finished. Eventually, they took their status public at a time both celebrities were high on the "most-desired" list.
After nearly eight years together, Downey and Parker split. In a 2008 interview with Parade, Downey revealed one of the reasons for the breakup.
"I liked to drink, and I had a drug problem, and that didn't jibe with Sarah Jessica, because it is the furthest thing from what she is. She provided me a home and understanding," he said.
"She tried to help me. She was so miffed when I didn't get my act together. I was in love with Sarah Jessica…and love clearly was not enough."
Their love may not have lasted but the memory of a shared pet has. As many know, Downey is a cat lover and advocate of animals. The pair acquired multiple cats throughout their time together — one of which was named after someone in Downey's closest friend circle at the time, The Blacklist star, James Spader.
"Jimmy" the cat received his name after Downey met and befriended Spader on the set of two movies in the 1980s.
Inside Spader and Downey's friendship
RELATED: Captain Marvel Was Originally Supposed to Make Her Marvel Debut in 'Avengers: Age of Ultron'
The '80s were synonymous with a few famous names — Downey and Spader included. Spader's work included Pretty in Pink and Mannequin, while Downey's Johnny Be Good and The Pick-Up Artist, cemented his place in Hollywood.
The two stars became close first on the set of the 1985 film, Tuff Turf, in which the two play friends. Two years later, they shared the screen again in Less Than Zero where they had a more contentious fictional relationship.
Spader told The Guardian about his kinship with the Iron Man himself.
"Robert, I worked with him two or three times and became very close friends and then I didn't see him for 20 years; partly the function of geography, partly the function of two people who are pursuing two very, very different things in their lives," he said.
"So that was one of the great pleasures of working on [Avengers: Age of Ultron]; to be able to spend time together again, and it was just divine."
Their 'Avengers: Age Of Ultron' Reunion
RELATED: The Best Hawkeye Appears in 'Age of Ultron' According to Fans
All the years apart seemed to do Spader and Downey good. While Downey publically battled drug addiction and has since turned his life around, Spader worked on various projects until that one fateful project came his way.
"We've all experienced James Spader and it is something to behold. I couldn't imagine the second Avengers having the cool factor to any greater degree with anyone else than him," Downey said via USA Today.
"You wouldn't have necessarily gone, 'Age of Ultron? James Spader!' six months ago. We just have to make sure the bad guy doesn't steal the movie, but that's an editorial issue."
Likewise, Spader reflected on how far Downey has come since the early days of their friendship.
"He devotes an enormous amount of energy and time to living a very healthy and constructive life," he said, adding how it translated to their reunion working against each other in Ultron.
"It speaks to how close we were when we were younger, and it seems like the lightning speed of the passage of time where we really didn't see each other much at all," he said.
"The time I have spent with Robert since we found each other again on the set of this film has really not been about work or about Avengers or careers or the rest of it. It's really been about him and me — it was just friends again. We picked up exactly where we left off."
Downey and Spader are the bromance we never knew we needed. Maybe someday, Spader will adopt a cat and name it after his long-lost friend to even things out.
Source: Read Full Article