As The Bachelor franchise gears up for its new "best-of" series, The Bachelorette's Hannah Brown reminds fans of the most unforgettable moment from her season — the breakup with Luke Parker. In 2019, Brown stood up to Parker for his misogynistic comments, and viewers rallied behind her. Then recently, Brown shared the one year anniversary of Parker's elimination on The Bachelorette. And it seems fans still feel the same way they did a year ago.
How did Hannah Brown and Luke Parker break up on 'The Bachelorette'?
Parker was one of Brown's frontrunners on The Bachelorette Season 15. Early on, the pair had a clear connection. However, viewers saw a few red flags, particularly because Parker wasn't able to get along with the other cast members.
On the show, Brown was willing to work through some of Parker's faults and gave him multiple chances. But when they had their Fantasy Suite date, Parker gave the bachelorette an ultimatum. He said he would leave the show if she had sex with any of the other contestants. The reality star also questioned Brown's faith in the process.
As a result, Brown received the clarity she needed to send Parker home. She called the cast member out for slut-shaming and noted he didn't have the right to judge her. Even so, Parker didn't leave and claimed he deserved to talk things through. But it was too late. Brown knew she didn't want Parker as her husband. And before he left, Brown delivered one of the best lines from the season.
"I have had sex and Jesus still loves me," she said. "From obviously how you feel, me f*cking in a windmill, you probably want to leave."
Then in the next episode, Parker came back with a ring in his pocket and joined Peter Weber, Tyler Cameron, and Jed Wyatt for the rose ceremony. When Brown walked in, the bachelorette asked why Parker returned. He wanted to explain. But she shut him down immediately and told him to leave.
Once again, Parker didn't respect Brown's decision. He continued to interrupt the elimination ceremony and claimed it wasn't over for him. Brown even had to move the podium with the roses to get away from her ex.
Eventually, Weber, Cameron, and Wyatt stepped in to send Parker off. Then Chris Harrison came by to get Brown's final word. "There has not been any part of me that has had any regret from what I've done," Brown said. "I have been very clear about every decision I have made so far and I was clear the other night. So I don't want him to be here."
Hannah Brown tweets about sending Luke Parker home one year later
On May 5, 2020, Brown revealed it was the one year anniversary of Parker's exit on The Bachelorette.
"Have a moment of silence and a shot of tequila because one year ago today…I sent Luke P home," Brown wrote on Twitter.
Instantly, Bachelor Nation fans swarmed the post to reminisce over the breakup. Many viewers also applauded Brown for what she did on The Bachelorette.
"Gonna tell my kids this was the queen of America," a fan tweeted alongside a screenshot of Brown carrying the podium away from Parker.
"The day everything we love in women defeated everything we hate in men," another fan wrote.
Then some viewers proposed Brown should do the same with the reality star's split with Wyatt.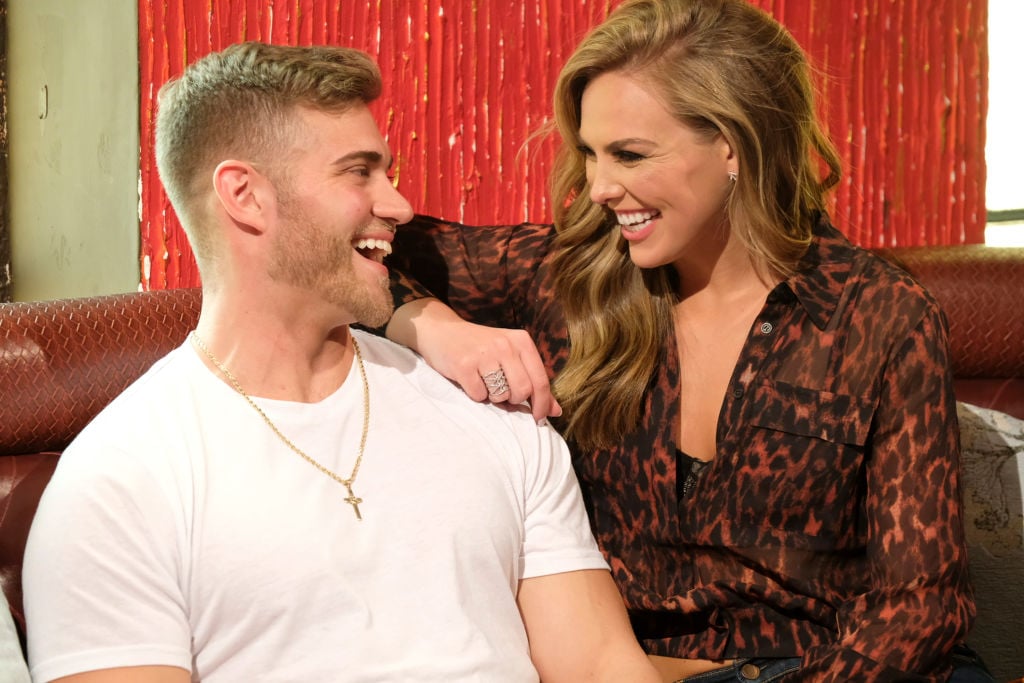 "Can you also please announce the anniversary of you dumping Jed for being the worst person alive," a Bachelor Nation fan wrote.
Nevertheless, some fans weren't impressed with Brown's post and wondered why she was making comments a year later. Then on Instagram Live, Brown spoke up about the Twitter post.
"I made a joke on Twitter about today being — well, it's not a joke — it's just like how was this time last year the day that I sent Luke P. home? And I made a joke about taking tequila shot or a moment of silence," Brown said. "That was quite an interesting night for me and I wasn't trying to be mean. But I can laugh about my own life. Just saying."
She continued: "I thought we were making better decisions after that night. Well, I fooled y'all. I'm still making crap decisions. But it's OK."
Hannah Brown on Luke Parker after 'The Bachelorette' Season 15
Brown has opened up about Parker's comments in the past. Following the July 22 episode of The Bachelorette Season 15, Brown spoke with Variety and explained why was proud of her actions on the show when it came to Parker's exit.
"My experience with Luke is one that is familiar to a lot of women," Brown said at the time. "So me speaking to Luke is a lot of women speaking to other men that have treated them similarly. That's what I'm really proud of — to have that moment to say what a lot of women deal with every day and wish they could say, or maybe now will have the strength or confidence to say because they know they can."
Meanwhile, Parker shared his perspective during an interview with Reality Steve in October 2019. The reality star claimed Brown told him she "wanted to abstain from sex before marriage," which led to his confusion. Parker also said he didn't mean to slut-shame the bachelorette.
Later, Brown responded to Parker's remarks while speaking with Access after one of her performances on Dancing With the Stars. And ultimately, Brown made it clear she didn't care.
"The past is the past. I've moved on from that," Brown said. "I am confident in every statement that I've made. And he is not a part of my life. I'm focused on dancing and people can talk if they want to. It's just not my concern. They can talk. I'm gonna dance."
Read more: Hannah Brown and Tyler Cameron Shade Jed Wyatt While Watching 'The Bachelor: Listen to Your Heart' and We Can't Stop Thinking About It
Source: Read Full Article