Former Bachelorette contestant, Chad Johnson, was reportedly hospitalized Saturday, Feb. 29. A second welfare check determined he was possibly a threat to himself while in his home in the San Fernando Valley area of Los Angeles. Here's what we know about the situation.
Authorities performed a second welfare check on Chad Johnson 24 hours after the first visit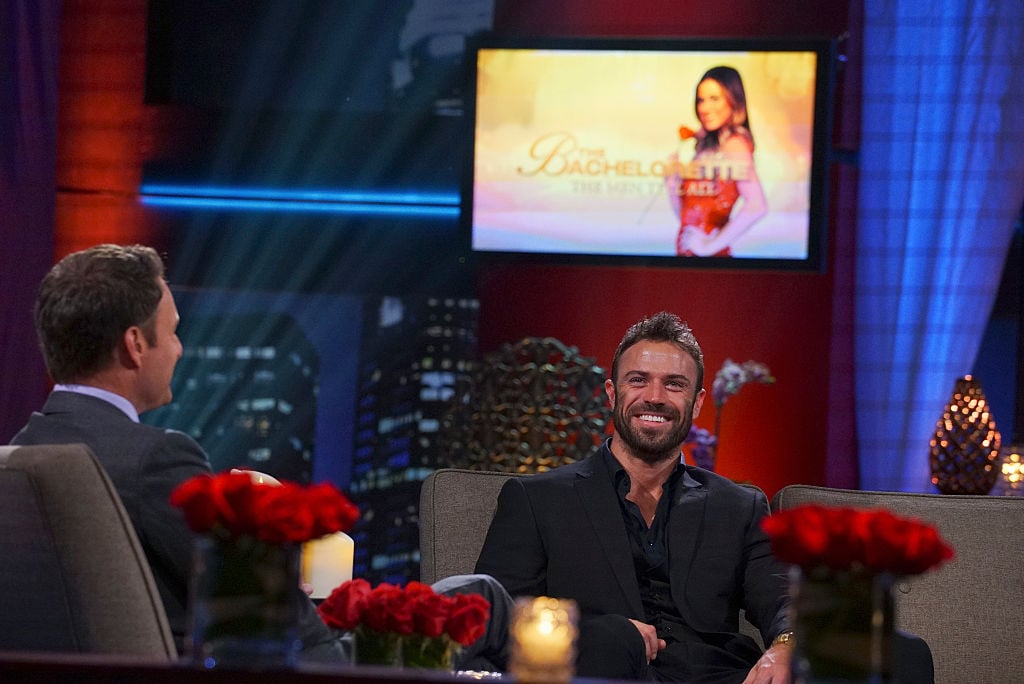 On Friday, Feb. 28, TMZ broke the news that law enforcement conducted a welfare check on Bachelorette alum, Chad Johnson, while he was in his residence.
Sources told TMZ police didn't find injuries on Johnson and that he wasn't a threat to himself or others. The check came on behalf of a friend's request after Johnson allegedly posted a disturbing image to his Instagram story.
The photo of a rope tied to a door with the caption "it'll be okay," has been deleted from Johnson's Instagram account.
TMZ also reported Johnson posted two additional videos to his Instagram stories. One shows Johnson sitting at a table playing Billy Joel's "Piano Man" with the rope he previously posted about. The second reveals Johnson talking to someone from behind a door saying, "I have no choice."
On Saturday, Feb. 29, news broke via multiple sources that Johnson endured a second welfare check following a suicide threat. Us Weekly and TMZ stated that authorities responded to a call and conducted a second check at the reality TV star's residence.
According to E! News, LAPD received a call "about a man threatening suicide in his apartment," and that he "was taken to a local hospital for a medical emergency."
It's unclear at this time if Johnson is being held under a 5150 psychiatric hold, or if Johnson will be evaluated and released on his own free will.
Ex-girlfriend Annalise Mishler's tweet left many concerned
The two welfare checks come on the heels of a difficult week for Johnson. On Monday, Feb. 24, he was arrested for robbery and domestic violence after an alleged altercation with Johnson's ex-girlfriend, Annalise Mishler.
Johnson, who was released on bond, addressed the incident via Instagram days later claiming he'd had a relapse in his sobriety.
"I made a promise to myself and my girlfriend that I wouldn't [drink] anymore, and as most of you know, that has been an issue in my life," he said. "Whenever I do drink, I don't act right."
However, he denied any claims of domestic violence saying, "I have never laid hands on a woman any time in my entire life. He later added, "If any women out there ever feel like they are in any danger, I urge you to call 911."
Mishler took to Twitter to express her thoughts after Johnson's first welfare check.
"This entire week has been so painful, but today may have been the worst. if you pray, pls pray. or send vibes. not for me but for someone I care about. and if they get better I'll also feel better," Mishler tweeted just after midnight, Feb. 29.
Just 12 hours later, Mishler tweeted again, alluding to Johnson's second welfare check.
"If I talk about what's happening, ppl say I'm trying to get attention, but if I don't they say I don't care and I'm a c*nt. all I'll say is as of 10 mins ago, there is no more imminent danger and I can breathe for a second," Mishler said.
Johnson broke his silence on the events
Sometime after Johnson was taken to the hospital via ambulance, he posted an update on social media to let everyone know he's "doing fine."
"I'm okay. Things are fine," his caption read on his Instagram story with an image of his apartment (via E! News). "I love you. You'll be great. Life is going to be okay. "Forgive yourself. Let go."
He also requested that loved ones "stop calling the police" in another story.
"I don't want to be abducted or kidnapped," he said. "Good luck b*tches. Come find me."
Johnson is due back in court in March.
How to get help: In the U.S., call the National Suicide Prevention Lifeline at 1-800-273-8255. Or text HOME to 741-741 to connect with a trained crisis counselor at the free Crisis Text Line.
Source: Read Full Article