When BTS first started out, they came from a small entertainment company with very little resources. However, over time, the group rose to the top and proved to many people around the world that they are definitely worth paying attention to.
Aside from their impressive performing skills and songwriting talents, the guys of BTS are also finding themselves being appreciated for their good looks. In fact, a scientific study recently showed that one member of BTS has the "most perfect face" in the whole world.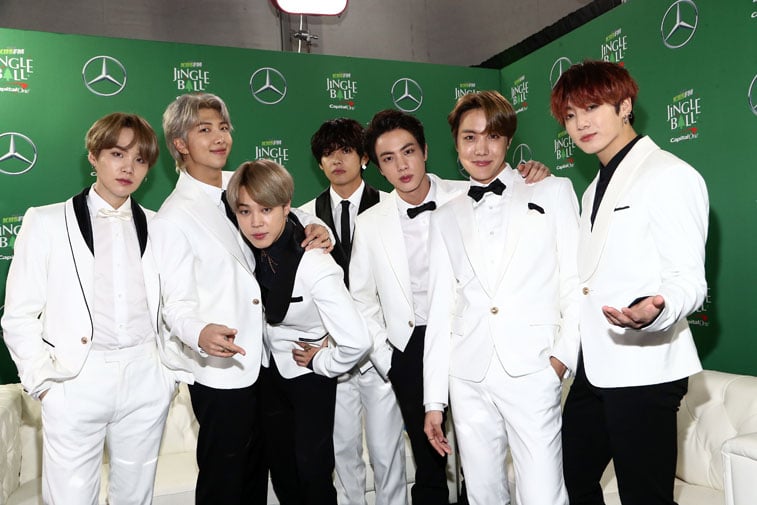 Dutch study says BTS member Jinhas 'the most perfect face'
While looks are generally subjective, research has shown symmetry is something most humans find appealing in a face.
A team of visual artists from the Dutch art workshop Sluis Painting recently analyzed famous faces from 43 countries and compared them using the Golden Ratio measurements of beauty. The study found that BTS's oldest member, Jin, came out on top among the male celebrities.
"He turned out to be an almost perfect face scientifically,"AllKpopreported. "His face is not only symmetrical, but also he has the optimalproportions of the mouth, eyes, chin, and forehead."
In Sluis Painting's analysis, the team wrote about Jin's measurements:
"1. His face is symmetrical and perfectly oval
2. The ears fit precisely within the middle third of his face
3. The space between his eyes is equal to the width of one eye
4. The edges of his nose line up with the inside corners of the eyes
5. His front, left and right nose sides, take equal space"
Jin has been nicknamed 'WorldwideHandsome'
RELATED: Jin Doesn't Like Being Called the 'Mom' of BTS, According to Fans — Here's Why
Perhaps this news is not surprising to many BTS fans. Afterall, Jin has been called "Worldwide Handsome" by a lot of people.
Interestingly, Jin actually gave himself that nickname. Heonce revealed, via Soompi:"Ever since our debut, I've been calling myself good-looking. You could thinkof it as a kind of rote teaching."
Nevertheless, he has shown that his looks do, indeed, transcend national and cultural barriers. He has gone viral on the internet numerous times over the years for looking handsome while doing mundane things. For example, in 2015, he was nicknamed "Car Door Guy" after videos of him getting out of a car went around among non-BTS fans. Additionally, at the Billboard Music Awards in 2017, people all over the world began noticing a certain "third guy from left" from BTS's lineup at the red carpet, and it was, of course, none other than Jin himself.
Other celebrities whose faceshave been deemed 'perfect'
Jin was not the only person whose face Sluis Paintingrecognized as being symmetrical and "perfect."
Actors Jacob Elordi and Henry Cavill are in second and thirdplace, respective. Elordi has a "perfect facial shape," according to SluisPainting. Meanwhile, Cavill's lip and mouth positions are considered "beautiful."
RELATED: Hollywood's Most Ridiculously Good Looking Celebrity Couples
In the female category, actress Anne Hathaway came in at number one. Sluis Painting noted: "Hathaway has large and symmetrical eyes, full lips, clear skin and high nose bridge as well as matching ratio of the eyes and mouth position."
In second and third place are actresses Laura Berlin andRoxane Mesquida. Berlin has an impressive nose shape, and Mesquida's "eyespacing and jawline shape" earned her a lot of points.
Source: Read Full Article