Hannah Brown sent shockwaves through Bachelor Nation after she used the N-word on her Instagram live. Now, Tyler Cameron is speaking out about the incident. Cameron competed on Brown's season of The Bachelorette. The Jupiter, Florida native even made it to the final two, but Brown ultimately chose Jed Wyatt and got engaged to him.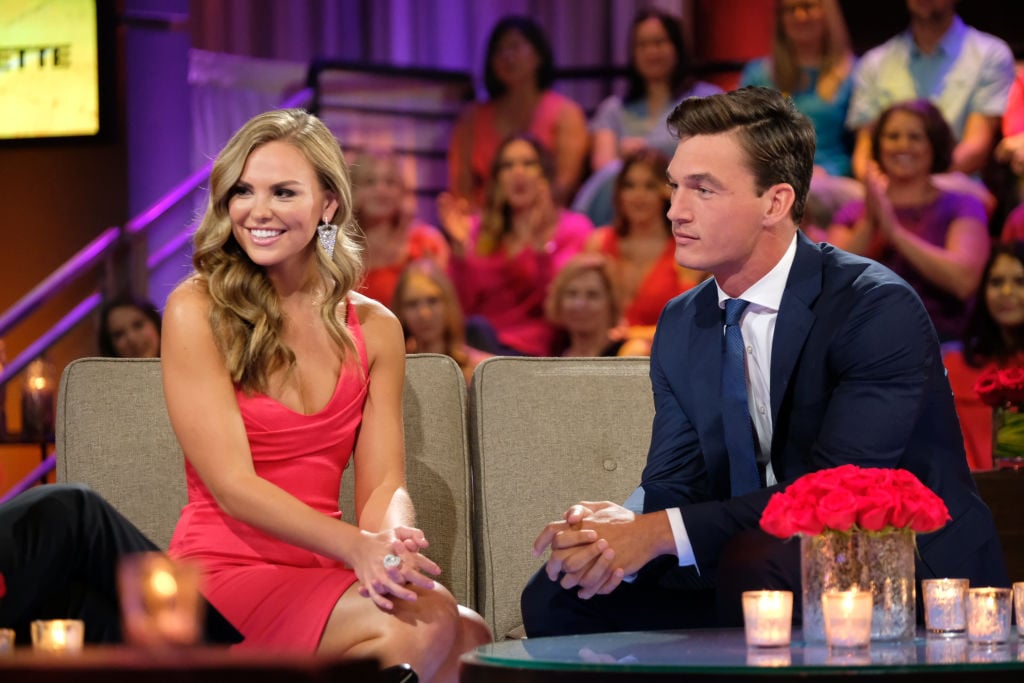 But, like most of the relationships in Bachelor Nation, the engagement was short-lived. When the news broke that Wyatt had another girlfriend, Brown called it quits. During the After the Final Rose ceremony, Brown confessed that she still had feelings for Cameron asked him out for a drink. Days later, photos of Cameron leaving her apartment appeared and fans assumed the pair were dating.
A brief dating and relationship recap
But, the couple's reunification was brief and Cameron was spotted with model, Gigi Hadid a short-time later. A year later, however, the former couple found themselves spending time together again. After Cameron's mother died, Brown flew out to Jupiter to spend some time with him. But, thanks to coronavirus (COVID-19), Brown spent weeks in quarantine with Cameron and his friends.
While in quarantine, the pair got to know each other better. They played many games and joked around with each other a lot. They even made fun of their shared past on The Bachelorette. As they were spending copious amounts of time together, dating rumors about them began to swirl. While both Cameron and Brown have maintained that they were single, they don't seem to be opposed to dating again in the future.
Hannah Brown said the N-word on Instagram live
Cameron has always been supportive of Brown. But, how is he handling her latest scandal? Over the weekend, the former Bachelorette hopped on Instagram live. Whilst on live, she sang along to a song that included the n-word. While Brown had the foresight to stop herself from saying the f-word, she felt comfortable saying the n-word with a hard r. Later, when a fan called her out, she seemed to laugh it off, before speculating if she actually said it.
RELATED: 'The Bachelorette': Some Fans Are Hoping Clare Crawley Will Be Recast
Naturally, Brown received some backlash from Bachelor Nation. Rachel Lindsay Abasolo (the franchise's only black lead) reached out to Brown privately, urging her to get on camera and apologize. When Brown did not do so, Lindsay Abasolo took matters into her own hands. The attorney created a video stating that non-black people should never, under any circumstance, utilize the n-word.
Tyler Cameron shows support for Rachel Lindsay Abasolo
After seeing Lindsay Abasolo's video, Cameron took to his Instagram stories to support her. He urged people to educate themselves rather than getting upset. "Rachel hit the nail on the head. Y'all need to look at the comments. We have a long ways to go on this issue and a lot of learn. If you find yourself getting defensive, you are part of the problem," Cameron began.
The Jupiter native then went on to share that he was not condemning Brown, but rather using his influence to speak about an important issue. "This is not about dragging HB. This is about using your platform for reasons like this. So we can educate those who don't get it. This is bigger than HB. This is a societal problem," Cameron wrote in response to people getting angry that he was "shaming" Brown.
'The Bachelorette' alum wants Brown and others to educate themselves
Cameron then addressed those who felt like Brown wasn't in the wrong because she was singing along to a song. "Those that say that it's part of the song and that they can sing it are so out of touch. HB is not a racist. I know. But, blaming the rap artist is not the answer. Educate yourself and listen to what Rachel has to say about the word Bi*ch and hopefully it'll start to click for you," he encouraged fans.
Finally, Cameron shared that Brown was still learning and expressed his desire for her not to be slammed with hate. "In these moments you have the opportunity to burry [sic] someone or lift them up. We need to lift HB up from this. She is learning and growing just like every single one of us. Love rids hate. Hate only makes more hate. Let's learn and lift each other up with love," he concluded. Hopefully, through Cameron's actions, those defending Brown can learn that you can (and should) hold people accountable even if you have love for them.
Source: Read Full Article