The Kardashian-Jenners are always being accused of trying to look like other people. Seriously, they've tried it with Beyoncé, Aaliyah, Gwen Stefani, Rihanna, Elizabeth Taylor in blackface (IDK either, y'all!), Naomi Campbell, Kylie's own friend Heather Sanders, and Rihanna, again. Now, Kylie Jenner is being accused of trying to look like Beyoncé or "Beyoncé's tethered" if we were in Jordan Peele's cinematic universe and all had a creepy doppelgänger living in the underworld.
Before this incident, Kim Kardashian was accused of trying to look like Queen Bey, but this time, Kylie's Instagram is being called into question. Yesterday, Kylie posted a series of photos of her with wavy bronde hair and a floor-length green leopard print dress, calling it "baby mama drama" chic.
Anyway, almost immediately, the pictures drew comparisons to a stage outfit Beyoncé wore to V Festival seven years ago. Check the receipts:
Beyoncé in 2013: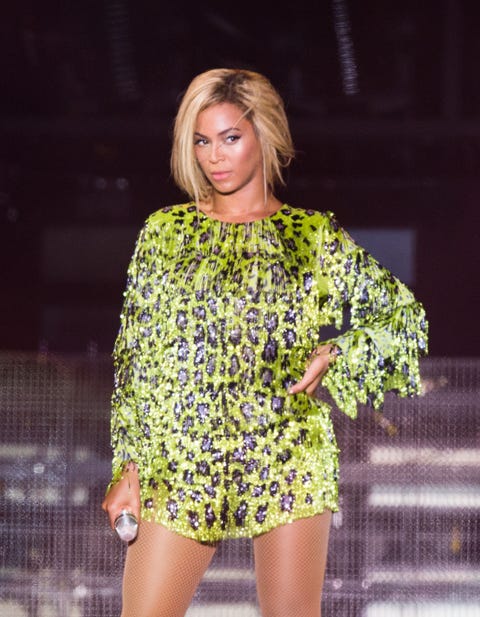 Kylie last night:
And if you look closer, Kylie's face and makeup does look strikingly similar to Beyoncé's. Or, according to some Twitter and Instagram users, she looks like "Beyoncé's tethered" or Khloé Kardashian trying to look like Beyoncé or the secret imaginary third Knowles sister, Kylie Knowles.
Kylie wanna be Beyoncé's tethered so bad…. pic.twitter.com/8OCDqlhn79
Is this Kylie Jenner dressed up as Khloe Kardashian dressed up as Beyoncé? https://t.co/y6H4SZyMTA
Understandably, the Beyhive is experiencing a range of emotions as a result of this new information.
I thought Kylie was Beyonce in one of those new pics pic.twitter.com/F6ZzbD2dN0
Y'all will never convince me that Kylie Jenner looks like Beyoncé Giselle knowles – Carter. On a good day with hella make up or bad. She can be in a Beyoncé costume and I won't jack it. You bitches is wild and disrespectful. pic.twitter.com/ddYfICv8gR
y'all are really comparing kylie/khloe's looking self to Beyoncé Giselle Knowles Carter i— pic.twitter.com/jRgBXu2NdT
Kylie Jenner really asked her doctors to give her that beyonce smh https://t.co/qPvMNZRpBL pic.twitter.com/con4VPV3lz
why is kylie dressed as khloe cosplaying as Beyoncé pic.twitter.com/G1Pu4K8o1G
Now why Kylie took some of Beyoncé's face like that? pic.twitter.com/ys002gB7gG
The accused has not commented on the matter, but perhaps she will upload a video of her toes and address it later? Time will tell…
In the meantime, please settle this debate:
Source: Read Full Article