On July 1, a statue of the late Diana, Princess of Wales, will be unveiled at Kensington Palace to commemorate what would have been her 60th birthday. But what was initially supposed to be a huge event with more than 100 guests has now been scaled back dramatically, with COVID-19 precautions cited as the reason. Even Diana's ex-husband Prince Charles has reportedly been cut from the guest list. "These moments have the potential to resurface old wounds, and it brings back memories for him; happy, sad, regretful," a royal insider told the UK Times (via Page Six). "Since Diana's death, he has felt it's best to keep those memories to himself and leave his sons to it."
According to Page Six, the ceremony's only attendees will be close members of Diana's family — including Prince William and Prince Harry — the statue committee, the sculptor, and the garden designer. Now, it's been announced that William's wife Kate Middleton will not even be present for the ceremony. Read on to find out why a royal family source called this absence "telling on many levels."
Kate has been the 'peacemaker' between William and Harry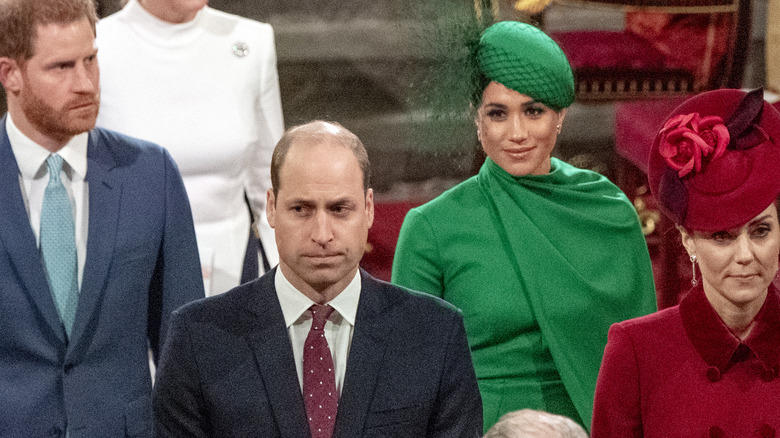 Over the last few months, Kate Middleton has been serving as a sort of mediator between her husband Prince William and his brother, Prince Harry. The brothers have been feuding during Harry's recent rift with his family, in which he fled to the United States and continually called them out on television. Prior to Prince Philip's funeral in April, the brothers had not seen each other in over a year. Page Six reported that Kate was set to act as a "peacemaker" between the two princes at the event to avoid any potential outbursts. Kate is suited for the role as she has a close relationship with her brother-in-law. According to Newsweek, Harry once called Kate "the big sister he never had." But without her there to make peace, could this be a recipe for disaster?
Some royal insiders think so. One source told Page Six, "Catherine's absence speaks volumes." They continued, "I think keeping the numbers down is a perfect 'excuse' for Catherine to stay away. William is fed up with the drama and Catherine doesn't need to be dragged into this. They are planning a private family visit with their children, and that private moment is far more important than the public rhetoric."
Kate is staying home so Harry won't feel 'outflanked'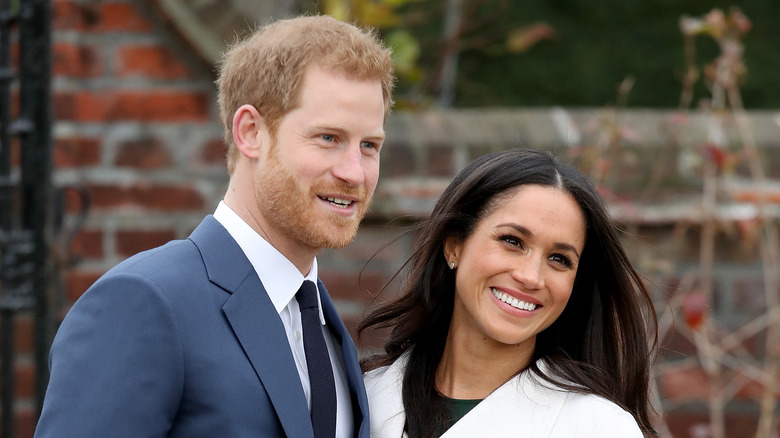 Per The Telegraph, part of Kate Middleton's absence from the ceremony is out of respect for Prince Harry. According to the paper, there were concerns among royal aides that Harry may feel uncomfortable and "outflanked" if William and Kate were there together while he was on his own, as Meghan Markle is caring for their newborn daughter Lilibet. With Harry attending solo, though, royal insiders are hoping to reconnect with "the old Harry," referencing Meghan's own rift with the institution.
The royals are also upset about Prince Harry's narrative about the family, which he has continually spoken out about in recent months — including a claim that Kate once made Meghan cry and that William is "trapped" in the institution. "The question for [Prince William] is whether he is able to override the short term pain and damage to get back to the place he once was with his brother," a royal source told The Telegraph. "It's very difficult when the trust has basically gone."
Prince William and Prince Harry will have to put their differences aside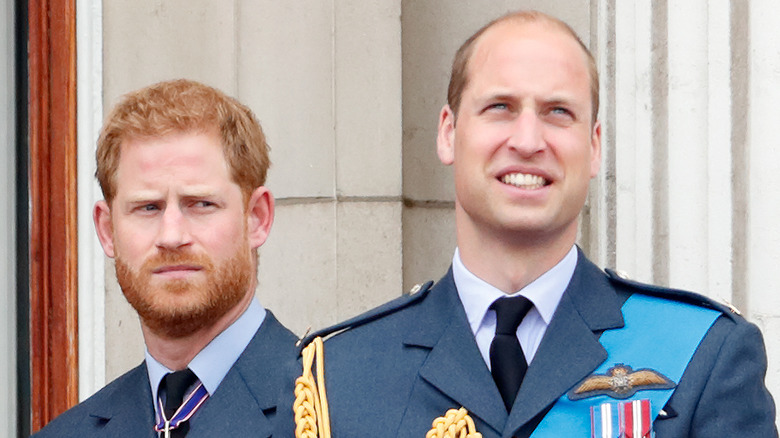 Without an informal mediator in place, Prince William and Prince Harry will have to navigate any interpersonal tension on their own. According to Page Six, the brothers "insisted" on giving separate speeches at the unveiling. Nonetheless, an inside source told Page Six that William is not looking to start anything. "William is determined that the Sussex drama does not overshadow this important moment of remembrance to his much-missed mother and is keeping that as his focus," they said.
Another source echoed that sentiment to The Telegraph, saying, "Of course they will put on a brave face for the event, like they did at the Duke of Edinburgh's funeral. They both know it is not about them but remembering the late princess." But they did note that while the royal brothers will most likely put their differences aside to honor their mother, a full-blown resolution between them is almost certainly not going to happen. "But the idea that this can all be forgiven and forgotten …" the source said, "it's going to take a lot longer than a couple of days."
Source: Read Full Article