Tristan Thompson is back at it again, leaving flirty comments under Khloé Kardashian's social media posts.
Since calling it quits in February 2019, the NBA player has been doing everything in his power to win the reality star back.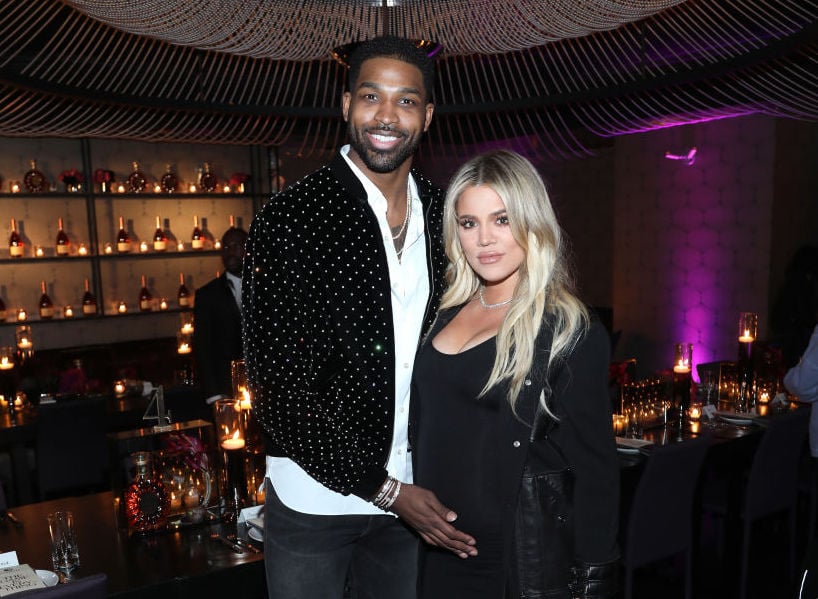 From showering her with lavish gifts to complimenting her at every turn, it's clear that Thompson isn't giving up anytime soon when it comes to getting back in Kardashian's good graces.
Thompson is adamant on winning Kardashian back
It looks like Thompson is continuing to keep hope alive when it comes to rekindling his relationship with Kardashian.
Since calling it quits, the Cleveland Cavaliers basketball player has been trying his best to regain the reality star's trust and eventually win her back.
Though he and the Keeping Up With the Kardashians star have maintained a friendly relationship since their split, it's clear that Thompson wants to go back to being more than just friends.
Despite Kardashian continuously shutting down his efforts to win her back, Thompson keeps trying and recently proved that he isn't admitting defeat anytime soon.
On Mar. 5, the NBA player left quite the compliment on Kardashian's Instagram post.
While putting in some work at the gym, KoKo took some time to snap a mirror selfie showing off her toned physique in a pink sports bra, grey high-waisted leggings, and a matching zip-up hoodie with pink sneakers.
Of course, after seeing this photo, Thompson couldn't help himself and left the comment, "No days off" followed by heart-eyes, kissing heart, and red heart emojis.
Leaving flirty comments on Kardashian's social media posts is nothing new for Thompson.
Ever since their breakup, the NBA player has consistently tried to capture his ex's attention, especially on Instagram.
From commenting on how good she looks in a photo to leaving flirty emojis, Thompson continues to think of ways to get back into Kardashian's good graces.
Kardashian isn't looking to rekindle their romance
Though she appreciates his efforts, Kardashian has made it clear that she isn't interested in getting back together with Thompson.
While she likes that her ex has stepped up as a father and is working on bettering himself, the Good American designer is still hesitant to give him a second chance.
"Khloe enjoys the attention, but she's still wary of him in that respect," a source recently told HollywoodLife. "She trusts him as a father for True but, as far as getting back together at this point, she wants to keep things the way they are."
Although she continues to not give Thompson's compliments the time of day, it turns out that his efforts to win her back go far deeper than what we see on social media.
"In real life he comes on even stronger. He sends her flowers all the time. Her house is filled with flowers and a lot of them are from Tristan," an insider previously told HL. "He sends her sweet texts and never stops telling her he wants her back."
Fans think Thompson should quit while he's ahead
Even though Thompson isn't afraid to show Kardashian some love on Instagram, fans are fed up with his attempts at winning her back.
Ever since his first alleged cheating scandal, Kardashian's followers have not been the biggest fans of Thompson.
Though Koko has since forgiven his cheating ways, fans still hold a grudge against the NBA player and are sick of seeing him making efforts to get back in her good graces.
Every time Thompson shows some public adoration for the KUWTK star, fans are quick to bash him in the comments, with some even urging him to give up the chase.
Since Kardashian isn't feeding into his efforts, fans think that Thompson should take that as a sign and stop trying to win her back.
"Why do you keep commenting on her post, she doesn't want you leave her alone please its annoying," someone wrote under Thompson latest compliment.
"Goodbye," another person commented directly to the Cleveland Cavaliers players.
Though many want him to quit chasing after Kardashian, it seems like that isn't an option for Thompson.
Now that he's gotten to a point where Kardashian doesn't mind being in the same room as him, Thompson plans to keep doing what he can to get back in his ex's good graces, even if that includes leaving flirty comments.
Source: Read Full Article