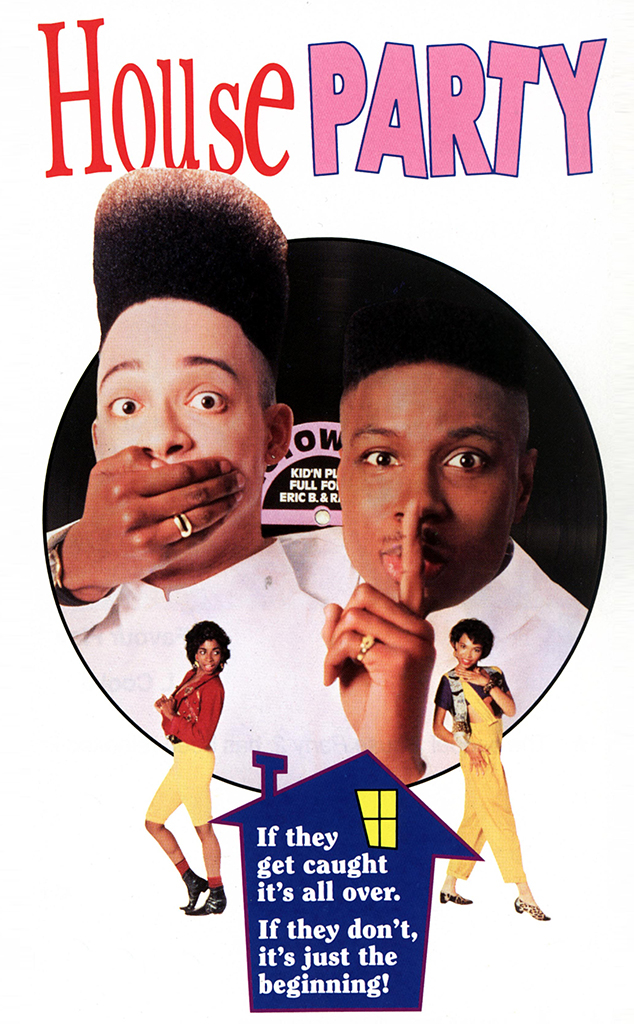 Moviestore Collection/Shutterstock
Anytime you can celebrate one of the defining movies of the '90s, it's a party.
And House Party kicked off the whole decade with a booming beat. It was just on cable the other night—best you catch it on premium with all the swears included—but the cult-classic comedy starring rap duo Kid 'n Play and a pre-Martin Martin Lawrence and Tisha Campbell is turning 30 today.
Meaning, the young stars who played high-school kids (to varying degrees of believability) are all grown up and way past curfew age now—but all are aware of the momentous impact they had on pop culture with the fearlessly profane, oft-improvised and uninhibitedly joyful movie about the efforts of Kid, grounded after a fight with the sociopathic school bullies, to sneak out to his best friend's party, dance, rap and, if the stars align, hook up—all without getting messed up by the bullies (or the police, or fellow jail inmates), or caught by his no-nonsense dad.
But though House Party is as rewatchable as it gets, we realized we didn't know tons about how the film was made or what it meant to those involved—so what better time than its 30th anniversary to get up to speed.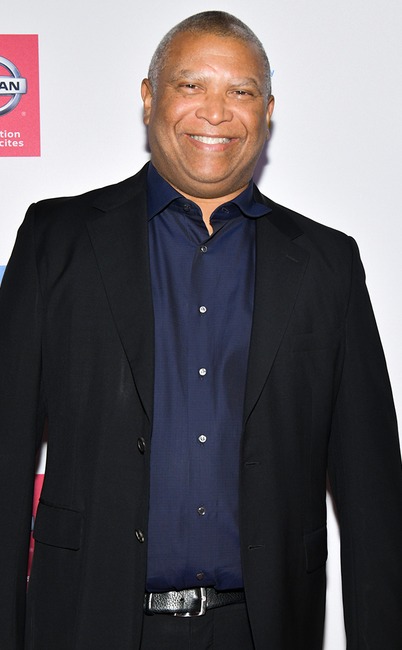 Rodin Eckenroth/FilmMagic
1. Writer-director Reginald Hudlin was a student at Harvard when he made the short film House Party!, which served as his thesis project and won the $1,500 first prize from the Black Independent Video and Filmmaker's Awards, sponsored by the Black American Cinema Society. The movie became the jumping-off point for his feature directorial debut.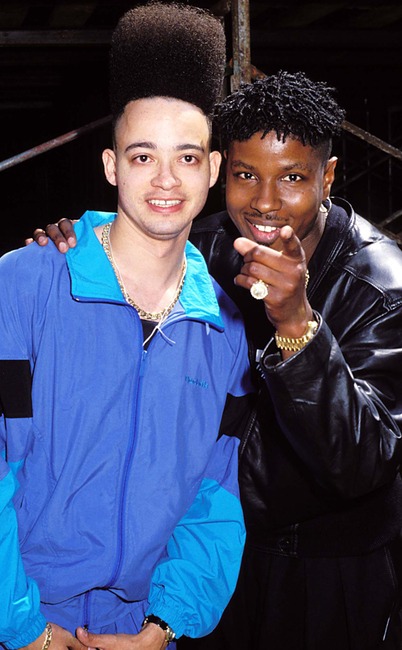 Jeff Kravitz/FilmMagic, Inc
2. Christopher "Kid" Reid and Christopher "Play" Martin actually met at a house party in New York. On OWN's Where Are they Now, Martin recalled hearing Reid's voice rapping from across the room, and "that's when he began to be on my radar."
3. At first there was a bit of a Jets-Sharks situation, because Reid was with a rap crew called The Turnout Brothers (as The Kid Coolout) and Martin was with The Super Lovers (as Playboy). Ultimately, "life got the best of our comrades," Martin said, "…and when the dust settled, he and I were the only two left standing." They shortened their names and became Kid 'n Play.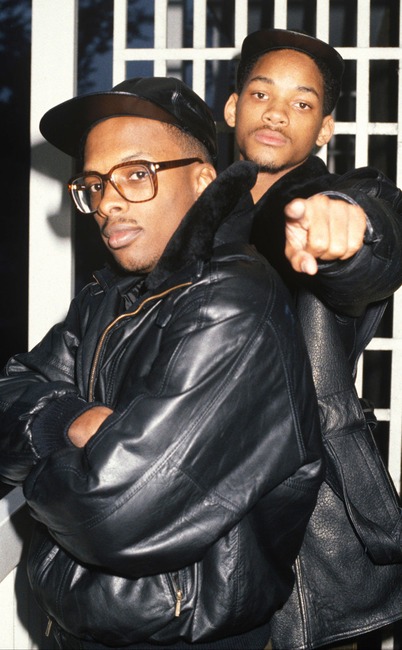 David Corio/Redferns
4. New Line Cinema offered the lead roles initially to DJ Jazzy Jeff and the Fresh Prince—aka Jeff Townes and Will Smith—after successfully suing the duo over their song "A Nightmare on My Street," which liberally sampled Freddy's voice and music from the Nightmare on Elm Street franchise without permission. Smith and Townes could either pay a settlement or be in two New Line movies and their salaries would go toward the amount of money they owed. The first script the studio offered was House Party.
5. But neither party wanted it to go down like that. "I said, look, I love those guys—they're talented, they're funny, they'd be perfect for the movie,'" Hudlin—whose films include Boomerang and The Ladies Man as director and Django Unchained as a producer—recalled in 2010 for the video series "A Moment in Comedy History With…" "But I don't want someone doing the movie because they lost a lawsuit. I mean, if they're not genuinely enthusiastic about it, then… that's gonna hurt me."
Still, Hudlin said that he met with Russell Simmons, the duo's manager at the time, but Simmons said his guys couldn't possibly do it, that they had something else lined up. "I was bummed," Hudlin remembered, "'cause it would've been great." Whatever movie they were supposedly going to do didn't happen, "but clearly Will Smith happened in a gigantic way."
And "House Party was a success either way…I have no regrets. Kid 'n Play did a spectacular job."
6. Jeff Townes said that they just weren't into the project. "The first script [New Line showed us] was House Party because if you think about the premise of House Party—one dude was a DJ and the other was a rapper," he told Radio Milwaukee, per CBR.com. "So House Party was set up for Jazzy Jeff and the Fresh Prince. We weren't thinking about doing movies back then. They were like, 'What do you think about this?' and we were like, 'Oh, we don't like it.' And 'What about this?' 'Oh, we don't like it. Ha, we out!'"
Article continues below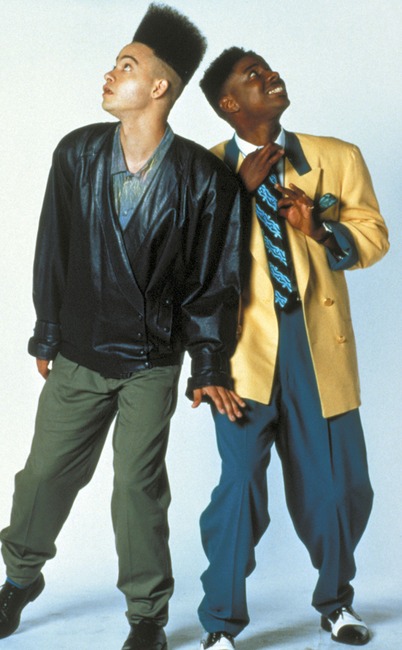 New Line/Kobal/Shutterstock
7. Martin told the Jasmine Brand in 2018 that, while it was true that New Line wanted Smith and Townes because of their popularity at the time, an executive realized that he and Reid could carry the film just fine when he walked the pair outside after a meeting at their New York office and a mob of young fans was outside waiting for them.
8. Ironically, after their short-lived 1990 animated series Kid 'n Play was canceled by NBC that December after one season, according to Reid, he and Martin turned down the opportunity to do another pilot for the network. Once Will Smith and Jeff Townes were cast instead, it was retooled as The Fresh Prince of Bel-Air. Once upon a time, that might have been Kid 'n Play, "born and raised" in Queens, N.Y., heading west.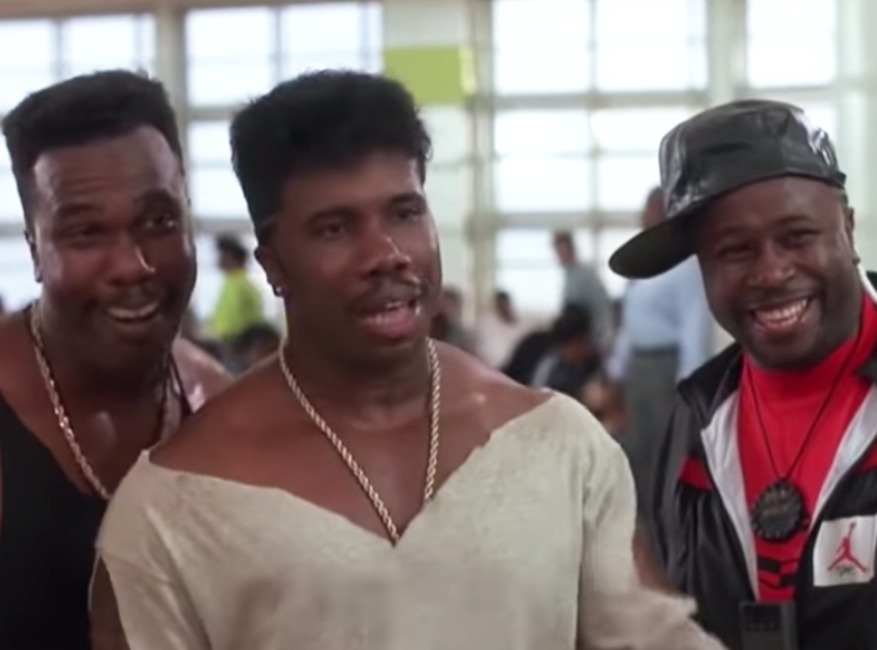 New Line Cinema
9. -Reginald Hudlin and his brother Warrington Hudlin, also a producer on the movie, played the two burglars who get chased out of the house by the dog.
10. Stab, Pee-Wee and Zilla, the bullies who seriously terrorize Kid throughout the movie, were played by Paul Anthony, Bowlegged Lou and B-Fine from the real-life rap crew Full Force. Previously known mainly as producers and writers on the music scene, House Party made them into famous faces.
"Man, we had no idea [how big it would be]," Anthony told Vlad TV's DJ Vlad in 2017. "I remember like it was yesterday, I was writing and I got a call from a guy named Reggie Hudlin." Hudlin's friend Robert Ford had put them in touch because the bully roles were described in the script as "Jheri-curled, musclebound guys like Full Force." Anthony figured Hudlin thought of him and B-Fine from their roles as Enforcer #1 and #2 in 1985's Krush Groove, about a manager who gets in over his head borrowing money to finance his groups, which starred Blair Underwood (in his first movie) and numerous hip-hop and R&B stars playing themselves.
11. Lou, a theater buff since childhood, told DJ Vlad that the script originally had the bullies written "kinda plain, kinda bland, kinda like with no personality." So, Lou said, he rewrote a scene—including swapping names with Zilla, so that Zilla, he of the ripped white shirt, was played by B-Fine, and Lou took the role of the tracksuit-wearing Pee-Wee. He added Pee-Wee's high-pitch nasally voice and his repeated promise to "kick your f–king aa-ass" and showed it to the Hudlin brothers. "We killed it and Warrington Hudlin looked at us and said, 'Keep it!'…. After that, I changed all of our f–king scenes in there," with his brothers' help, Lou exclaimed. "They loved everything we did," Anthony assured DJ Vlad.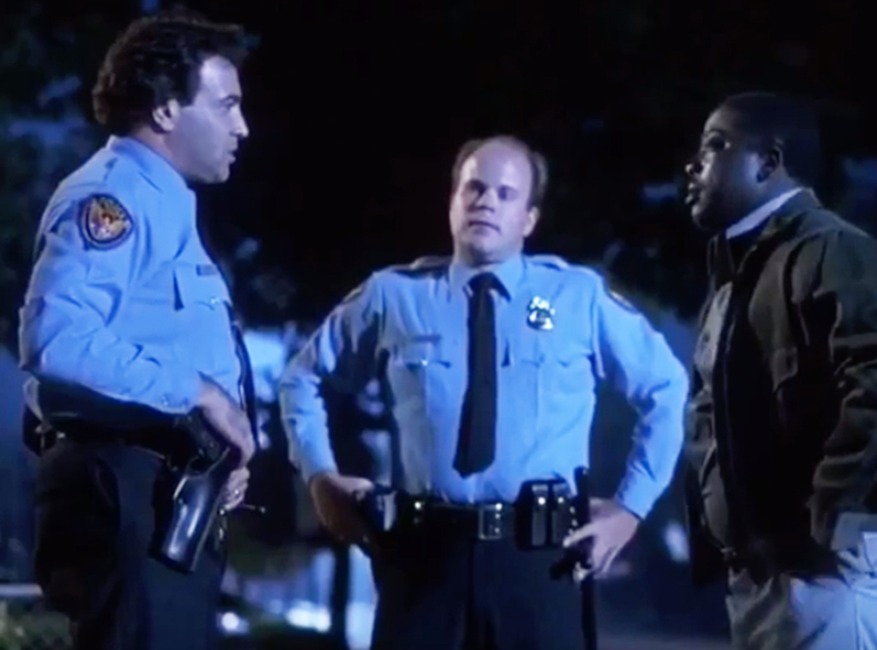 New Line Cinema
12. "A lot of everything we do is really free-styling," B-Fine added, including the scene in the school cafeteria where Zilla is punching Kid and Pee-Wee encourages him to wait a beat before exclaiming, "Again!" "Reggie was so smart, he was like a great coach who had great players and he knew it," B-Fine said, crediting the director with how well the movie turned out. "He knew how to let them free-style and pull 'em back in, because I remember, with Robin Harris, in the script it just had his name. It said 'Pop.' There was no lines. And I was like, 'What is he going to say?!' Reggie would just laugh and say, 'You'll see!'"
Article continues below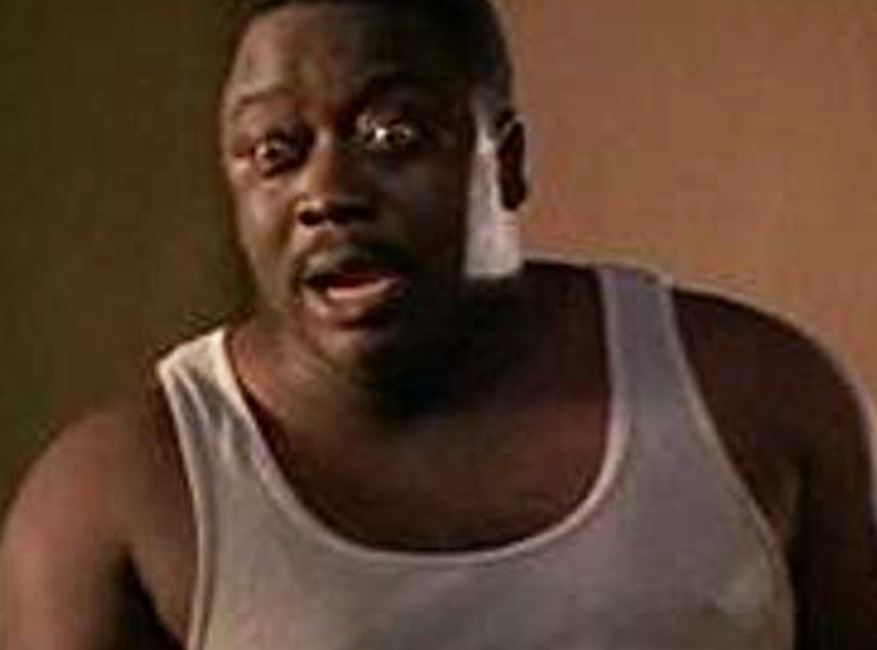 New Line Cinema
13. Robin Harris, who played Kid's dad, known only as "Pop," died suddenly of a heart attack at 36 nine days after House Party came out. The animated 1992 movie Bébé's Kids, based on a signature stand-up bit Harris did based on his girlfriend's kids, was in pre-production when he died, so though the main character is drawn to look like him, he's voiced by Faizon Love. Harris is spoken of by his fellow comedians with the highest, albeit wistful, praise to this day.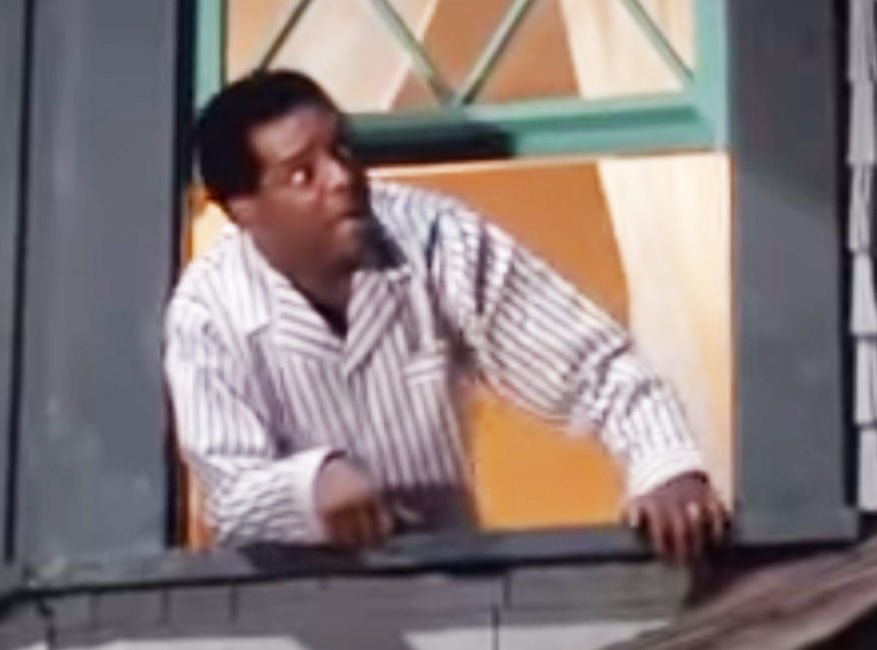 New Line Cinema
14. The late John Witherspoon, Play's cranky neighbor who can't sleep because the kids next door—"and who else is over there, Public Enema?"—are making so much damn noise, also improvised most of his lines.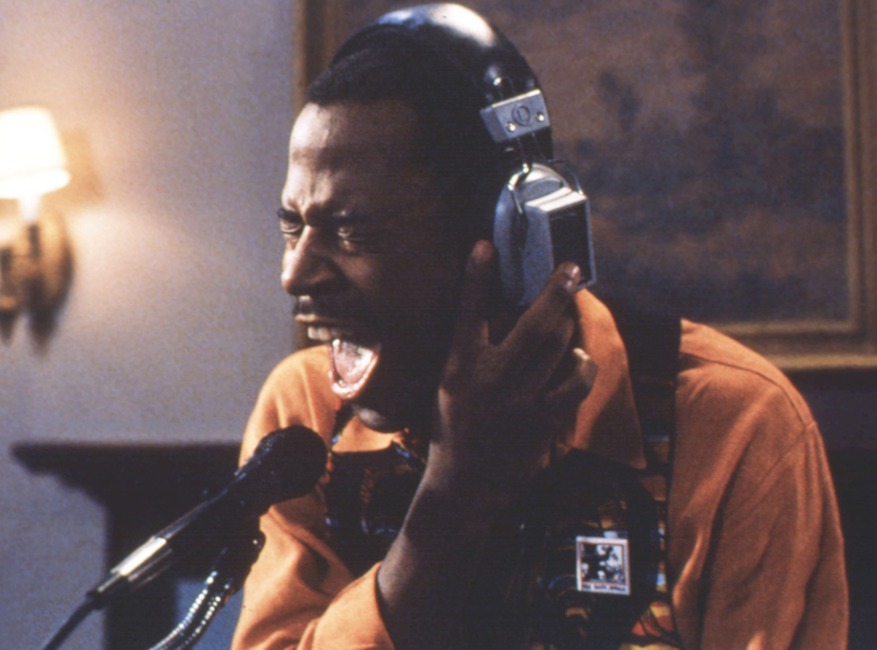 Moviestore Collection/Shutterstock
15. Tisha Campbell and Martin Lawrence met making House Party and went on to play a longtime couple in the hit Fox sitcom Martin starting in 1992.
16. They would also go on to be in House Party 2 together, but while Martin was still on, Campbell sued Lawrence for sexual harassment in 1997, hastening the end of the Fox sitcom.
Article continues below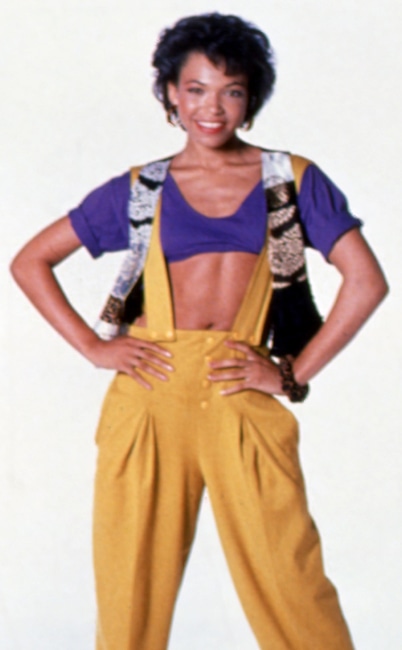 Moviestore Collection/Shutterstock
"It was all a lot of bulls–t and…just whoever's side it was, it was bulls–t" Lawrence said in a 2020 GQ profile." Asked if he and Campbell, whom he'd been seen with recently, had talked about it, he said, "We don't need to talk about something that just didn't happen. So I just decided to walk away from the show. I just decided to end it. People said that I got canceled, but that wasn't the case. I decided to just leave the show."
"I love Tisha," Lawrence also said. "I've seen her then and now, now and then, always with nothing but love. I have nothing but love for her, and I always have."
17. On The Talk in January after the article came out, Campbell said, "I can't go into much detail about the past because there was a confidentiality agreement, so the gag order says no. But, what I can say is …I was actually kind of shocked [by what Lawrence said]. So I hit him up. He called me within a minute…He was like, 'Don't read into what it is, there's a lot of people that's trying to bring up the past, and trying to make it news today. But, you know, T, we're good. I love you and I love your family.'"
The actress continued, "Again, I'm not going to go into details, because I want to respect his privacy and I want to respect mine. But I will say, by the end of it, it was nothing but laughter and healing. And I got a chance to experience that and I'm so glad we're in a good place right now."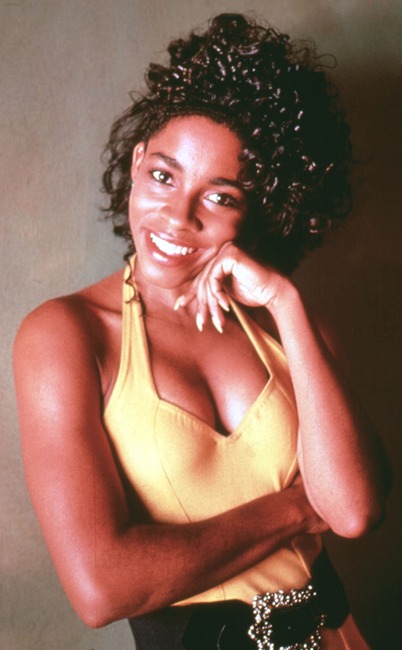 Moviestore Collection/Shutterstock
18. A.J. Johnson, who played Sharane, the more flirtatious of the pair of BFFs that Kid 'n' Play tip their caps at, was a Fly Girl on In Living Color and in addition to acting has been a choreographer and a fitness and wellness coach—including for Lindsay Lohan, as seen in the OWN docu-series Lindsay.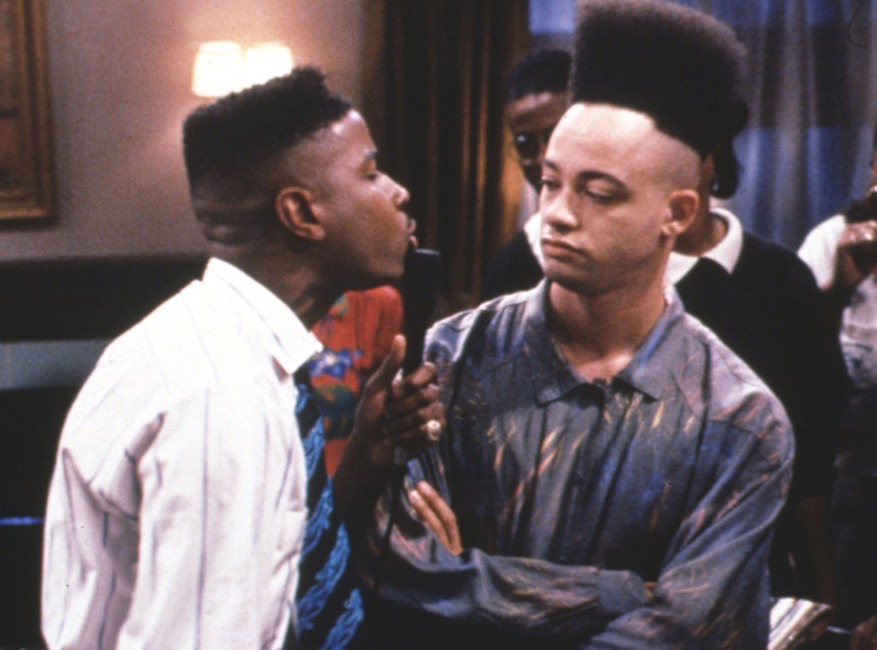 Moviestore Collection/Shutterstock
19. The house where Play's party took place was a real home in Los Angeles, on 15th Street.
20. Kid 'n Play suggested Bernie Mac and Chris Tucker as potential cast members—and though they weren't in the original, both were in House Party 3.
Article continues below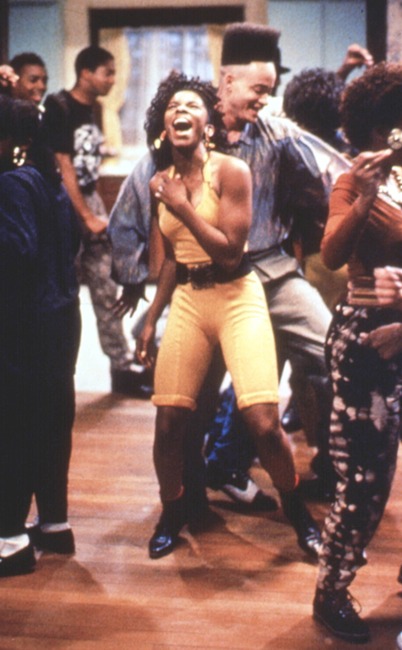 Moviestore Collection/Shutterstock
21. The cast that ultimately did assemble became fast friends. "There was just this really crazy togetherness and chemistry that, I feel, superseded the experience on camera," A.J. Johnson remembered on the House Party reunion episode of TV One's Unsung.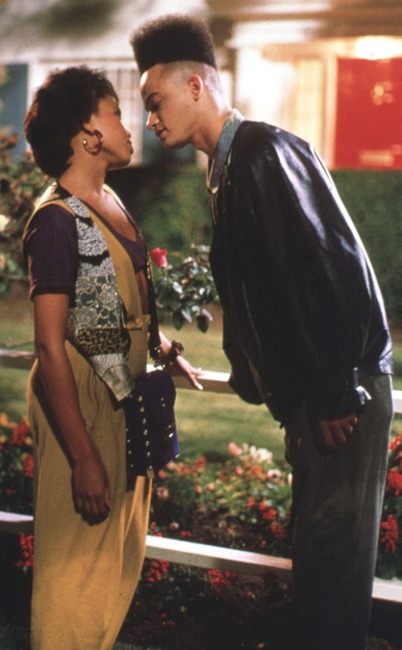 Moviestore Collection/Shutterstock
22. "It was like going to a family reunion every single day," added Campbell, who played the more understated Sidney, whom Kid realizes in the end he really likes after embarrassing himself all night going after Sharane.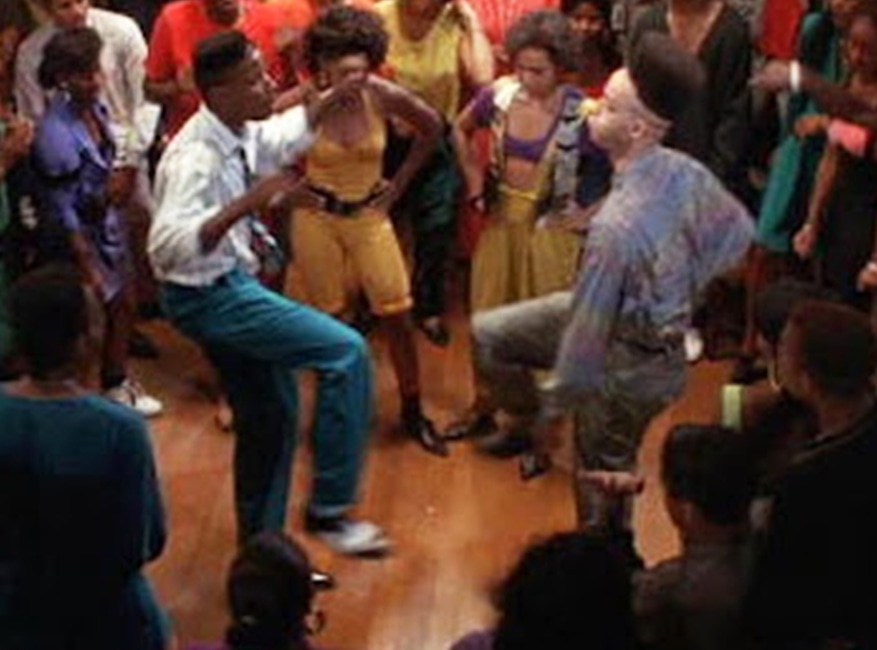 New Line Cinema
23. Johnson choreographed her and Campbell's routine during the house party dance-off with Kid 'n' Play—who provided their own moves, including their signature kick step that was known, naturally, as "the Kid 'n Play."
Article continues below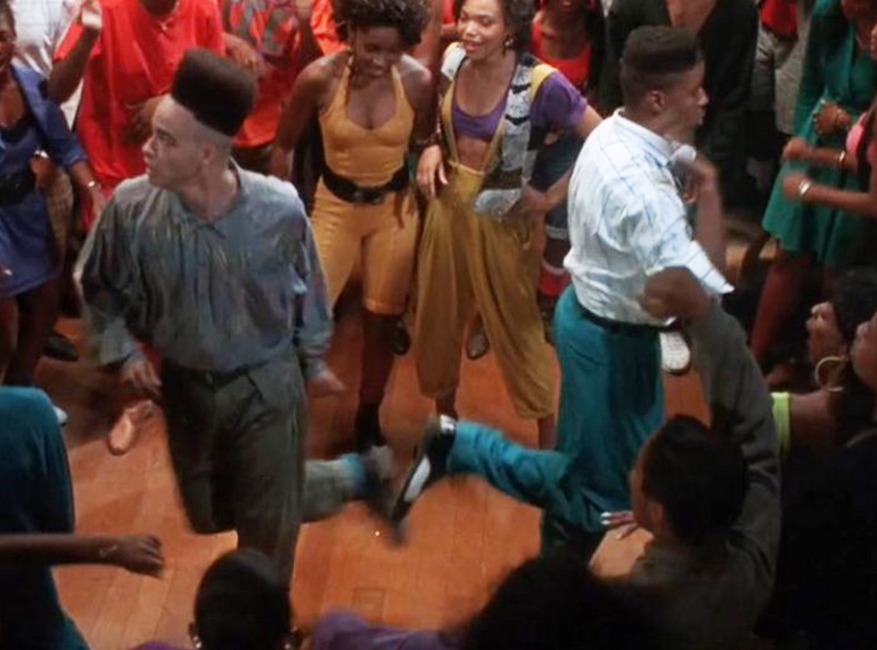 New Line Cinema
24. All was quiet on the set for the dance-off, and the music was added afterward.
25. Full Force's song "Ain't My Type of Hype" wasn't on the House Party soundtrack but it's the tune that plays during the dance-off scene, ensuring its place in pop culture history regardless.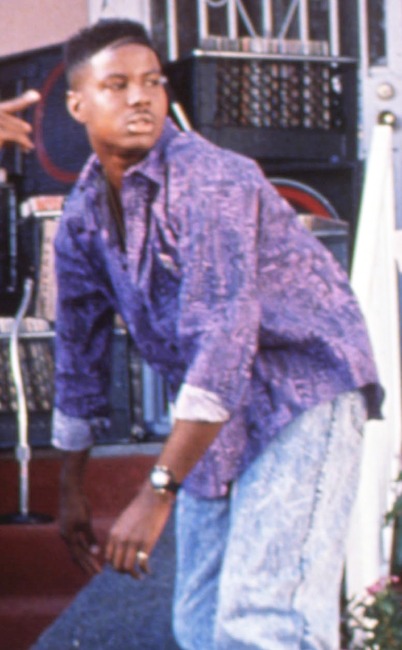 Moviestore Collection/Shutterstock
26. Play was "definitely a prankster," Johnson recalled on Unsung. "We just would show up every day and think about what could we do next to have more fun on camera."
Moviestore Collection/Shutterstock
27. Kid 'n Play were obviously in their element doing the rap battle scene, but they prepared extensively beforehand, writing and rewriting lyrics.
28. Fans of Real Time With Bill Maher have been hearing Kid's work almost weekly for years: Chris Reid co-wrote the theme music for his good friend Maher's HBO show with Scott "Shavoni" Parker and Louis "Buster" Brown II—and that's Reid's voice saying "start the clock" at the beginning.
Article continues below
New Line/Kobal/Shutterstock
29. Christopher Martin directed a 2018 documentary, And I Danced, a labor of love years in the making about the world of backup dancers. "I would love for this to turn into a lecture and maybe a workshop tour," he told The Jasmine Club. "I'd like for women to be inspired by the women featured in this on how they have triumphed in so many ways. For most of them, it all started by saying 'I CAN DO THAT' and the rest is history! Dancing with all of the hip-hop legendary, iconic and pioneers to Michael Jackson, Whitney Houston, Janet Jackson, Madonna and Prince…The late 80's and 90's is the platform for those to rock today. Today's dancers are incredible, but it's on the shoulders of these dance masters and pioneers."
30. Two sequels came out in quick succession, the college-set House Party 2 in 1992 and bachelor party-themed House Party 3 in 1994—but there are actually five films in the franchise. The straight-to-video House Party 4: Down to the Last Minute, not starring Kid 'n Play, came out in 2001 and House Party 5: Tonight's the Night, featuring a Kid 'n Play cameo, popped up in 2013. Talk about a non-stop rager.
And here's some good news, if you don't mind updates and reboots: A House Party remake is in the works from New Line and SpringHill Entertainment, LeBron James and Maverick Carter's production company that's also behind the upcoming Space Jam 2.
In 2019, Deadline reported that Calmatic, director of Lil Nas X and Billy Ray Cyrus' Grammy-winning "Old Town Road" music video, is attached to direct.
Source: Read Full Article