Have you ever wondered how much it would cost to attend the Met Gala? Or how many hours it takes a designer to create a gown for a celebrity to wear on fashion's biggest night?
While the 2020 Met Gala may have been postponed indefinitely due to the coronavirus outbreak, we're still here to bring you all of the insider info about the event leading up to the First Monday of May, when E!'s The Met Gala: Ultimate Fashion Moments special airs at 11 p.m.
We're breaking down the Met Gala by the shocking numbers, spilling secrets about just how much it costs to attend the event, how many people are allowed to attend and the surprising age limit that was put into place in recent years.
Plus, we looked into just how long it takes the stars to get ready leading up to the moment they walk the Met's iconic stairs and how many likes the event's most infamous selfie generated…
So let's break down the Met Gala by the numbers, from tables costing more than homes and dresses weighing more than many can bench-press…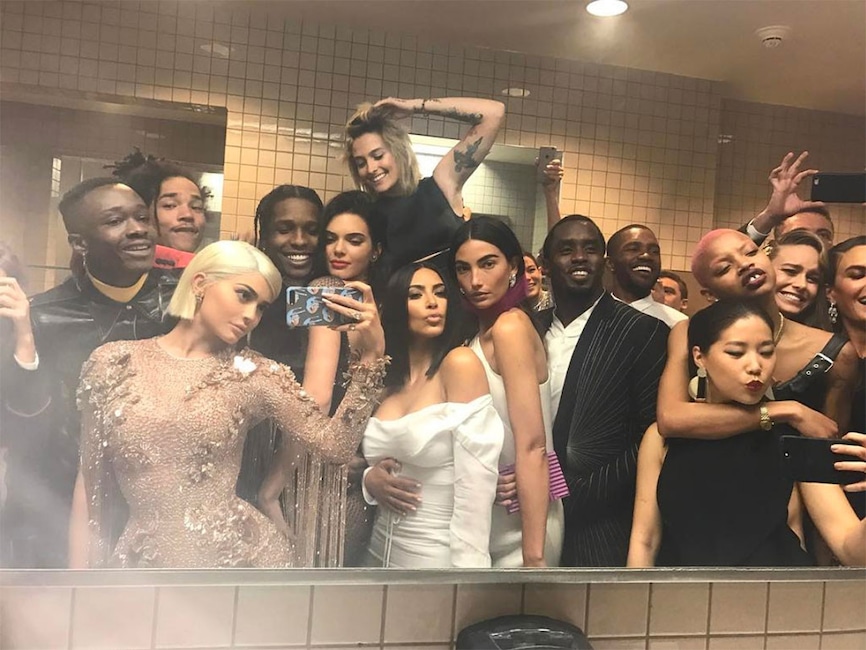 Instagram
3.45 Million
The number of likes on Kylie Jenner's infamous bathroom selfie from the 2017 affair, which broke the no social media rule that was technically instated in 2015.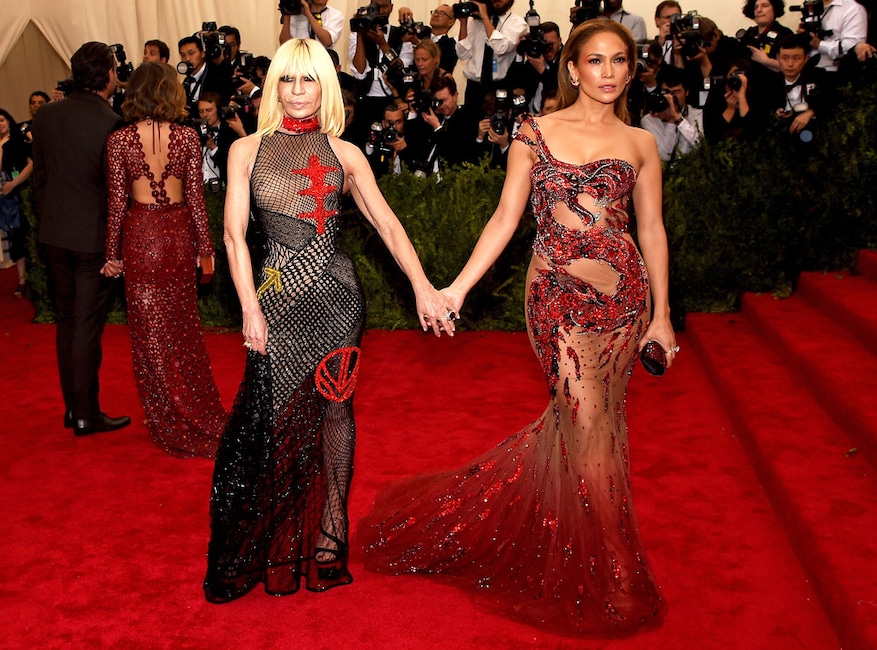 Dimitrios Kambouris/Getty Images
$275,000
The cost of a table, with many designers buying one and inviting celebrities to attend as their guests wearing their creations.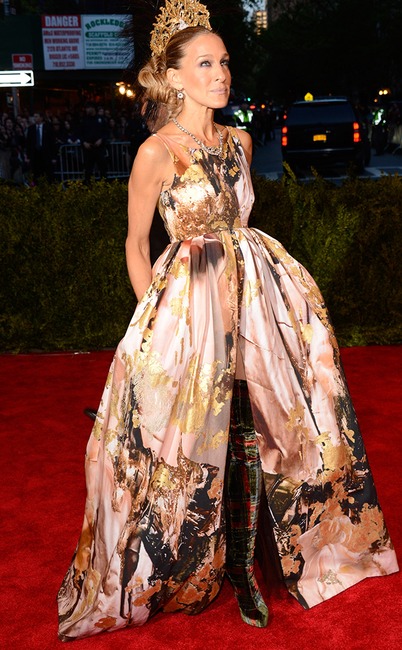 Kevin Mazur/WireImage
$30,000
The cost of a solo ticket to attend.
Article continues below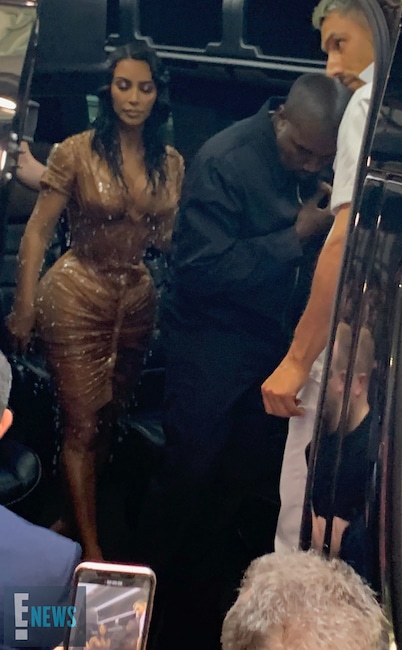 E!
$1,000
The average cost per night for a hotel room for the celebs to use to get ready for the event and crash after, with a room at the Carlyle, a popular spot for gala attendees, costs between $820 and $910. Meanwhile, rooms at The Mark, another nearby hotel favorite by celebs, cost between $1,195 and $1,250.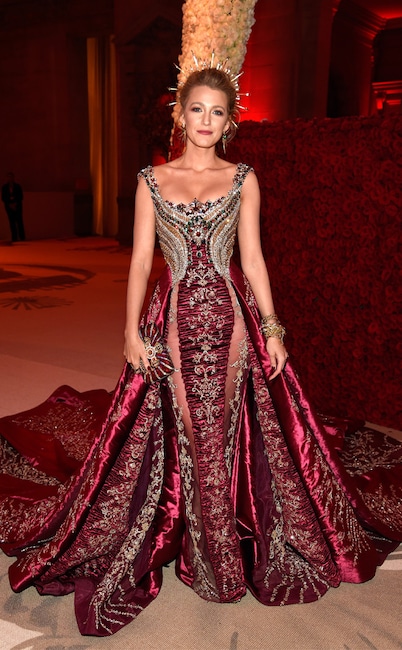 Kevin Mazur/MG18/Getty Images for The Met Museum/Vogue
600 Hours
The amount of time it took for Versace to create Blake Lively's divine gown for "Heavenly Bodies: Fashion and the Catholic Imagination."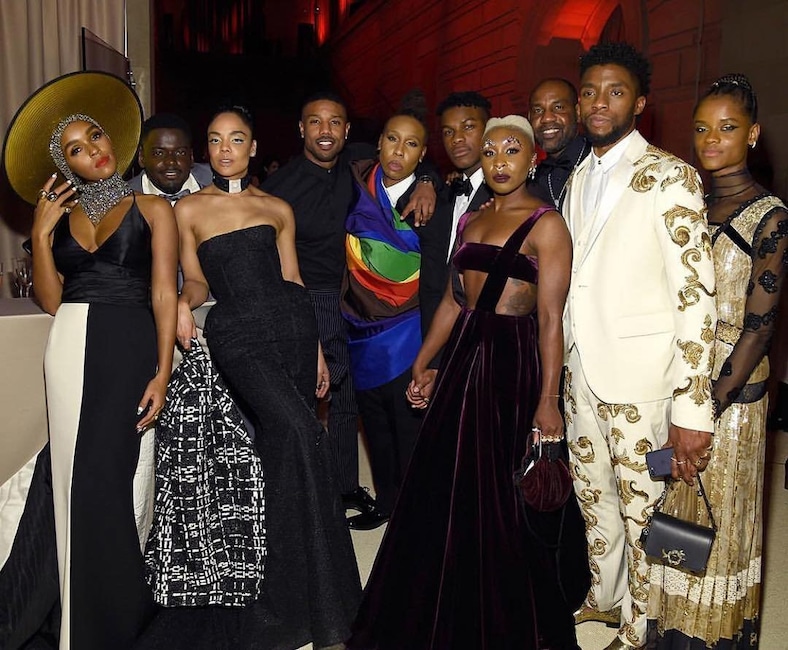 Instagram
500
The ideal guest list cut-off, though it usually goes over that amount with the attendee count once hitting 800.
"We do want the experience to feel intimate for our guests, so in the past few years, we've really scaled back and dropped numbers by almost 200 or 300 people," Met Gala planner Sylvana Ward Durrett explained to Fast Company.
Article continues below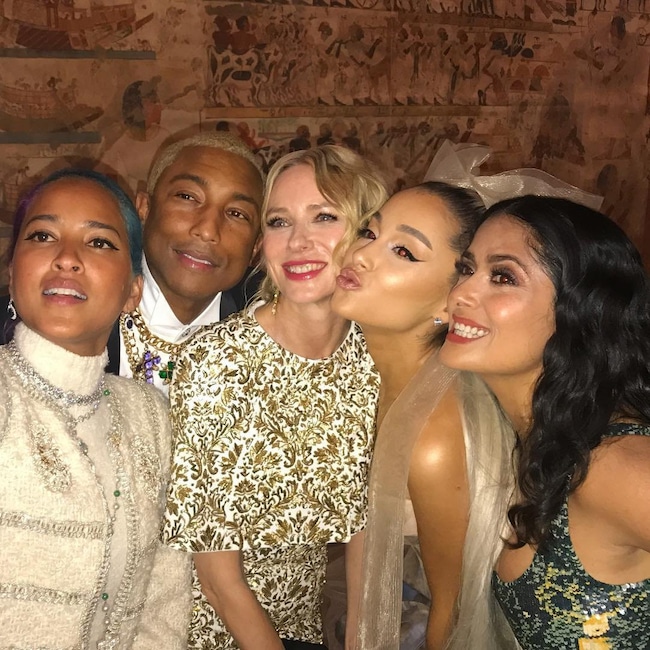 Instagram
100
People who work on the event year-round.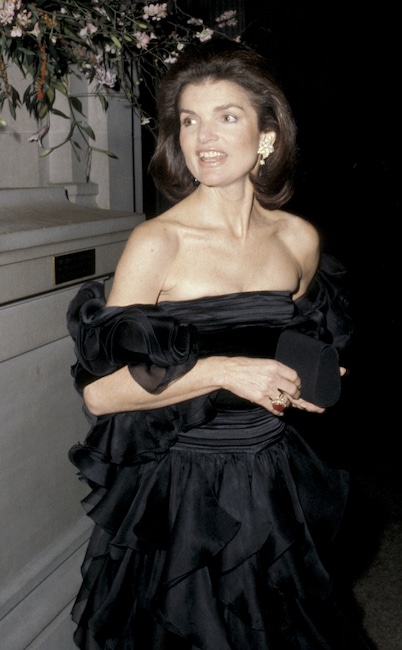 Ron Galella/Ron Galella Collection via Getty Images
72 Years
How long the Met Gala has been held, with the very first one being thrown by fashion PR maven Eleanor Lambert in 1948.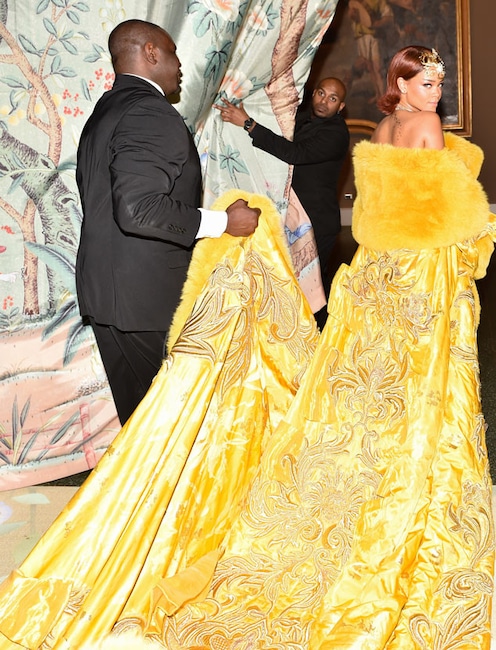 Billy Farrell/BFA.com/Sipa USA/Sipa USA
55 Pounds
That is how much Rihanna's iconic yellow fur-lined Gui Pei masterpiece from 2015 weighed, with it requiring four men to carry the train up those stairs.
"I was really not convinced that she would be able to wear it because …it's very heavy," Guo later told Tribune. "But she later told me, 'This piece of clothing is so beautiful,' (and) that …she gained the courage (to wear it). I really admired that."
Article continues below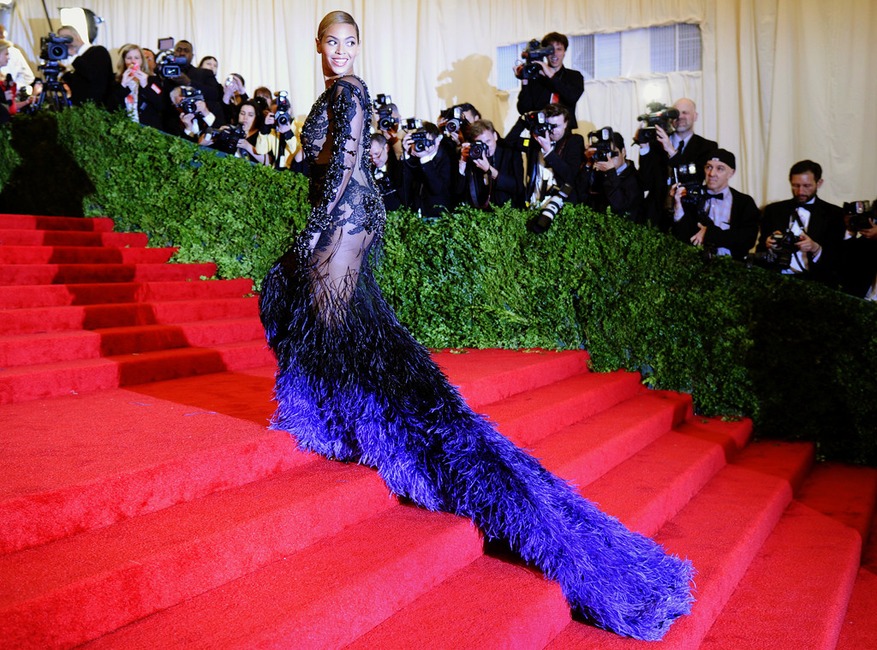 TIMOTHY A. CLARY/AFP/GettyImages
24 Hours
The ridiculously short amount of time Beyoncé 's team had to put together her look when she decided she wanted to attend the 2012 Met Gala less than one day before the event began.
"It was Met Gala, and Beyoncé decided that day that she wanted to go," stylist Ty Hunter revealed to E! News in 2017.
"It was like, 'If we can, we go. If we can't, we won't," he recalled, explaining they were in the midst of rehearsing for an upcoming tour and it was one of the first times the superstar would be seen in public after having daughter Blue Ivy. "Thank god Givenchy made a dress for her for a prior event that we didn't use."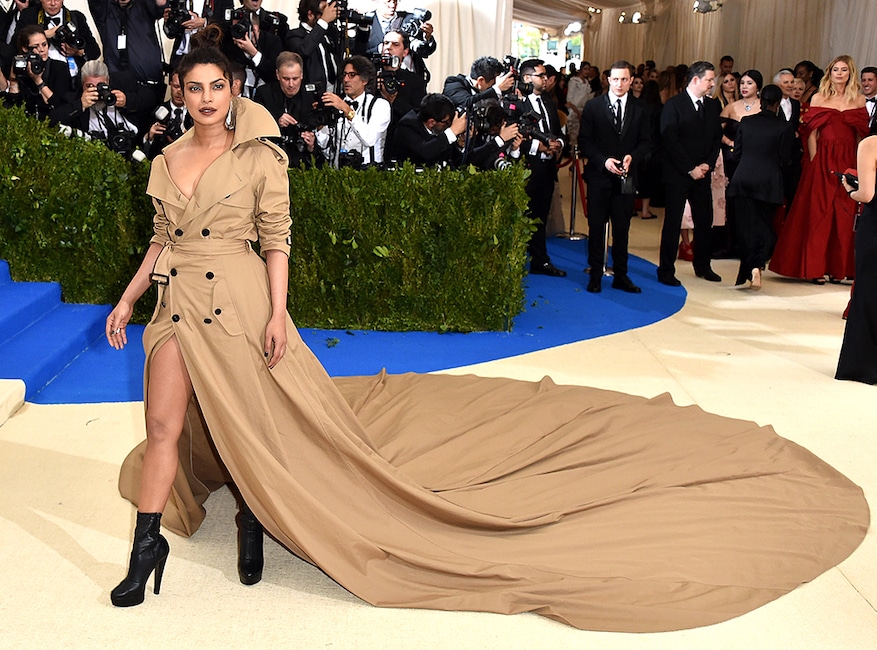 John Shearer/Getty Images
20 Feet
That was length of the train on Priyanka Chopra's infamous Ralph Lauren trench coat-gown hybrid that she wore to the 2017 event.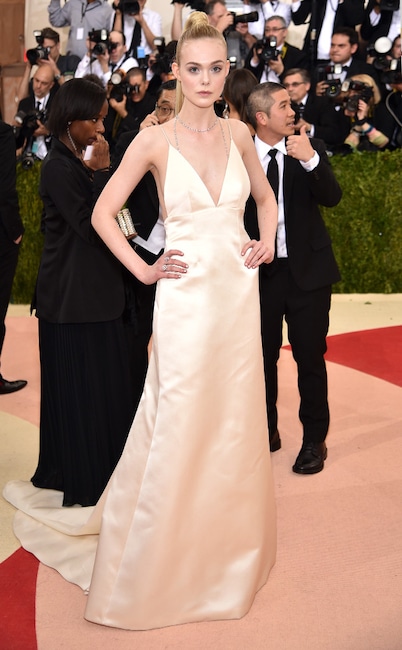 Dimitrios Kambouris/Getty Images
18
The minimum age you have to be to attend the exclusive event, though the rule going into effect in 2018.
At the time, an event organizer explained to The Hollywood Reporter, "It's not an appropriate event for people under 18." Previously, Elle Fanning had been one of the youngest attendees, making her debut at the age of 13.
But there seems to be a loophole for the younger fashionistas in Hollywood: a minor can attend if their parents are in attendance/invited.
Article continues below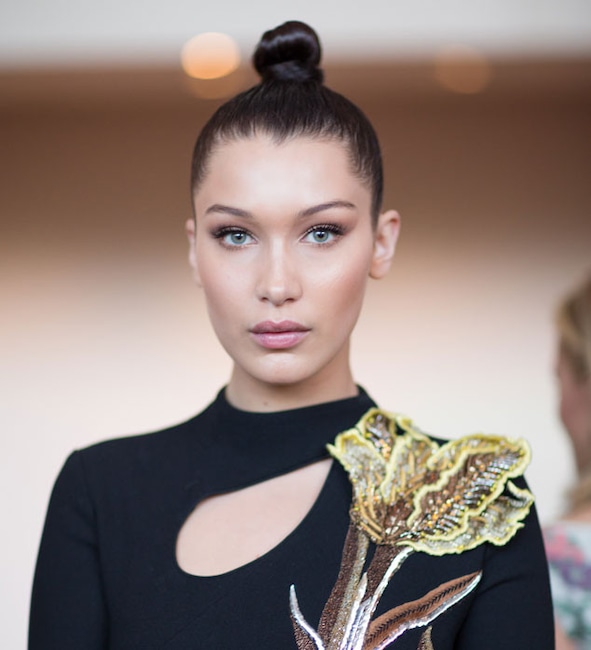 SIPA USA
3 Hours
The average time it takes for a celebrity to get glammed up on the day of the event is three hours, according to Bella Hadid in a 2016 interview with Vogue (though most start prepping weeks in advance).
Watch E!'s The Met Gala: Ultimate Fashion Moments special Monday, May 4 at 11 p.m., only on E!
Source: Read Full Article