BTS fans are on high alert for a second Agust D mixtape, a second Hopeworld mixtape, and Jungkook's first mixtape. On April 7, Suga tweeted from BTS's shared Twitter account, and fans took the rapper's tweet as a sign Agust D 2 could be out soon.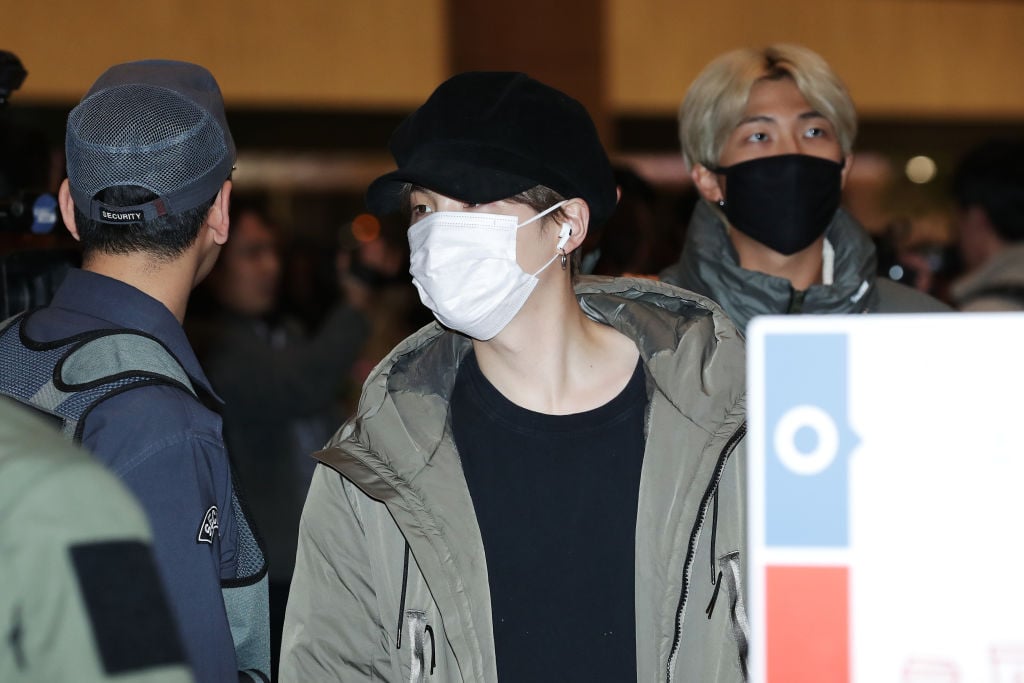 Suga finished producing 'Agust D 2' in 2019
On Aug. 15, 2016, Suga released his debut mixtape Agust D under the name Agust D, his other alter ego that differentiates him from his work as Suga in BTS. The mixtape incorporates a hardcore rap style, and explores Suga's rise to success as well as his struggles with mental health.
In August 2019, BTS took an extended vacation before filming the fourth season of BTS: Bon Voyage and resuming their Love Yourself: Speak Yourself Tour. In a BTS: Bon Voyage episode, Suga confirmed he finished producing the music for a second mixtape. He also said he planned to finish recording and arranging the mixtape after BTS finished filming BTS: Bon Voyage.
While in New York City for their performance on Dick Clark's New Year's Rockin' Eve, the members of BTS held a VLIVE to count down to 2020 in South Korea. During the VLIVE, Suga revealed that his next mixtape was supposed to come out in 2019, but it did not happen due to a scheduling conflict. He also said that the lyrics might have to change since the follow-up to Agust D did not come out on time.
Suga's post on Twitter has BTS fans thinking 'Agust D 2' is coming
On April 7, Suga posted a video on BTS's shared Twitter account. His tweet was a video of an early guide of his solo song from BTS's Love Yourself era, "Trivia: Seesaw." The video is dated February 13, 2018, and is titled "flower vocal guide."
This is not the first time Suga has shared drafts of his music with ARMY. On March 29, Suga shared a photo of lyrics he wrote for drafts of "134340," "Outro: Tear," and "The Last." ARMY took this as a sign that Agust D 2 could drop at any moment.
"first yoongi tweeted his written drafts for 134340, the last, and outro: tear and now his posted the guide for seesaw entitled 'flower'… he's teasing us agust d 2 is coming," one fan tweeted.
Fans are ready for the new mixtape
Suga's tweet briefly took fans back to the Love Yourself era and made everyone miss "Trivia: Seesaw." You know what the perfect anecdote would be to missing the Love Yourself era? Agust D 2. Perhaps that was Suga's plan all along, and ARMY figured it out.
"congratulations to yoongi for making me missing seesaw like i always do and making me want agust d 2 to release like i always do , congratulations," a fan tweeted.
"I CAN FEEL IT. I CAN FEEL IT. AGUST D 2 IS COMING. YOONGI ALWAYS DROPS OLD SONG DRAFTS WHENEVER HE WANNA DISTRACT US. AGUST D 2 IS COMINGBSJSJ," wrote a fan on Twitter.
"Just a reminder that Yoongi said in bvs4, that he finished his mixtape and just needs to record the songs Yoongi has been teasing us lately with song lyrics and draft songs he's coming across AGUST D 2 is coming soon!! Prepare your wigs," one fan tweeted.
"first yoongi posts a picture of his lyric notepad…. then the seesaw draft……. he's going through his stuff….. which could mean……. agust d 2 dropping soon," wrote a Twitter user.
"The seesaw drafts sounds like this, imagine how Agust D 2 is gonna be," a fan tweeted.
Source: Read Full Article