Some might say Christina Aguilera and Britney Spears walked so Selena Gomez and Demi Lovato could run. Much like the latter pair, Aguilera and Spears were thick as thieves while starring in their early teens on a Disney show ("The Mickey Mouse Club"). Also, like the latter, the years saw diverging career paths that also distanced the two singing-dancing dynamos personally. But for Aguilera and Spears, the rivalry never was (or seemed, at least) personal.
In 2018, Aguilera herself spoke to Cosmopolitan about the rivalry narrative cooked up by the media between the two "pop princesses." Aguilera admitted, "It's hard to hear yourself being called names. I remember being hurt by these commercials on MTV, pitting Britney as the good girl and me as the bad girl. It's like, if I'm going to be demure and innocent, that's okay. But if I'm going to just be myself, I'm trouble." 
Now, three years later, Aguilera had more to say about her fellow ex-Mousketeer — keep on reading for how the singer reacted to news of Spears' conservatorship battle.
Christina Aguilera's got Britney Spears' back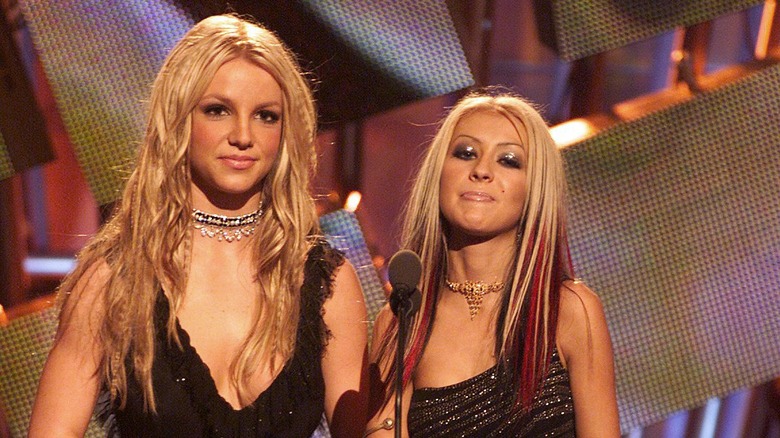 On June 28, Christina Aguilera lent her voice to the choir of support for the "Toxic" singer following Britney Spears' court testimony revealing undisclosed details about her conservatorship. Tweeting alongside a photo of her and Spears in their "Mickey Mouse Club" days, Aguilera wrote, "It is unacceptable that any woman, or human, wanting to be in control of their own destiny might not be allowed to live life as they wish… To be silenced, ignored, bullied or denied support by those 'close' to you is the most depleting, devastating and demeaning thing imaginable." She also stressed in her six-part tweets the importance of not ignoring the "mental and emotional damage" such actions can affect.
Referencing one of Spears' most disturbing revelations — about an IUD she unwilling has to prevent pregnancy — Aguilera joined the likes of Planned Parenthood in her tweeted reaction, writing, "Every woman must have the right to her own body, her own reproductive system."
The "Can't Hold Me Down" songbird concluded, "While I am not behind the closed doors of this very layered & personal yet public conversation, I promise you she deserves all of the freedom possible to live her happiest life." Team Britney and Team Xtina!
If you or someone you know is struggling with mental health, please contact the Crisis Text Line by texting HOME to 741741, or call the National Alliance on Mental Illness Helpline at 1-800-9050-NAMI (6264).
Source: Read Full Article