I don't know about you guys, but I have personally never felt less horny in my entire life than I do right now. And that's saying something—historically, I am constantly un-horny. We're in the middle of a global pandemic that feels like we're in a slow-moving horror movie. Things will get worse before they get better, and right now, every day feels like 24 hours of holding your breath.
Let me be clear: We are waiting for shit to hit the fan. The shit is tossed up, flying around, and it is simply a matter of time between now and when it hits the fan.
As a sex and relationships editor, this is not great. Every CBD lube pitch that lands in my inbox lately makes me want to throw my hands up in the air. "None of it matters!" I want to scream while standing six feet away from my laptop.
I just can't do it. My brain cannot even think about sex or horniness right now. It all seems so trivial. I've done that thing where I've reached out to exes I swore I'd never talk to again, but not for sex—just human comfort, which somehow feels more sad and desperate. It's not fueled by late-night drinking and desperation but just straight loneliness. There is no flirting, just checking in on each other and asking if everyone's parents are doing okay. Friends I haven't spoken to in years because we had falling-outs have reached out. There's no need to relitigate how things ended or who was right or wrong because we are all scared.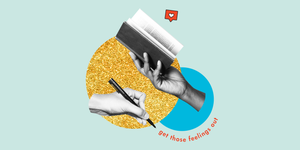 There's also the fact that I'm holed up with my parents right now. (Don't worry: I'm a Nervous Nelly, so I self-isolated and monitored my temperature a week before asking my parents to pick me up so I could wait things out with them and help out in case things got bad.) Normally, simply being in my childhood bedroom hasn't stopped me before, but now, things just feel so fucking dire that it's not even on my mind. When I log off work, my mind races with things like, Should we be sewing masks for medical professionals when there's a mask shortage? Will my parents get called into work in two weeks when the temporary 14-day 'deadline' is up?
Quarantine couple drama seems super up my alley in theory, but I just don't care. People are going to die. And there's nothing we can do but wait. Because this bitch of a disease has such a long incubation period, people can go up to two weeks without showing symptoms while being contagious, and the math says that our medical system will fail us at some point.
I pitched this story to my editors as a rant, but now I'm not even sure this has the steam behind it to classify it as such. I'm just exhausted. I'm tired from wondering what our world will look like in two weeks, four weeks, months, a year from now. I'm nervous from having run through as many worst-case scenarios as I could think of, only to find each morning that the headlines are worse than I could've anticipated. I'm anxiously thinking about my loved ones, whether my grandparents truly have enough food to keep them indoors, if we're doing enough.
If you can find solace in sex with a partner you're quarantined with right now, good for you! Really, I mean it. I wish I had a sex drive and a loving partner who made me feel safe and supported enough to take my mind off things, even temporarily for now. But I personally can't. I don't know if I am in the minority here or if other people also feel this way, but it feels unfathomable to imagine a future that takes place along the same timeline as this one, where I have the urge to rip my partner's clothes off.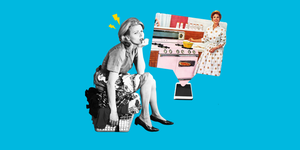 Just thinking about the future feels wrong right now. Nothing is certain and to imagine versions of life without this as a problem anymore feels privileged and naive, as if we can still skate by without having our lives touched by this disease.
Having life put on hold in increments of 14 days, then six weeks, then eight weeks, then potentially 18 months, has forced me to confront just how much of my brain waves on a day-to-day are spent thinking about hypothetical futures and timelines six weeks into the future. So much of what we consider to be "our life" is actually an imagined (but very likely) near-term future. The most certain things are staged closer to the present moment, and the less certain (but things we're still 95% certain about) are a little further out, like four or six months down the line. When that freedom to believe or fantasize about that time is taken from you, what do you think about?
And so, like so many other acts during this period, I guess I'm writing this not as a rant but just to find comfort in like-minded people. Please tell me I'm not alone in thinking like this right now. And if you feel the same way, I'm here too. One day this may change, but with such uncertain futures, all I can guarantee is how I feel right now.
Source: Read Full Article