Ever since Catherine, Duchess of Cambridge exchanged wedding vows with Prince William, Kate Middleton has been seen in countless different outfits. When the duchess appeared at a Royal Variety Performance wearing a lacy Diane von Furstenberg floor-length gown November 2014, sales of the sensational dress went through the proverbial roof, reported the UK Daily Mail.
During a recent Zoom video conference with kids from Casterton Primary Academy, Kate wore a snazzy mustard yellow Zara top. A few days later, Sweden's Crown Princess Victoria posted a selfie on her Instagram page in which she proudly wore a Rodebjer dress in a very similar shade of mustard yellow, as reported by Hello!. Always polished and elegant, Kate Middleton's innate fashion sense inspires everyone from fans to fellow royals.
Fans and royals copy Kate's style
Mustard yellow isn't the only fashionable color cue the princess has borrowed from Kate. Prince William's oh-so-elegant spouse was spotted wearing a pink pantsuit during an official visit to NHS headquarters in Croydon. Two weeks later, Princess Victoria posted another Instagram pic, this time wearing a pale pink double-breasted blazer emulating Kate's look.
Prior to her debut as the Duchess of Sussex, Popsugar reported 11 times that Meghan Markle copied Kate's look. For example, Meghan attended a Commonwealth Day event in March 2018 wearing a sleek Amanda Wakely coat that practically replicated the Alexander McQueen coat Kate wore to Princess Charlotte's 2015 christening.
Another Kate-inspired look that Meghan sports on chilly days is a cinched coat worn over a turtleneck. Meghan goes for Stella McCartney, while Kate's go-to sash-belted coat was designed by Max Mara. The royal wives have been spotted wearing almost identical blue-and-green tartan overcoats, as well.
RELATED: Kate Middleton's Recent Outfits, Reimagined as Affordable Loungewear
Kate inspires her mom and vice versa
It's not only royals who are charmed by Kate's style. William's mother-in-law shares the same size and style sense as her daughter. Not long after the duchess was seen leaving the maternity hospital in a blue polka-dotted frock with Prince George, Kate's mom, Carole Middleton, was spotted wearing an almost identical dress. Kate clearly borrows inspiration from her mom, as reported by InStyle.
Kate and her mom have been spotted in numerous similar outfits – the two are partial to clean lines, classic cuts, and trendy colors. Both Kate and her mother sport sensible, stylish footwear regardless of the occasion and seem to look effortless in pictures, both with each other and on their own.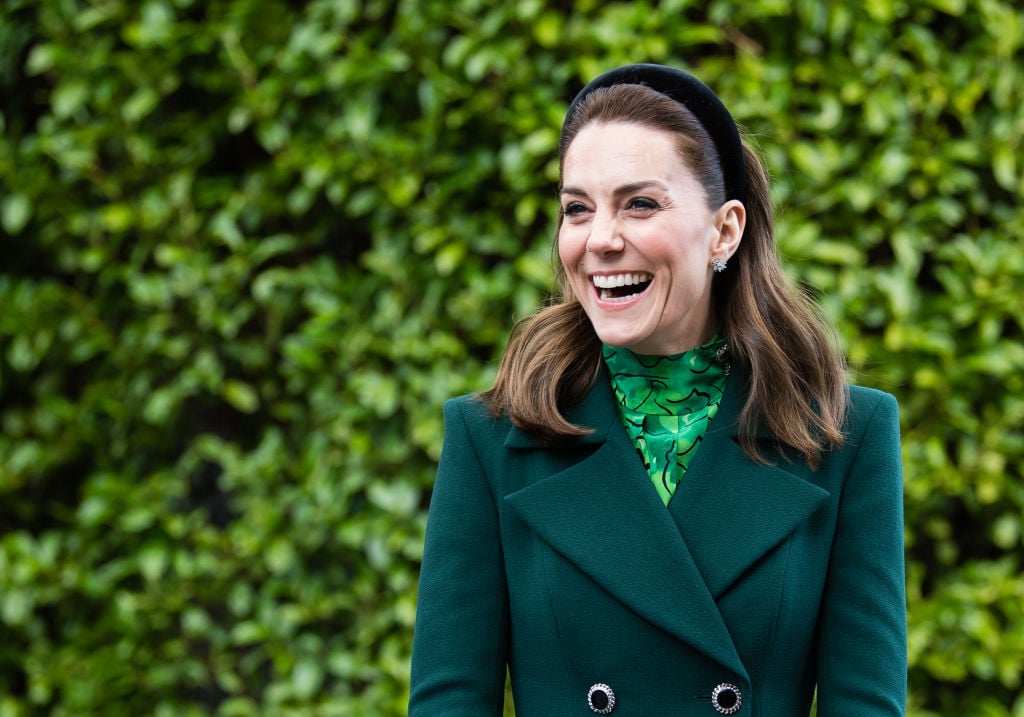 Royal copycats are nothing unusual
Queens, duchesses, princesses and other royalty have been influenced by one another for as long as anyone can remember. When the Duchess of Cambridge steps out in scarlet red, Princess Beatrice and Queen Maxima of the Netherlands are sure to follow suit. If Kate is seen in deep navy blue, one is sure to see Pippa Middleton and Sophie Wessex in a similar color shortly thereafter.
Kate's superb fashion is also inspired by someone else. According to CafeMom, the duchess often turns to her late mother-in-law, Princess Diana, for fashion cues. For starters, Kate is the proud owner of Diana's sapphire and diamond engagement ring. She's been seen wearing other pieces of the late princess' jewelry, too. It's not just Diana's pearls and tiaras that inform Kate's wardrobe, however. From red ski jackets, boldly colored formal gowns, and big black hats, Kate imitates Diana's fashion sense in superb style.
Source: Read Full Article