Decades before becoming an American Idol judge, Lionel Richie rose to fame by writing catchy lyrics and making memorable music videos. One of his most popular videos, "Hello," includes a clay portrait of the singer. But the sculpture doesn't quite capture his likeness. That may seem like a blunder to some viewers, but a closer look at the short film will reveal the real reason for the creative decision.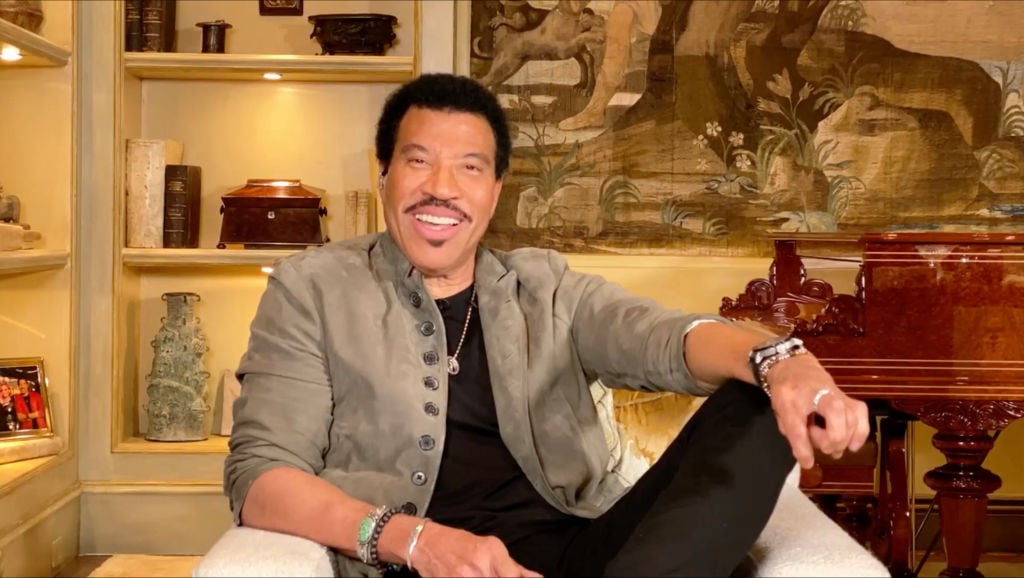 Richie's 1983 ballad, "Hello," soared to number 1 on the charts and became one of his most recognizable tunes. But the singer/songwriter explained in a 2018 interview with GQ that he didn't initially plan on writing it.
He told the publication that one day when he was sitting atthe piano, music producer James Carmichael walked in, and Richie crooned, "Hello!Is it me you're looking for?" Carmichael replied, "Finish that song."
"Finish what song," replied Richie.
As a musician who began with the soul group, The Commodores, he was still primarily known for funk and was hesitant to complete "Hello." The musician went on to recall the process by which he reluctantly wrote the song. He told GQ this:
I'd gotten away with "Sail On" and "Three Times a Lady." And I'm thinking now by that time they've got me paranoid of hokey. I'm thinking, "Hello! Is it me you're looking for." They'll throw me out of the business if I try to do this. And of course, I'm now writing the song to finish it to make [Carmichael] happy. But I'm not thrilled about it…until I write the lyrics.
The 'Hello' video director added another layer tothe love story
RELATED: Lionel Richie Was Terrorized at Michael Jackson's Home By His Animals While Writing 'We Are the World'
In his interview with GQ, Richie spoke in-depth about his experience shooting the "Hello" video. He worked with music video guru, Bob Geraldi, who made a name for himself directing such videos as Michael Jackson's "Beat it." The initial concept for "Hello" was to show two people canoodling, but Richie says Geraldi added a twist.
"I'm going to make the girl blind," Geraldi announced.
Richie admitted to GQ why he agreed to the new narrative, saying, "[Geraldi] is the ticket in terms of videos (back at that time). If you want Bob Geraldi to do it, let him have his way. So, we're now doing it. She's gonna be blind."
Richie was worried that the portrait sculpture didn'tlook like him (but there's a good reason for that)
In the music video storyline, Richie's love interest worked to complete a sculpture in his likeness and revealed it to him at the end. While on set shooting the video, Richie says he spent the entire time trying to explain one thing to Geraldi. He told GQ this about the now-famous portrait bust:
I walk in, and as soon as I see the bust, I'm going, 'Oh my God. We've got a problem. The bust does not look like me.' So, I'm now talking to Bob, and we're doing setup number one. 'Bob, excuse me. I just saw that bust. It doesn't look like me.'
'I know,' [Bob responded].
Second setup, 'Bob, before we get started, have you seen the bust? It doesn't look like me.' Third…fourth setup. I'm now panicking because the last setup is that scene. So, I go, 'Bob, it doesn't look like me.'
Now, it's time to do it. So now I'm looking at it, I'm standing next to him, and I'm saying, 'Bob, it doesn't look like me.'
He looked at me and said, 'She's blind.' And I said, 'Oh yeah.' That's the story.
RELATED: What is the Net Worth of Music Legend Kenneth 'Babyface' Edmonds?
Source: Read Full Article