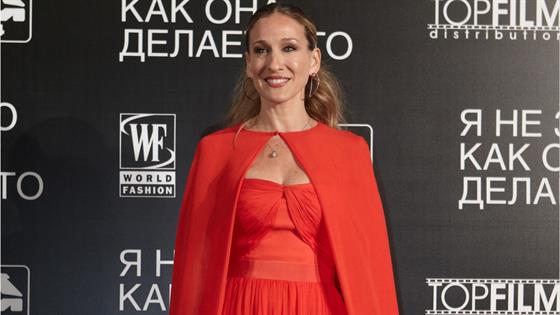 Before there was Carrie Bradshaw, there was Sarah Jessica Parker.
While the star's iconic Sex and the City character cemented her status as a fashion legend on-screen, SJP's personal style is arguably even more enduring than Carrie's.
For decades, Parker, who celebrates her 55th birthday on March 25, has proven to be one of Hollywood's most daring and dependable style MVPs. When she chooses to hit a red carpet you know you are in for a treat.
Whether it's her jawdropping moments at the Met Gala each year or her ahead-of-their-time ensembles from the '80s, the Divorce star always manages to find the perfect balance of trendy and timeless, effortless and fabulous.
"Style is what the individual brings. More often than not, we are drawn to people because they have personal style," Parker once told Harper's Bazaar. "Fashion is what is offered to the consumer. Style is what you make of it."
And she's arguably made more of it than any other Hollywood star over the years.
While we happily and easily could've chosen well over 100 looks from SJP's fashion history, we managed to narrow the list down to 30 of her most impactful red carpet moments.
Imagine if we had included her impeccable street style, too? The woman has turned the streets of New York City into her runway.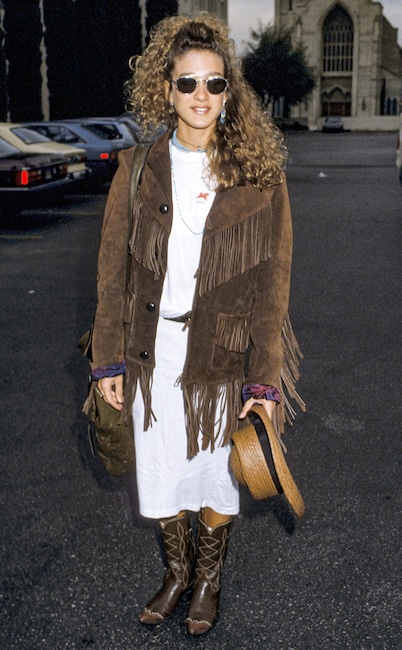 Ron Galella Collection via Getty Images
1986
Do you know how many Pinterest boards this image is probably saved on for Coachella inspo? In 1986, Parker rocked this Western-chic look for a "Vote Yes on 65" celebrity rally in Culver City.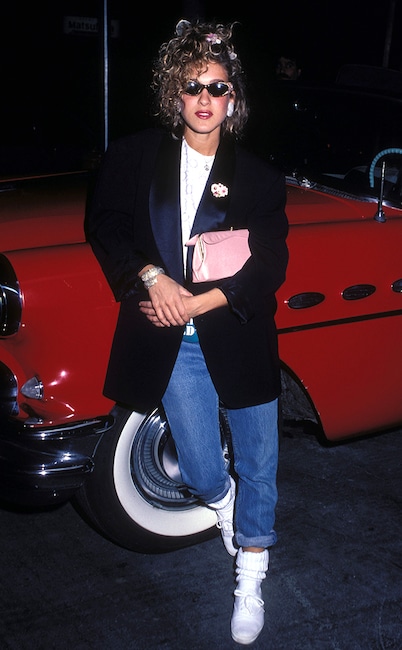 Barry King/WireImage
1987
We're pretty sure we say Hailey Bieber rocking this exact 'fit recently…that's how timeless SJP is.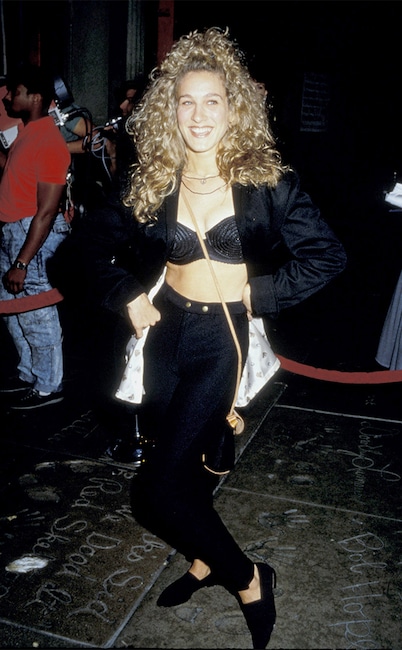 Jim Smeal/Ron Galella Collection via Getty Images
1987
The Square Pegs star served casual Madonna realness at the Slamdance premiere party, which is the most 1987 sentence we could ever write.
Article continues below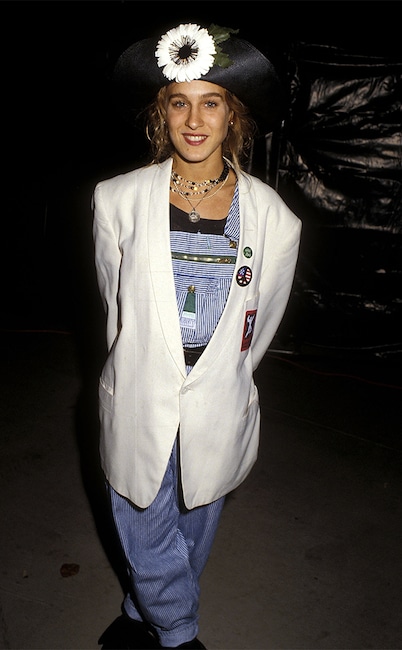 Ron Galella Collection via Getty Images
1988
Blossom could never…with Parker rocking the flower hat two years before the TV show even premiered to a charity concert.
Steve Granitz/WireImage
1991
In case you thought it was the role of Carrie Bradshaw that brought out the fashion risk-taker in SJP…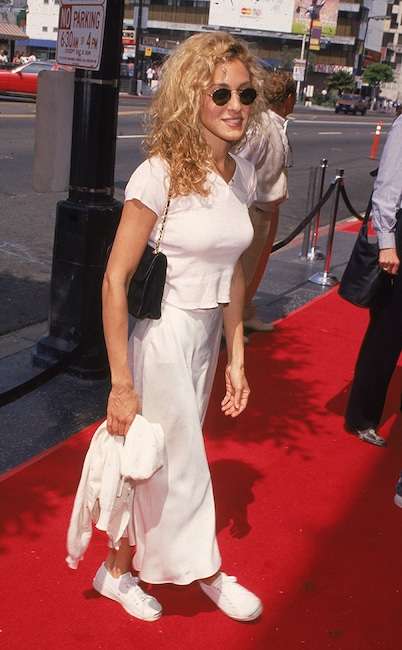 Darlene Hammond/Getty Images
1992
Simple white t-shirt. Silk skirt. White sneaks. This easily could be from a red carpet this year.
Article continues below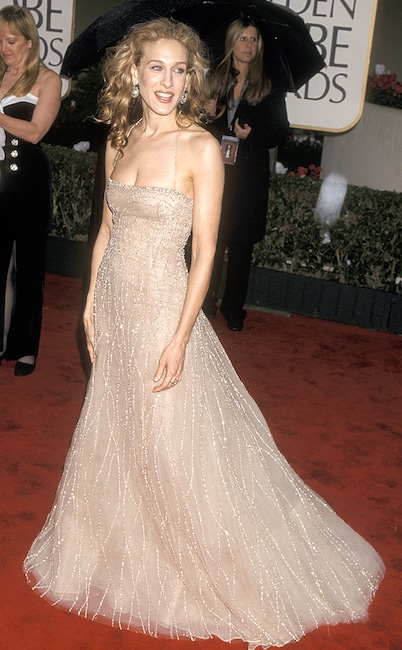 Ron Galella, Ltd./Ron Galella Collection via Getty Images
2000
SJP wore this simple and sleek champagne gown when she won Best Actress in a Comedy at the 2000 Golden Globes.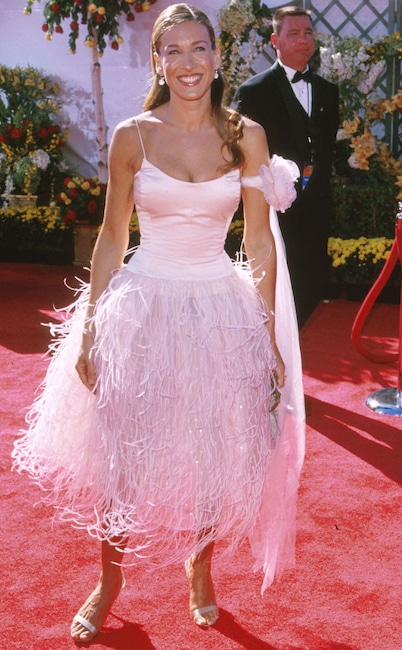 Steve Granitz/WireImage
2000
SJP's Oscar de la Renta frock for the Emmys that year was an unmistakable nod to her iconic Sex and the City tutu skirt.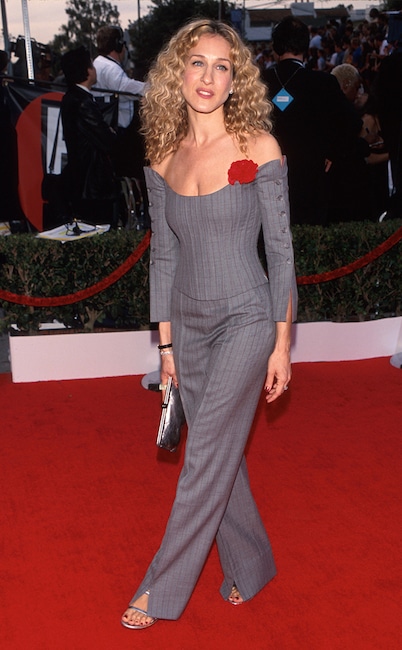 Mirek Towski/DMI/The LIFE Picture Collection via Getty Images
2000
She was well-suited at the SAG Awards in her off-the-shoulder top and pants, unexpectedly complemented with a red flower.
Article continues below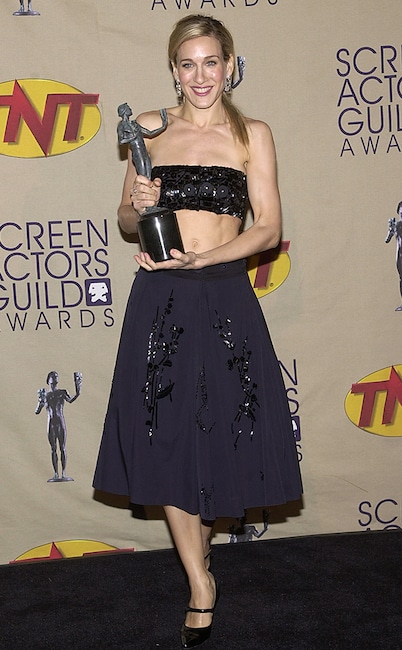 Kevin Winter/Getty Images
2001
Name the better accessory: the SAG Award or her abs.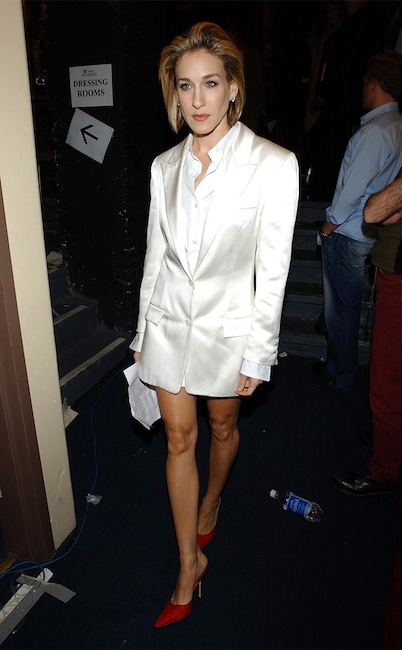 KMazur/WireImage
2001
Parker's style is so timeless that this white tuxedo jacket dress that she completely rocked to the 2001 VH1/Vogue Fashion Awards would easily make any best dressed lists in 2020.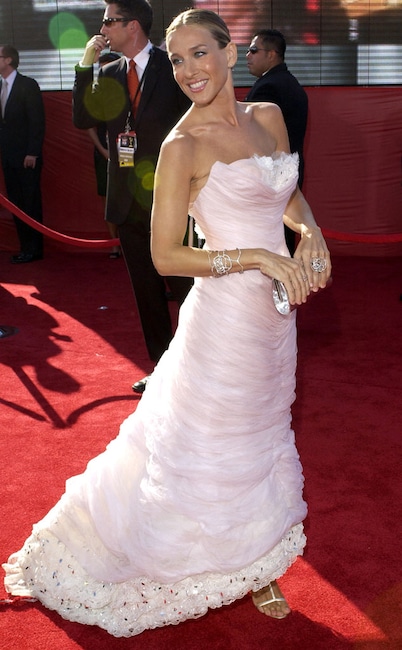 Lester Cohen/Getty Images
2003
The star donned a light pink Chanel haute couture down at the 2003 Emmy Awards.
Article continues below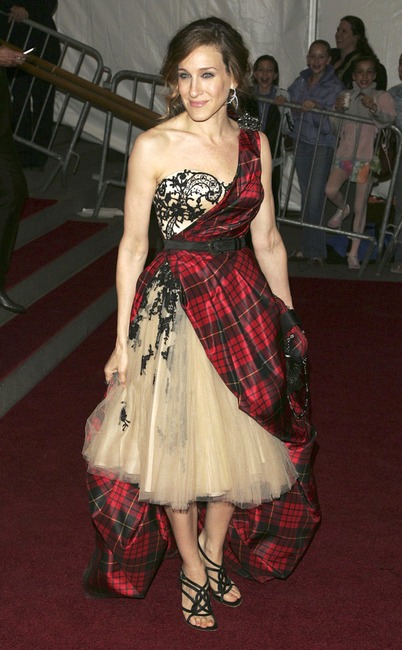 Peter Kramer/Getty Images
2006
SJP sported this iconic Alexander McQueen creation for the Met Gala that year, with the theme of "AngloMania: Tradition and Transgression in British Fashion."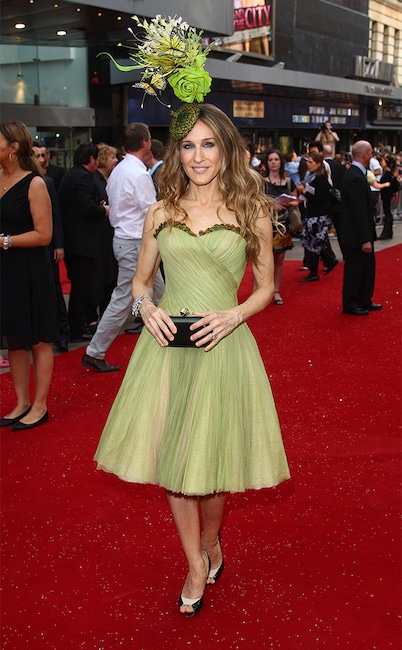 Mike Marsland/WireImage
2008
Carrie put a bird on her head for Big for their wedding and SJP put this showstopping hat on her head for the Sex and the City movie's world premiere.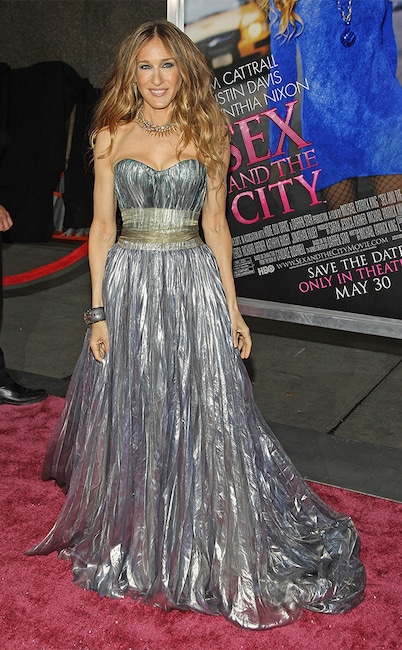 Stephen Lovekin/Getty Images
2008
How does one follow up the headline-making green hat from the previous premiere? By rocking this metallic Nina Ricci gown to the NYC premiere.
Article continues below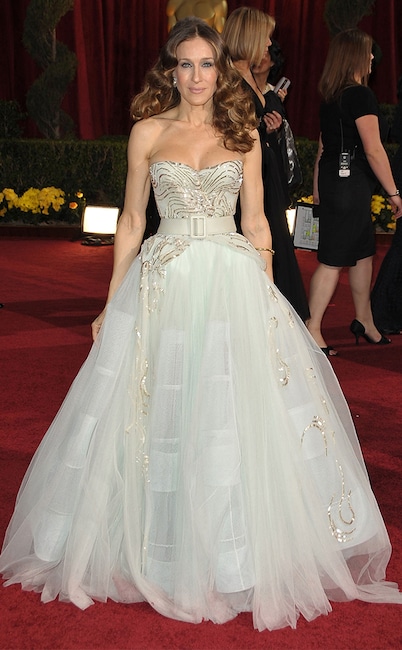 John Shearer/WireImage
2009
For Hollywood's biggest night, Parker selected this dreamy Christian Dior Haute Couture confection.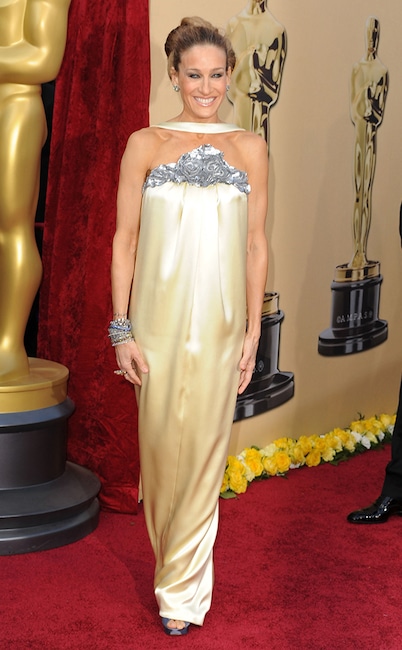 Steve Granitz/WireImage
2010
Chanel Couture for the Oscars? That's just fabulous.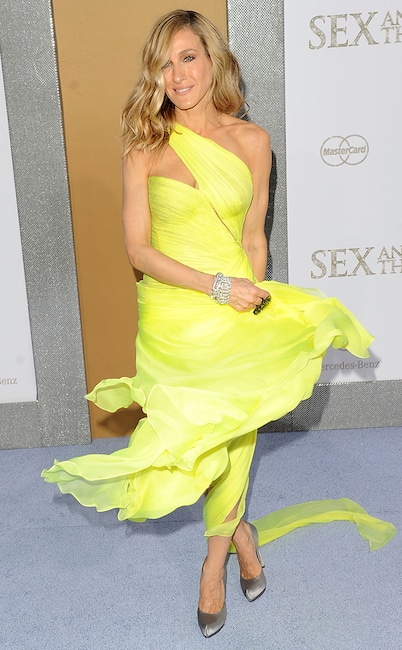 Stephen Lovekin/Getty Images
2010
Her neon green dress was a dream than demanded to be seen at the New York premiere of Sex and the City 2.
Article continues below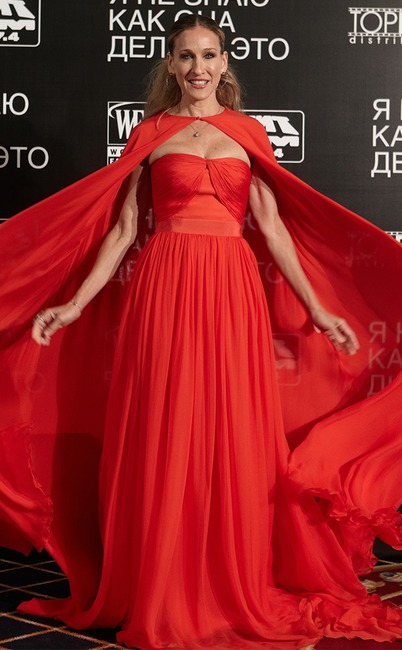 Kristina Nikishina/Epsilon/Getty Images
2011
Not all superheroes wear capes…but this fashion superstar does.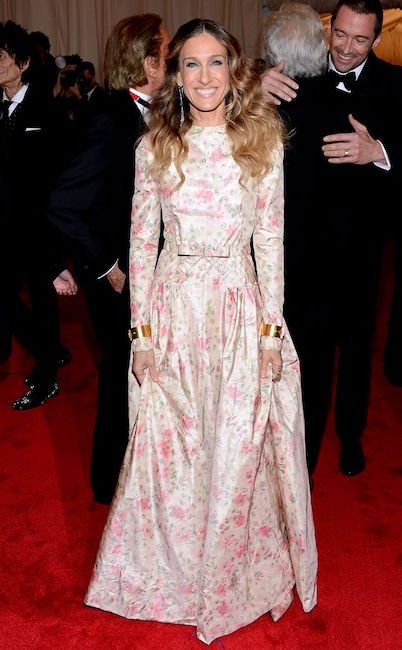 Dimitrios Kambouris/Getty Images
2012
And let the evidence of SJP's Met Gala dominance commence with one of her quieter looks, which is still a knockout.
For "Schiaparelli And Prada: Impossible Conversations," Parker went unapologetically feminine, wearing a pink floral Valentino gown, with the color serving as a nod to Italian designer Elsa Schiaparelli's signature color.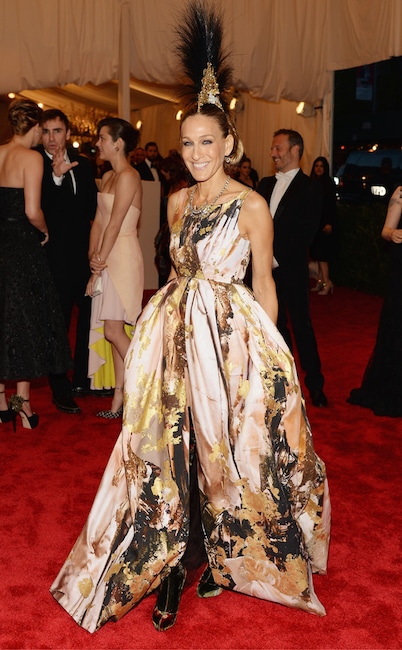 Dimitrios Kambouris/Getty Images
2013
The artist formerly known as Carrie Bradshaw goes punk! For a fresh take on the "Punk: Chaos to Couture" theme, Parker topped off her Giles Deacon gown with a showstopping mohawk headpiece by Phillip Treacy and rocked plaid velvet thigh-high boots.
Article continues below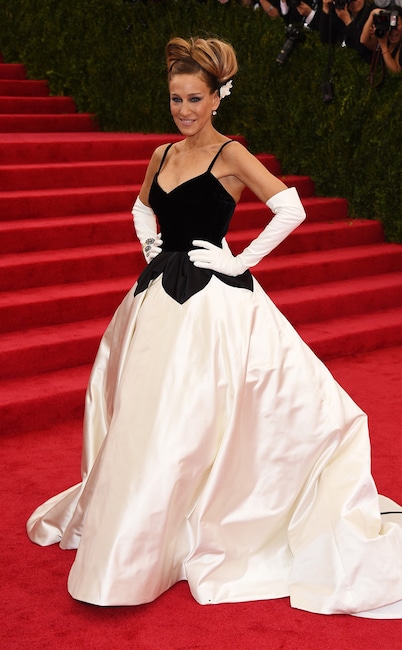 Larry Busacca/Getty Images
2014
To honor the "Charles James: Beyond Fashion" theme, Parker went classic with a black and white Oscar de la Renta gown, pairing it with long white gloves.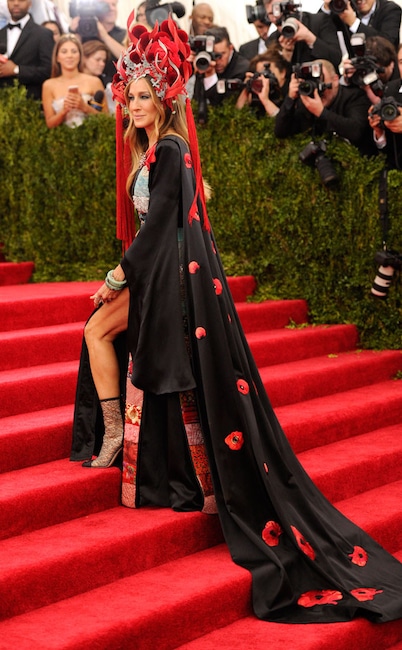 Evan Agostini/Invision/AP
2015
This woman's on fire! In an unexpected move, SJP rocked an H&M gown that she helped design, topping it with a flame-inspired Philip Treacy headpiece for the "China: Through the Looking Glass" theme.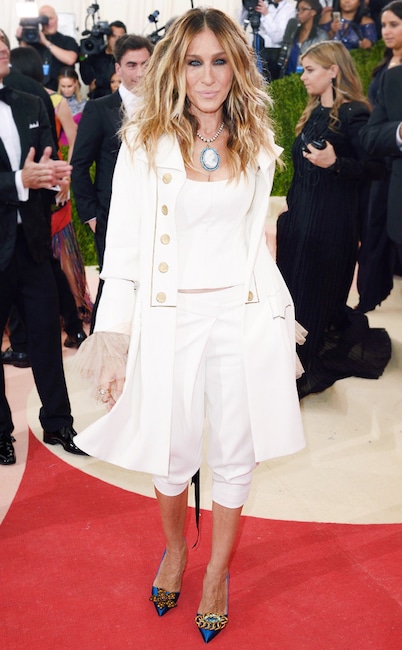 Karwai Tang/WireImage
2016
Arguably Parker's most polarizing Met Gala look, the Divorce star went for a Hamilton inspired ensemble for the "Manus x Machina: Fashion in an Age of Technology" theme, a look she later defended.
"We wanted it to be about the technology of thought, of application, of fabrication," she wrote in T Magazine. "The technology of the hand and the machine."
Article continues below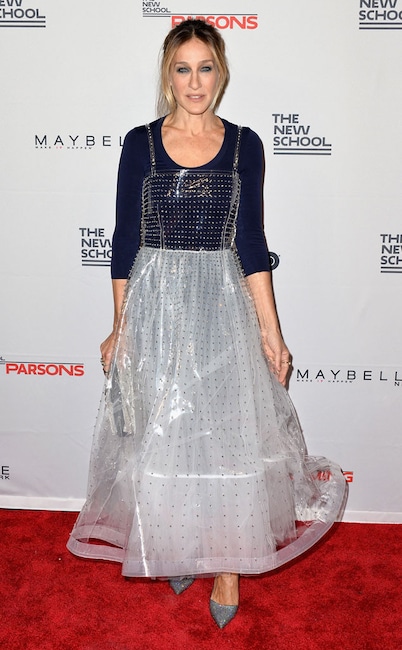 Andrew Toth/Getty Images for Parsons School of Design/The New School
2016
Let this unexpected sheer gown with a navy top serve as a brief-but-welcome respite from Parker's Met Gala dominance.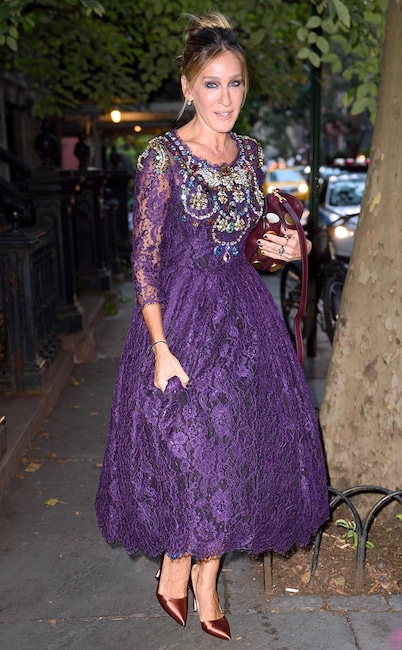 Ron Asadorian/Splash News
2016
For the premiere of her HBO series Divorce, Parker turned to a color she doesn't often wear, wearing a rhinestone-encrusted Dolce & Gabbana purple lace dress.
But what really love about this look is that she went for a slight surprise when her footwear, turning to bronze heels from her own SJP collection rather than go for a standard black or nude heel. It's small decisions like that that make SJP such an icon.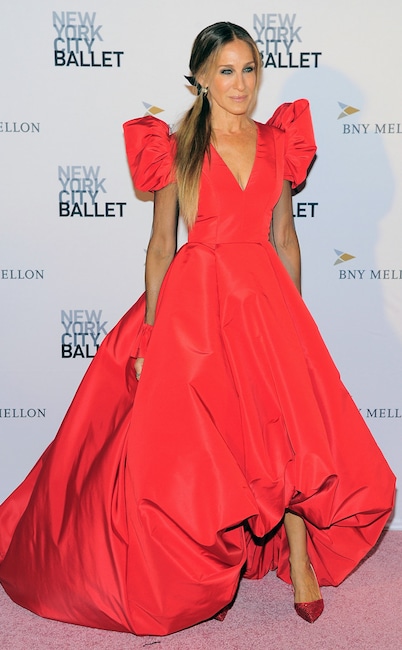 Owen Hoffmann/Patrick McMullan via Getty Images
2018
SJP was the lady in red at the 2018 New York City Ballet Fall Fashion Gala, wearing a stunning gown that had a few eccentric details, like its bubble hem, puff sleeves and wrist-cuffs.
Article continues below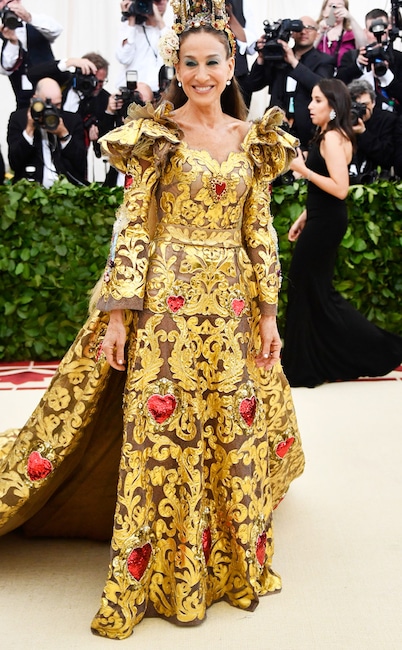 Frazer Harrison/FilmMagic
2018
After sitting out of the 2017 Met Gala, SJP returned in spectacular fashion, rocking an intricate headpiece that featured the nativity scene. NBD.
For the Heavenly Bodies: Fashion and The Catholic Imagination theme, SJP paired her ornate headpiece with a stunning Dolce & Gabbana gown with a heart motif and showstopping train.
"I am inspired by the themes. One can only do your best," she told E! News on the red carpet. "This was particularly enjoyable because Dolce & Gabbana—they're devoted observant Catholics—and so they've grown up with the church and imagery and they had a lot of strong feelings and beautiful sketches so it was easy."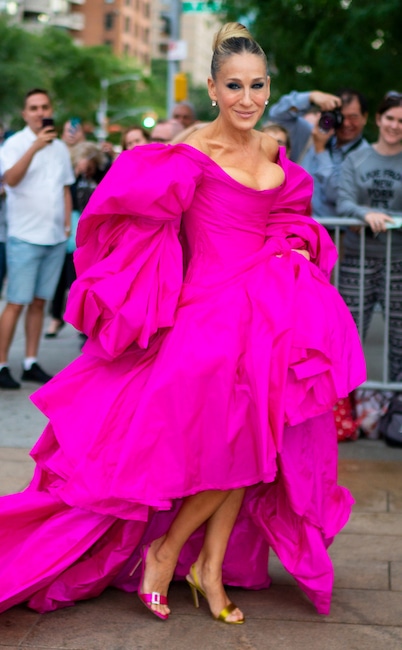 Gotham/GC Images
2019
We got carried away with our love for this colorful and bold gown she wore to the 2019 New York City Ballet Fall Fashion Gala…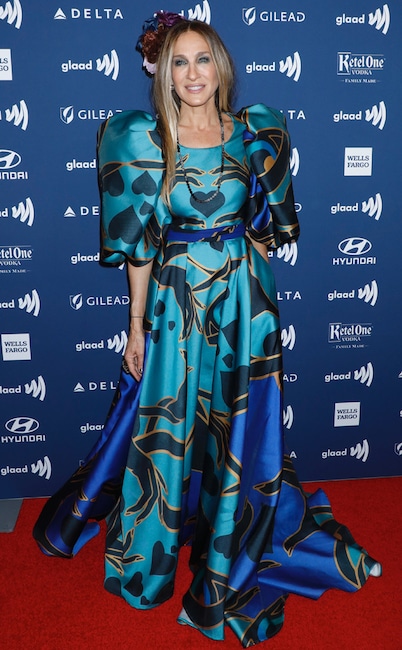 Gregory Pace/Shutterstock
2019
For the GLAAD Awards, Parker went all-out in this Elie Saab dress, complete with a train and puff sleeves, accessorizing with a necklace and silk flowers in her hair. More sometimes is more.
Article continues below
Need more SJP fashion goodness? Start watching Sex and the City from the beginning right here.
Source: Read Full Article