Nigel Sylvester is a pioneer of the BMX scene, and now his ongoing legacy is being celebrated in his upcoming coffee table book, Nigel Sylvester: GO by Rizzoli.
The photobook captures his energetic approach to the sport, exploring how he has turned BMXing from a hobby into career and, most importantly, a lifestyle. From cycling around his home of Queens, New York, to jumping out of a plane in the Dubai desert with his trusty bicycle in hand, Sylvester has gone on to prove that BMXing can be a true sport, eschewing negative connotations by celebrating the medium's freedom.
With photography by the director, cinematographer, and graphic designer Harrison Boyce, Nigel Sylvester: GO sees the professional athlete not just in his usual form, but also in a multitude of situations that better explain his travels and effervescent energy.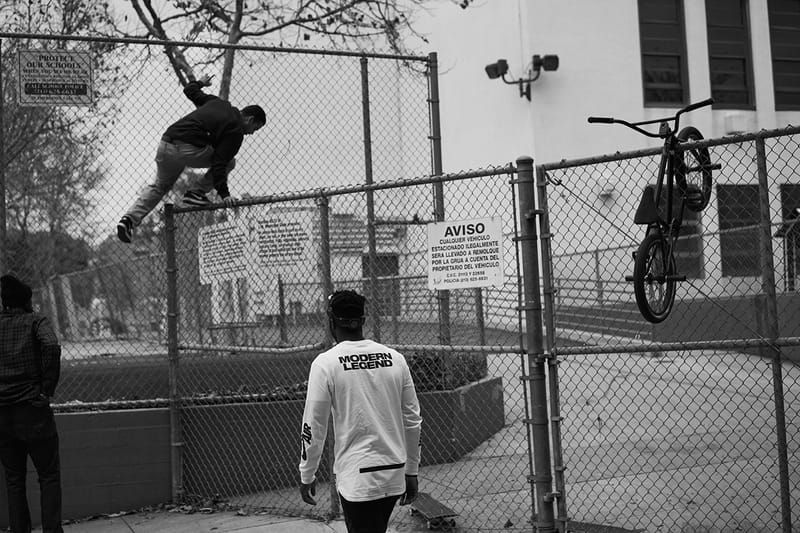 Harrison Boyce/Rizzoli
Throughout the 200-page book, Sylvester can be seen sumo wrestling in Tokyo, fencing at London's Somerset House and racing Ferraris on the coast of Malibu, while guest appearances from Nigo, Victor Cruz, Rick Ross, DJ Khaled, Greg Yuna, A$AP Ferg, Steve Aoki, and Nick Young can also be found. 
"GO started as a simple idea in Harrison's home office that's organically grown into a fully-fledged lifestyle brand that's taken me around the world on my BMX bike," says Sylvester. "GO represents the relentless, unapologetic, and graceful pursuit of any dream. This concept has empowered me to dedicate myself to living out my imagination authentically throughout my career. This book represents more than just me; it's art, a piece of the community and culture captured while filming the GO series that serves as a reminder that a bike can take you out the hood or anywhere you can imagine for that matter."
Nigel Sylvester: GO is due to drop in October. Head over to the Rizzoli website to pre-order the book now for $45 USD. 
In case you missed it, take a look at Nigel Sylvester's issue of Sole Mates.
Source: Read Full Article