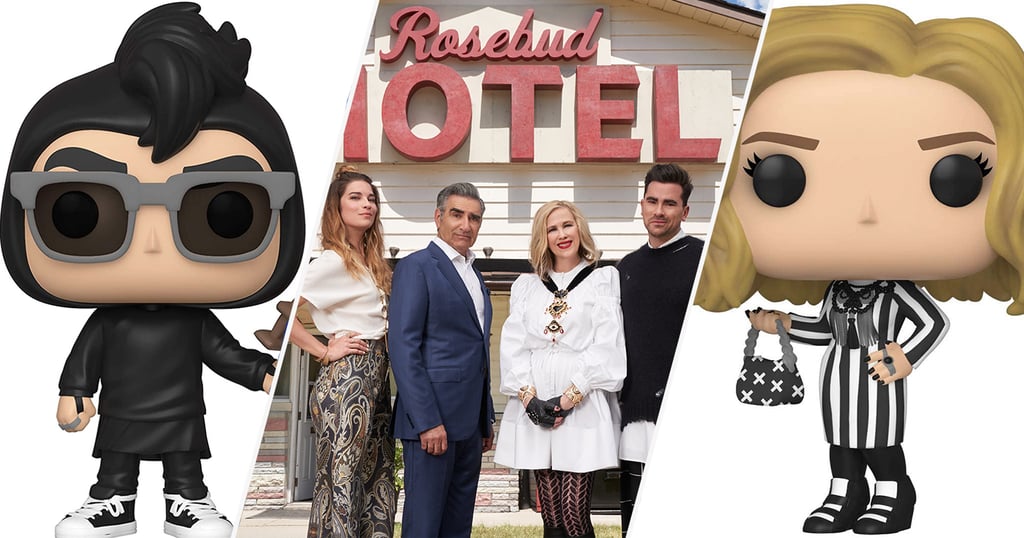 Oh My God! Funko Pop Is Releasing Schitt's Creek Figures, and They're Positively Everything

There are no words to convey my sorrow about the imminent end of Schitt's Creek, but retail therapy has always been a personal demon of mine, and these Funko Pop figures are the perfect way to dispel those pesky feelings of sadness! As fans gear up to say goodbye to the iconic Pop TV series, the show's Rose family has been honored with some positively adorable Funko Pop figures. Starting March 18, fans can preorder the figures through Amazon with a release date of June 15.
Each member of the Rose family has a figure that best represents their characters: Johnny, the endearing family patriarch, is dressed in one of his never-ending supply of suits while his wife, Moira, is clad in a black-and-white ensemble that calls back to both actress Catherine O'Hara's Beetlejuice role and her look in the season four episode, "Pregnancy Test." There's also a little bit of Alexis in a stylish sundress and feathered cap with her ever-present cell phone in hand, and David, dressed head-to-toe in black with his signature rings.
David, being the over-the-top kind of guy he is, gets a second figure, which can't be purchased along with the others. It's a chase figure, meaning when fans purchase David's standard figure, there's a 1:6 chance that they'll get the special Pop based on his Amish farm outfit from season two's "Finding David" episode. Honestly, it's a win-win either way! Preorder your Rose figure today, and by the time the series finale has passed us by , you'll have a little vinyl "bebe" to make you feel better about everything!
Source: Read Full Article