The man emerges bleeding from the turned-over sedan sticking out of the side of the house, with children inside, and breaks open the front door before attacking his roommates with an axe
A Southern California neighborhood was terrorized on Monday by a man wielding a pickaxe.
The suspect, who law enforcement have not yet named, was seen crashing his Kia sedan into a house in the Orange County community of Lake Forest and then going on a rampage, all caught on CCTV cameras.
The sedan ended up sideways on two wheels, sticking out of the side of the home (pictured above). The homeowner was inside the garage with children.
The unnamed man, who is said have been a temporary resident in the home, grabbed a nearby pickaxe used for landscaping and began chasing people, per the Orange County Sheriff's Department.
Unable to render YouTube Video.
The homeowner, Eric Li, told local news he had rented a room to the man 10 days prior.
Video shows the man force his shoulder against the front door of the home, breaking it open.
At some point in the chain of chaotic events, he obtained the axe and chased a roommate around the home before breaking down the door of another resident's room with the gardening tool.
"I see my door starting to buckle from him hitting it," the roommate said, who asked NBC Los Angeles to not identify him. "He was trying to break into my room with a pick-axe he acquired from my garden. As I was holding the door, I was trying to reason with him at first. Trying to get him to calm down."
"He just kept coming at me. It was progressively more scary," the resident added.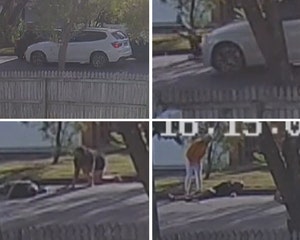 Woman Runs Over Cheating Husband and Mistress in Just Released CCTV Video
The owner, Mr. Li, recalled thinking he was going to die when the man chased him with the pickaxe.
"I said, 'Please, calm down. Tell me what happened,'" Li told ABC7 Eyewitness News. "You know, he never answered, just chased me. My parents, they grow a lot of vegetables in the backyard. They have a lot of tools."
He told the local news outlet he thought he was a "dead man." However, he was able to escape and call 9-1-1.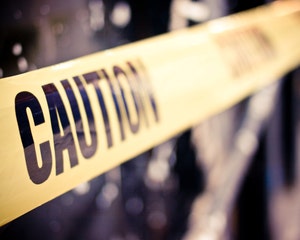 Severed Hand Found on Sidewalk, Police Looking for Sword-Wielding Suspect
Li said he witnessed the man chase another of his neighbors, while another witness said the suspect also chased a worker in the neighborhood.
"We were inside working and the gardener came up panicking and said somebody was chasing him with an ax. And we came out and we heard screaming and yelling at the house, sounded like somebody was being tortured," the witness, Andy Lopez, told ABC7.
Orange County Sheriff's Department deputies took the man into custody. He was treated for injuries related to the car crash and has been booked into jail.
"There was some terrible yelling and screaming. And the police went in they pulled out their weapons, and we heard like five gunshots. And, apparently, I guess they used non-lethal type ammunition," said Lopez. "When they brought the suspect out he was pretty bloody."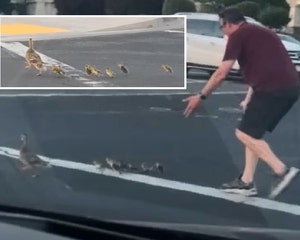 Dad Helping Ducklings Cross Road Killed By Teen Driver in Front of His Children
Source: Read Full Article