Prince Harry and Meghan, Duchess of Sussex recently returned to the UK for a string of appearances and events. This was the first time that the Sussexes had been back in the UK since they moved to Canada after announcing that they were stepping back from their positions as working royals.
This was obviously going to be a very stressful time for Meghan as she had to return to the country where many media outlets had been vilifying her and saying that she was the demise of the royal family. But Harry showed his support for his wife in more ways than one.
Meghan Markle and Prince Harry's exit
The royal family is always in the media for something or other, but throughout her time with Harry, certain outlets have taken a particular interest in Meghan and scrutinized everything that she has done. The stress of the constant bashing got to both Harry and Meghan and they decided to step back from the limelight.
Buckingham Palace released a statement regarding Meghan and Harry's new status.
"As agreed in this new arrangement, they understand that they are required to step back from Royal duties, including official military appointments," the statement read. "They will no longer receive public funds for Royal duties."  
"With The Queen's blessing, the Sussexes will continue to maintain their private patronages and associations. While they can no longer formally represent The Queen, the Sussexes have made clear that everything they do will continue to uphold the values of Her Majesty. The Sussexes will not use their HRH titles as they are no longer working members of the Royal Family."
How did Harry support Meghan Markle?
Meghan probably needed all of the support that she could get when facing the British public once again. During the couple's final event as working royals, the procession for the Commonwealth Service, Harry stood in solidarity with Meghan with his clothing.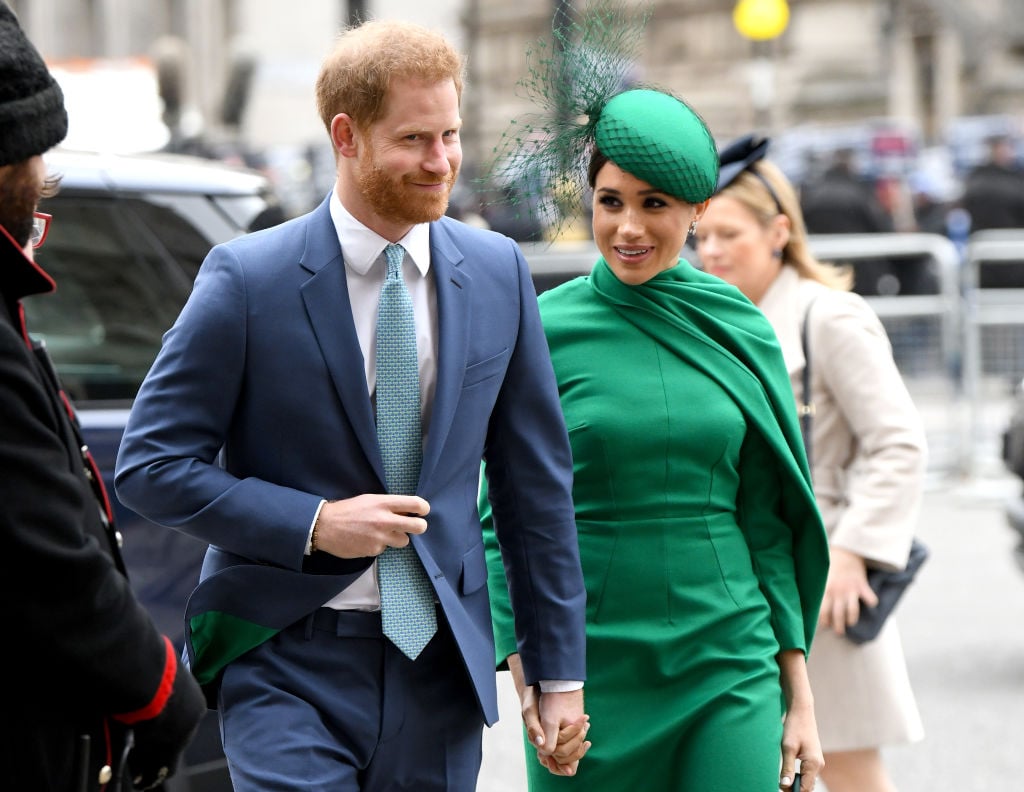 Meghan wore a green Emilia Wickstead dress for the proceedings, paired with Aquazzura heels, and a matching green fascinator.
Harry matched his wife's emerald outfit with green lining underneath his suit jacket. The green in Harry's suit wasn't visible until the wind blew the jacket back, revealing its lining.
What is Harry's relationship like with his family now?
Harry's decision to leave his position as a working royal shook the public as well as the royal family. Before he left, he had already admitted to being on rocky terms with his brother, Prince William.
"We're certainly on different paths at the moment but I will always be there for him and, as I know, he will always be there for me," Harry revealed on the documentary Harry and Meghan: An African Journey. "We don't see each other as much as we used to because we are so busy. But I love him dearly."
And megxit didn't exactly make things better. Reportedly the brothers' relationship was not in the best place when Harry and Meghan went back to Vancouver Island.
"They didn't leave on good terms by any means, but they are both relieved that it's over," a family friend told People.
Source: Read Full Article