Anna Bediones possesses a keen understanding of the sneaker space and how it functions. Thanks to her parents, her journey in shoes commenced at a young age, and it was in the early 2000s when collecting started to become a serious hobby. Professionally, she's been at it for almost a decade now. She's made her mark in various pockets of the industry from retail to writing to consulting to content creating, and she currently holds the Director of Women's Strategy position at SoleSavy — a sneaker-focused community-driven commerce startup — where she has intentions of amplifying female voices in the space and has already launched an exclusive women's community to help women purchase sneakers, get educated on the culture and network.
For Bediones, or "@atothebed" (many may refer to her by her Instagram handle), the storytelling element of sneakers will always reign supreme. That's why she picked the Air Jordan 11 "Space Jam" to spotlight for her installment of Sole Mates. There's no question that the Air Jordan 11 was one of, if not the most popular Jordan silhouettes in the early 2000s, but the "Space Jams" were different in the sense that they held nostalgic significance. "When I was 9 years old, Looney Tunes was my sh*t, I idolized Michael Jordan and adored basketball, so it encompassed everything I loved", Bediones said in her interview with HYPEBEAST. It's moments like these that remind her of why she fell in love with sneakers to begin with, and it's a sentiment that she's eager to pass down to the next generation of footwear aficionados.
For the the latest installment of our weekly Sole Mates series, Anna Bediones chats with HYPEBEAST about how she found her personal style, sneaker culture influences in her hometown of Toronto and how she was gifted a special Air Jordan 11 "Space Jam" package from Jordan Brand. She also touches on the importance of brands driving more energy behind their women's initiatives in the form of inclusive sizing and continuing to expand the market with more female-lead collaborations.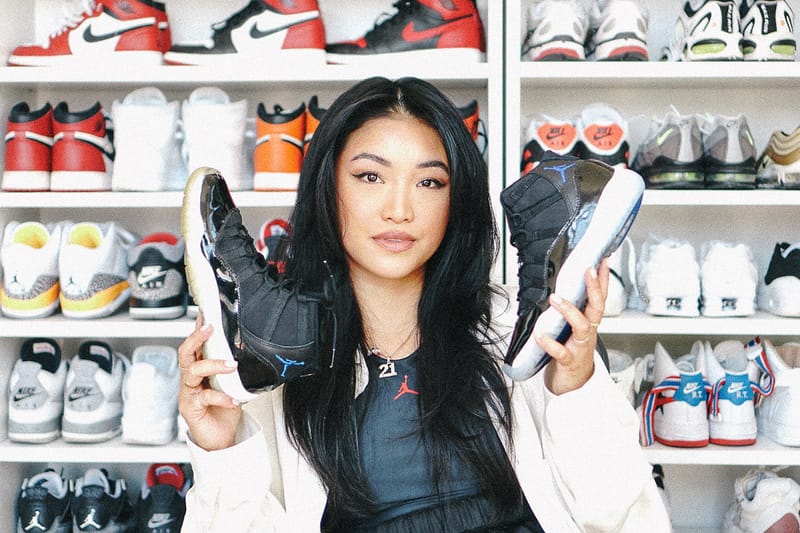 Anna Bediones
HYEPBEAST: Who or what got you into sneakers?
Anna Bediones: Definitely my parents. My dad dressed me in sneakers a lot as a little kid, and obviously at that age, you don't really value that, it's just something you get used to. Soon after, I started playing basketball and a lot of the public figures that I gravitated towards also wore sneakers: Aaliyah, Left Eye, Sporty Spice, Michael Jordan, and because I liked basketball and music so much, I found a middle ground. I liked women who weren't overly feminine in the way that they dressed. Especially now because I usually don't rock heels, and I found these women that were a lot more casual and sporty and I labeled myself as a sporty girl.
What were your parents dressing you in?
A lot of Nikes like Air Maxes, [Air] Uptempos and other basketball shoes. I didn't really start wearing Jordans until I started playing basketball in the fourth grade. My very first Jordan basketball shoe was the Air Jordan 14 "Oxidized Green". I didn't really know how to play basketball yet, but that was the year that 14s retroed so that's what my parents put me in.
"I think the more your interests develop, the more your communities develop as well."
You grew up in Toronto and before this sneaker social media online resell/platform age, how did you get shoes growing up? And was that love for Js widespread within your community?
So in high school, when I turned 16 I got a job at Foot Locker. I basically carried that persona over into high school and college, and then now into my adult life, and that's basically why I wanted to work there because like I was very much obsessed with sneakers. I remember telling my manager during the interview that if we watched a basketball game right now, I could name every single player and every single shoe that they're wearing.
I think the more your interests develop, the more your communities develop as well. I played a lot of basketball — I believe that you're a product of your environment so this trickled into what I liked. One of my close girlfriends worked at this sneaker boutique called Livestock and she was always rocking SB Dunks and Air Maxes. I eventually figured out my style and definitely gravitated towards Jordans because it was so tied to basketball.
Today's generation mostly associates Toronto with Drake, but you sort of grew up in the heyday of Vince Carter and Tracy McGrady. Can you describe the vibe of the city during that whole era?
So I was actually born in the Philippines, but I grew up in a suburb outside of Toronto called Mississauga. The Vince Carter era came a little after I started playing basketball in the early 2000s. So it was either 2002 or 2003 when I got VC Shox in eighth grade. By then I already loved the sport, which is what catapulted my love for Vince Carter because Toronto finally had its own basketball team — and that was something that we could all be proud of. I used to collect Vince Carter newspaper clippings all the time.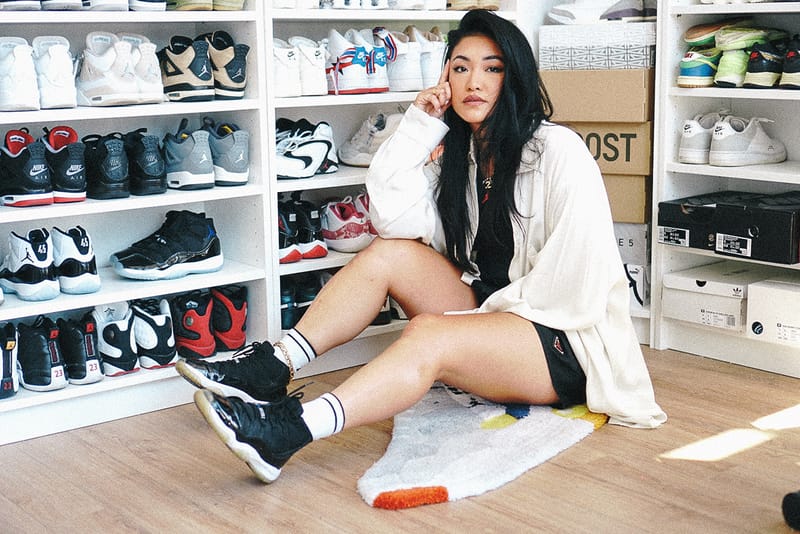 Anna Bediones
LA has the Cortez, NY has the AF1. Does Toronto have a "signature" sneaker as well?
So I don't know if I'm alone in this sentiment but I don't feel like Toronto really has its own identity per se. It's a little bit of a wannabe New York. I want to say that in a way that's not throwing shade at my city but it adopts styles from a lot of different cities and places. So I think a lot of very Toronto things are more visible in our music, language, and our culture.
I feel that. It seems like a lot of people in the US can relate to that statement — when you hear Toronto you automatically just think about Drake and the Raptors.
Exactly. You also think about the type of slang we speak and there's a very heavy Jamaican influence in the music space and our slang and our language are a big part of it. And then sneaker-wise, not so much. However, today, I can look at somebody and look at the way something is styled and know it's Toronto.
Can you describe that?
So for Toronto, mind you, there's definitely hypebeast communities everywhere and they all look very similar, but Toronto in the 2020s definitely and late 2010s really tried to embrace a lot of more low key sneaker silhouettes. We try to make Nike Shox still a thing here. If I ever see anyone wearing Shox, then it's more likely than not that they're from here. In terms of other shoes in the last five years, we definitely adopted models like Nike Tailwinds and Nike Air Zoom Spiridons.
Got it, so like more obscure Nike runners?
Yeah exactly and you can also see that reflected in the way Drake dresses and what sneakers he chooses to wear. Toronto prefers low key models, so I guess if I had to go with one it'd be Air Force 1s.
Yeah, that makes a lot of sense. Because when you look at Drake's NOCTA collection, it's all just very simple pieces.
And that's not to say that he influences or speaks for the entire city, but there's definitely a common thread there. We're not overly stylish or anything, I think New York is very stylish and then Toronto is more casual with a lot of sweats, and that's reflected in a lot of OVO gear. And like every other city, there's pockets of communities that have different types of styles.
So let's switch gears here and talk about your shoe selection — the Air Jordan 11. When did you become aware of the model and do you recall when you got your first pair?
So the "Space Jams" specifically were the first sneakers that I legitimately was like, "Okay, this is a shoe that I really need." I was buying shoes long before that, but this is the first shoe that I had an emotional and nostalgic connection to because Space Jam was my favorite movie. This was around when I was 9 and it encompassed everything I loved: Looney Tunes was my sh*t, I idolized Michael Jordan and loved basketball,. When they retroed in 2009, Foot Locker was the only place that had them and — granted, they don't let you do this now — but they used to have this system where you could literally pre-order Jordans months in advance.1 of 3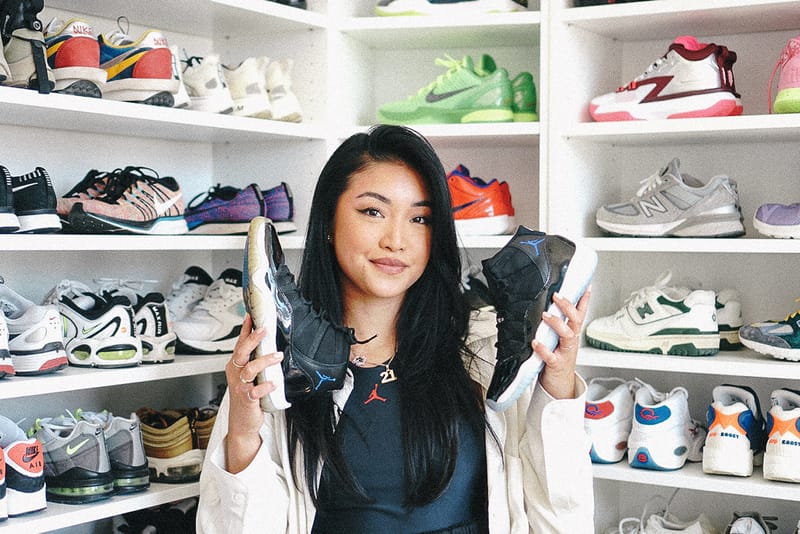 Anna Bediones2 of 3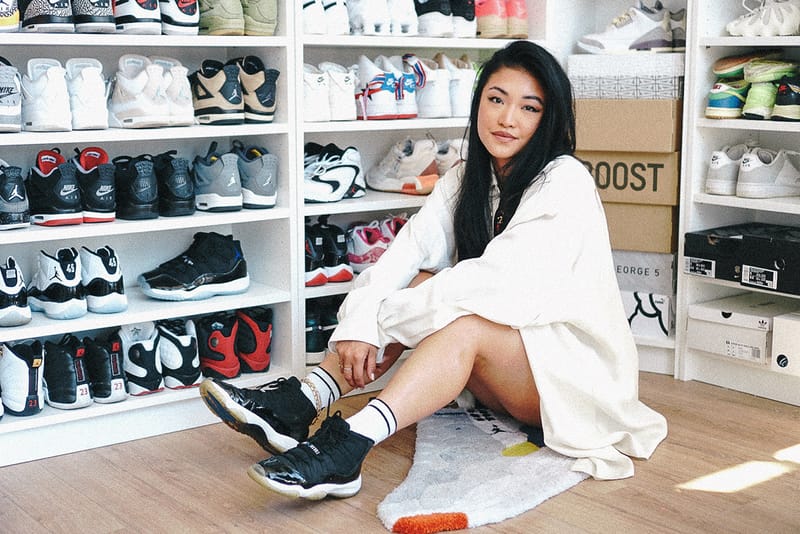 Anna Bediones3 of 3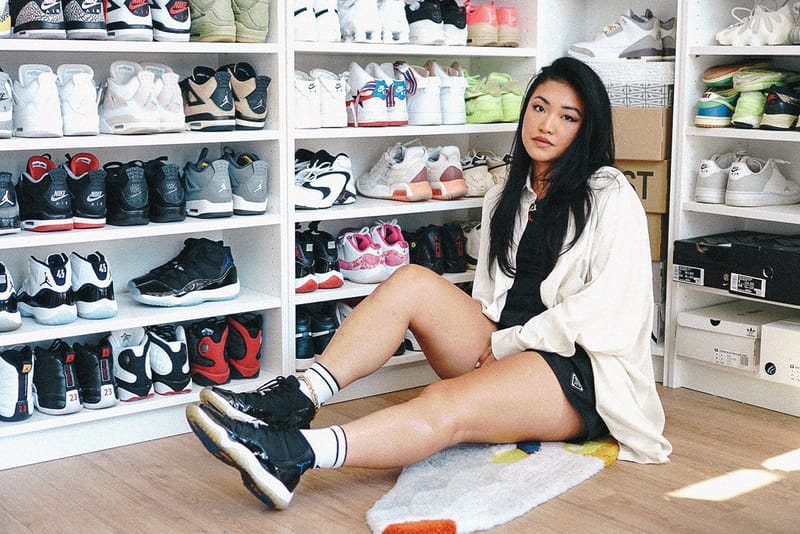 Anna Bediones
Oh wow, I definitely can't imagine that happening in today's sneaker age. So this pre-order was available to literally anyone?
Yup. It was a little sus, but you literally just had to go into the store and tell an employee which shoe you wanted, and this guy just wrote my name down on a piece of white paper and charged me on a gift card and my shoes were reserved.
You were fortunate enough to receive an Air Jordan 11 "Space Jam" seeding pack with the TV and custom water bottle. How did it feel to receive that?
It was an emotional and insanely cool moment for me. I thought I was going in for a meeting, because I used to go into Nike meetings on a regular basis to talk about projects. But they sat me in this room and then a Jordan Brand Manager brought out this box for me and I was one of five people in Canada to get them. It came with the 11s and the 31s, along with a water bottle, a jersey and a mini TV that played a clip from the movie.
How do you feel the Air Jordan 11 has aged over the past 26 years? It's not really the silhouette that everyone wants to collaborate on but it still sells out every holiday season.
Well I understand that because they're so classic but they're also not easy to style. I appreciate how wearable it is but I understand why a lot of people don't see that yet — I actually did a styling piece for Jordan Brand a few years ago. I wouldn't rule it out, and I think it still has an opportunity to find it's time because you can see people taking interest in different sneakers. Air Jordan 1s are always going to be an amazing shoe but it never had this status before. In my mind, only OG sneaker people loved Air Jordan 1s and that was their thing. Quite frankly, I wasn't a huge Air Jordan 1 person either. I liked it but it's not like something that I ever pined over. Now it's very mainstream and Dunks and SBs are hitting their own resurgence.
"We definitely need more people like YOON and Aleali May and Melody Ehsani. That's not enough, and Virgil can't be speaking on behalf of women, designing shoes for them because, as much as I think he's very talented and creative, at the end of the day he doesn't represent us."
There's more conversation right now about incorporating more inclusive sizing for women. What do you think can be improved upon? Any specific women's collabs that you'd like to see specifically?
I've seen that same sentiment echoed on Instagram where it's like "we don't want women's releases, we want inclusive sizing." We want both. We don't just want to be grouped into what the men are getting because that kind of defeats the greater purpose for the female sneaker community. I definitely agree that more inclusive sizing needs to happen but not at the cost of women's exclusives, like we definitely need to continue incubating female collaborators. We definitely need more people like YOON and Aleali May and Melody Ehsani. That's not enough, and Virgil can't be speaking on behalf of women, designing shoes for them because, as much as I think he's very talented and creative, at the end of the day he doesn't represent us. I've been saying this for years but I'm dying to see Kristen Noel Crawley do [a shoe collaboration] because she really hits that fashion lens. She's really leaning into her beauty bag right now but in terms of being a tastemaker, I think she's such a missed opportunity.
"The main way that they can keep [Jordan Brand] alive is through storytelling because a 13 year-old today doesn't know about Jordan, but they know about Jordan 1s."
How are sneakers and the stories they carry significant to you?
So, the stories, at the end of the day, mean the most to me because that's my kind of my entire journey within sneakers. And I love passing that down to younger people. The main way that they can keep [Jordan Brand] alive is through storytelling because a 13 year-old today doesn't know about Jordan, but they know about Jordan 1s. I actually just gave a pair of "Royal" 1s to my friend's daughter because I know what it feels like to be a 13 year-old girl and not be able to buy sneakers in your size because you're priced out on StockX.
Source: Read Full Article