Megan Thee Stallion and Cardi B collaborating on a song? It might sound a little crazy, but as two of the hottest female rappers out, they could probably pull together some serious magic in the studio.
What are the odds of them working together, though? Here, we'll take a closer look at their relationship and what they've said on the topic.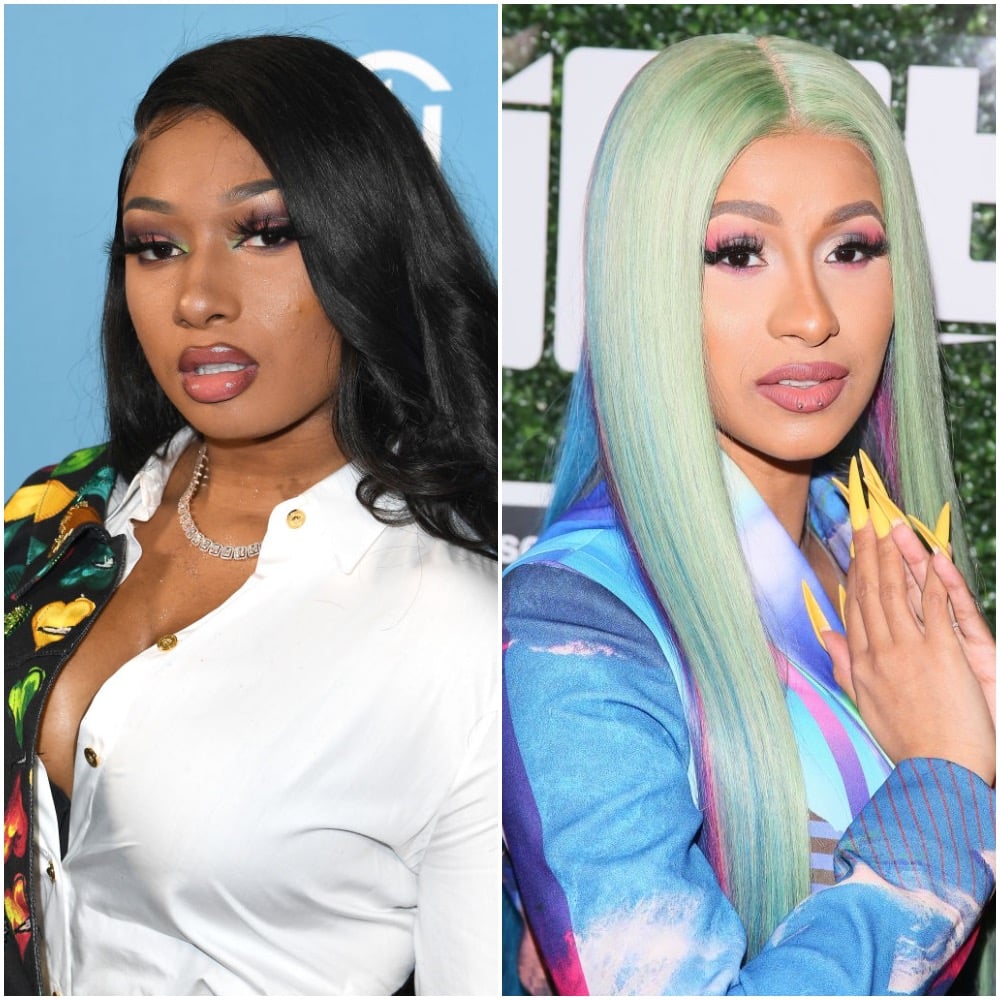 The relationship between Megan Thee Stallion and Cardi B
It's unclear if these two know each other or if they've ever met. They have generally kept their comments on one another to a minimum but somehow, fans are convinced that they hate each other.
Megan Thee Stallion refuted the rumors in April when a fan tweeted that she'd liked a shady YouTube comment about the "Bodak Yellow" rapper. "I did not like no damn stupid a** comment like this. I don't even upload my own sh*t to my YouTube my label does," she wrote.
In a follow-up tweet, she stressed: "I DO NOT HAVE A PROBLEM WITH ANYBODY. I don't like drama I do not bring other females down stop trying to start fake beef."
RELATED: Megan Thee Stallion Reveals Why She Went to Jail After Her Mugshot Appears Online
Some fans think the 'beef' stems from Megan Thee Stallion's relationship with Nicki Minaj
When Megan Thee Stallion opted to collaborate with Nicki Minaj on "Hot Girl Summer" amid her beef with Cardi B, some fans interpreted it as her siding with the "MEGATRON" rapper. Addressing those claims in a 2019 interview with E! News' Daily Pop, Megan Thee Stallion said that isn't the case.
"I really hate the fact that [people do that]. It's really like a lot of the fans," she said in the chat (via iHeartRadio). "They really make it seem like you're picking sides. I really, really, really like both of them. They're two different people, two different rappers. It's not even the same. I feel like we need to stop trying to compare them."
She also noted that she would "love" to work with Cardi B one day, too.
Cardi B did not publicly address those remarks, but she praised the "Savage" rapper in an episode of her Netflix show Rhythm + Flow.
"She got that voice that sticks," she said of Megan Thee Stallion in a conversation with T.I. (via AllHipHop). "Not only do she rap good – a lot of girls rap good – but she got that voice and she got that confidence that sticks."
RELATED: You Won't Believe Cardi B's Salary for Netflix's 'Rhythm + Flow'
Megan Thee Stallion and Cardi B's upcoming projects
It would make our day to hear these two on a song, but who knows if that'll ever happen. In the meantime, fans can prepare for new music from both of the rappers.
For her part, Megan Thee Stallion is preparing to release her debut studio album. She told Jimmy Kimmel in April that she has been using her time in quarantine to record new music and hopes to be able to release something soon.
Meanwhile, Cardi B is working on the follow-up to her Grammy-winning debut, Invasion of Privacy. She has teased unreleased music in recent weeks, but it is unclear if the songs will make the official cut. Find more about Cardi B's music here.
Oh, and don't miss: Iggy Azalea Seemingly Shades Cardi B and Megan Thee Stallion In Viral Tweet
Source: Read Full Article