You don't need to know the difference between a three-card and a Celtic cross spread, to get the most out of a tarot card reading. All you need: your Sun sign! Here's what I do: Shuffle my tarot deck and pull out the cards in order from Aries to Pisces, plus one general card for everyone so that you can get specific advice around your personality. Let's go!
A GENERAL CARD FOR EVERYONE: SIX OF CUPS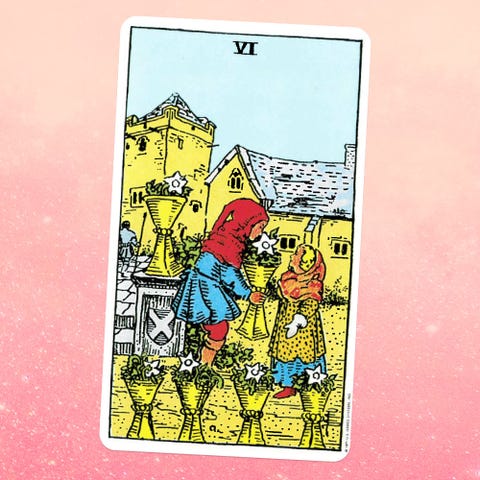 The general ~mood~ improves for everyone this week with the lovely, affectionate and playful Six of Cups. There's an air of nostalgia in this last week of May. Perhaps it reminds us of childhood summers, the end of school, and the approach of summer vacation. Follow your memories and see where they lead. Reach out to old friends. you're staying near the place you grew up, take a stroll by your old favorite places. Re-read the books you loved as a kid. Take up drawing again. Something from your past merits a place in your present.
ARIES: QUEEN OF CUPS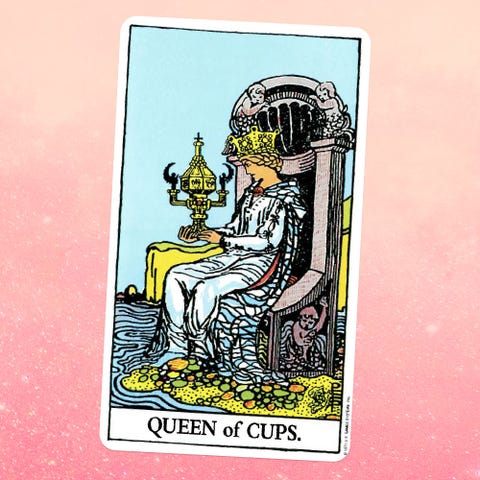 Your emotions are running high this week, Aries, and so we'd all better get out of your way! The Queen of Cups reveals it's your love life that's triggering this stormy spell. But relax, my friend. Don't meddle or try to take control. See how the situation develops and wait until your mood has improved before taking action.
TAURUS: TWO OF SWORDS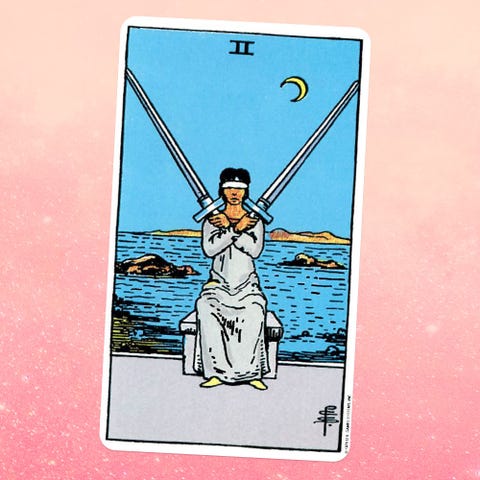 You enjoy carefully deliberating and analyzing, and you're very good at both. That said, your habits are in danger of tipping over into procrastination. The Two of Swords brings swift, cutting energy, urging you to make a firm decision and get on with things. Stop pondering the what ifs, and make a choice you can put into action straightaway. Enough thinking, more doing.
GEMINI: KNIGHT OF CUPS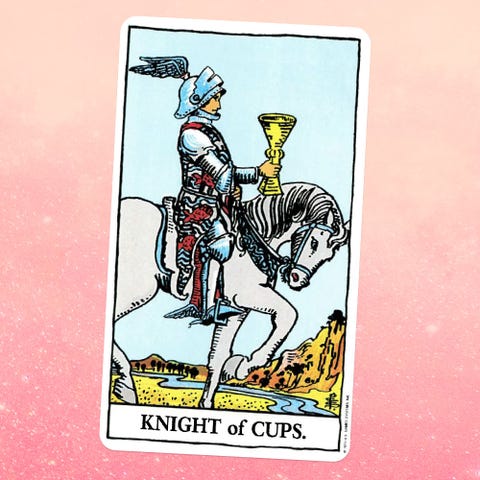 Cupid has been looking for you, Gemmy—he has someone he'd like to introduce you to. The Knight of Cups is the tarot's lover, and he brings all-encompassing romance into your world. Someone you've long admired feels the same way about you, and this is the week to slide into their DMs. Expect things to move very quickly and prepare to fall fast. Have fun!
CANCER: THE WORLD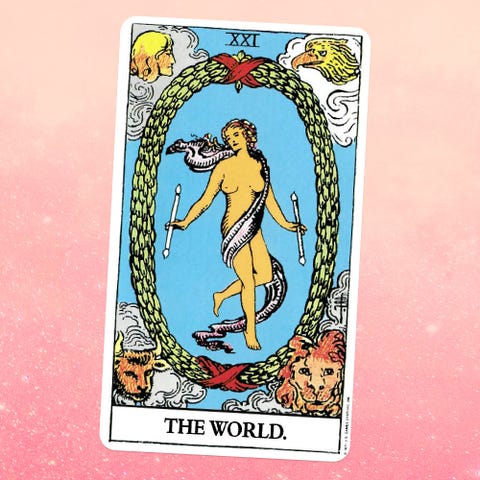 You're about to make a breakthrough on something you've been working on for a long time. The World represents the achievement a long-held goal. It's time to celebrate! Next week, you can go back to the drawing board and start working on a new project, but this week, you should take a time-out to congratulate yourself.
LEO: THE EMPEROR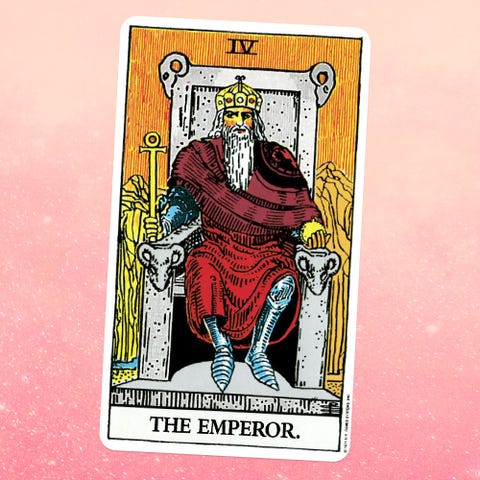 Strong, powerful energy surges through you this week, Leo. The Emperor is a true ~power card~, showing that you can make your desires happen. No one's going to do it for you, so it's time to take responsibility for your goals. You can do this, Leo.
VIRGO: TWO OF COINS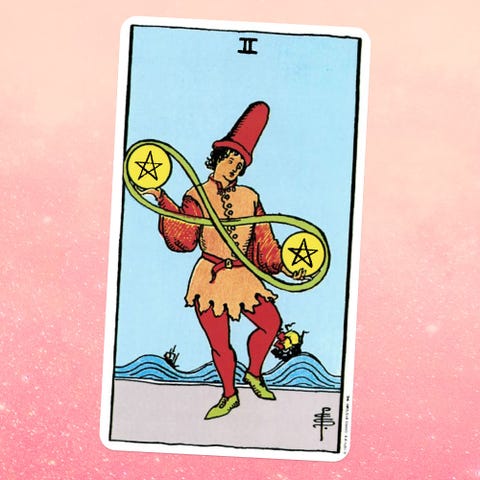 Variety is your theme this week, Virgo, so make sure you're keeping your options open. The Two of Cups signals that you'll be super busy—in a good way. You've got a sharp brain and lots of energy, and you're putting both to use on something you care about.
LIBRA: SEVEN OF CUPS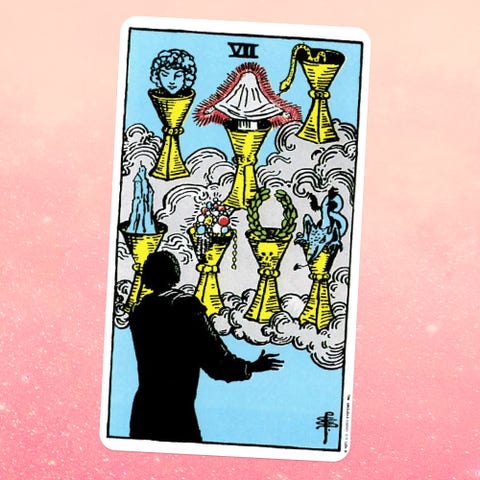 Sometimes you can be a bit dreamy, and this is your ~mood~ this week, Libra. Lazing around, napping, and fantasizing are on your agenda, but it's not a waste of time. The Seven of Cups shows that your mind has a lot of processing to do right now, because so much has changed. You're mentally catching up with everything that's been happening, processing what needs to change and what can stay the same. Let your brain enjoy this downtime, and just chill. You'll feel so much better for it.
SCORPIO: PAGE OF WANDS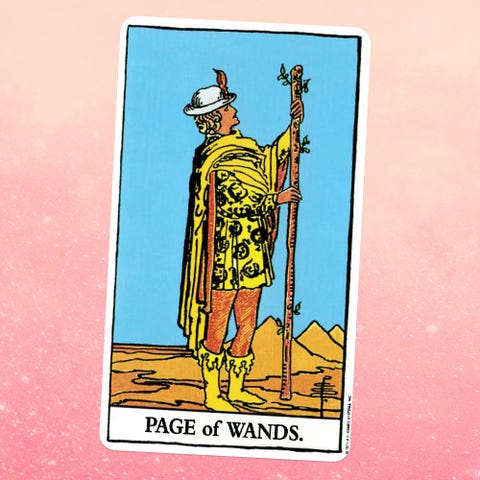 Lots of possibilities and opportunities fly into Scorpio Towers this week, and you're not sure which way to turn. The Page of Wands can be a fickle messenger, bringing invites and ideas that clash and conflict with each other. It's easy to get confused or, worse still, ignore all the noise. So, Scorpio, be careful. Know your ambitions, your limitations, and your capacity. There are golden opportunities among all this mess—you just need to find them.
SAGITTARIUS: KING OF CUPS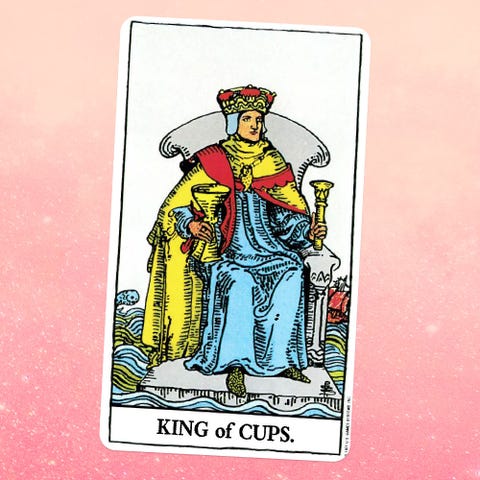 You're in an amazing mood this week, Sag, which is good news for everyone around you. The King of Cups makes you feel all warm and fuzzy, and you're sharing the love. You want to make others smile, so (virtually) gather your friends and have fun. It's long overdue.
CAPRICORN: THE TOWER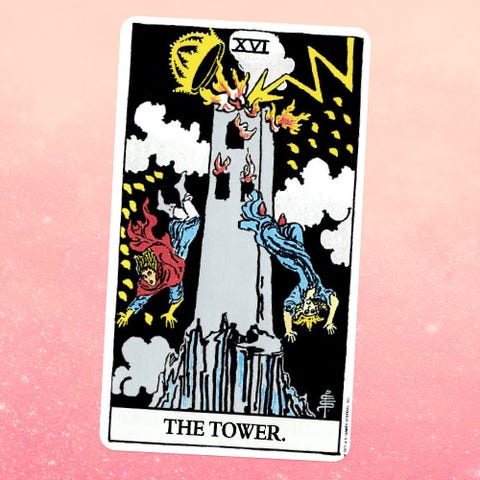 Whatever hasn't been working in your life is set to collapse this week, Cappy, which sounds dramatic (in fact, it may be a bit dramatic), but it's all for the best. The Tower is like a cosmic ~wrecking ball~, helping highlight issues, create change, and help us see where we're going wrong. Be open-minded and flexible as the week progresses, and trust that anything that's blowing up is doing so for good reason.
AQUARIUS: NINE OF WANDS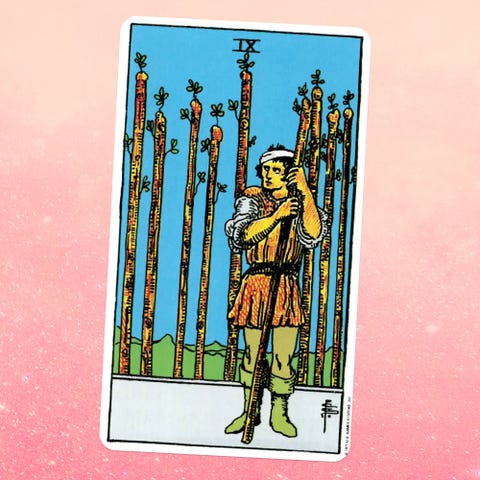 You're usually so bright and breezy, Aquarius, but the Nine of Wands sees you feeling low this week. Plus, there's an issue that needs your attention. Don't worry, you've got this. Even better, this issue is the last thing you need to deal with for a long time— once you've figured it out, you can finally relax. So don't give up! You're close to a breakthrough.
PISCES: KNIGHT OF COINS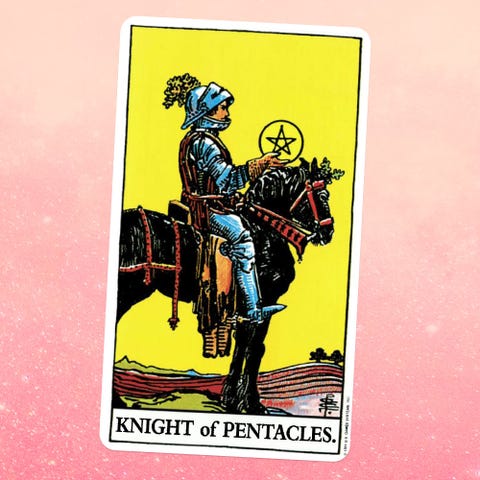 You're feeling cozy this week, Pisces, and you're taking care of things at home (where else?). The Knight of Coins loves to have his house in good order—it makes him feel secure. It might be time to do a late spring cleaning, examine your budget, or redecorate your bedroom. Plan to make your home a little neater, brighter, and easier to manage this week.

Source: Read Full Article