Kate Chastain from Below Deck seemed to have a close bond with Josiah Carter when they worked together on the show.
The chief stew and second stew worked in harmony, practically finishing each other's sentences and knowing intuitively what the other needed. They masterfully pulled off a number of charters together and even got tattooed together before leaving Tahiti.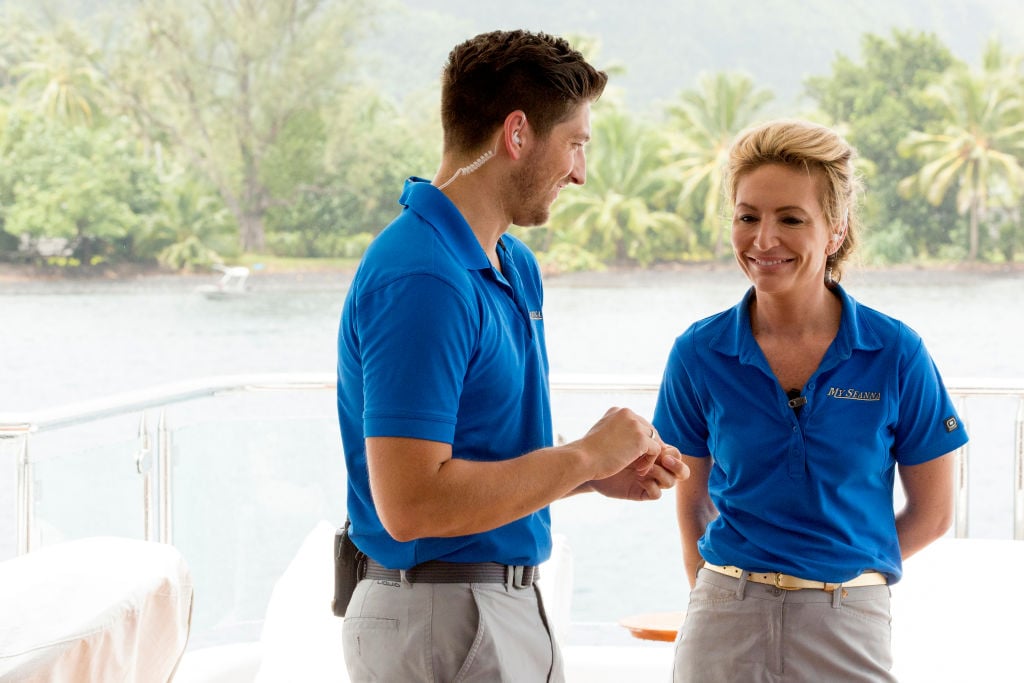 Fans were invested in this friendship and many were disappointed that Carter did not return for season 7. Carter shared with Showbiz Cheat Sheet that Chastain cooled to their friendship after filming stopped. He reached out and seemed confused as to why the friendship appeared to break down. However, while they were filming Below Deck they were thick as thieves.
Best friends or puppet?
The season 6 crew dished during the Below Deck After Show. Chastain had nothing but positive remarks about Carter, referring to him as the perfect best friend. "I don't know why people are so surprised by our friendship," Chastain said to Carter.
Third stew Laura Betancourt referred to Chastain and Carter as a "cute team" that had this "little thing" going on. Deckhand Rhylee Gerber had nothing but love for Chastain adding, "Josiah's kind of the puppet that goes along with her." Deckhand Tyler Rowland also referred to Carter as Chastain's "puppet" or even "Mini Kate." Betancourt referred to Chastain and Carter's relationship as almost "cartoonish." Or even like Batman and Robin.
"He's like the perfect best friend," Chastain exclaimed. "He's caring, he's there for you, he's funny. What's not to love?"
They even got tattoos together
Chastain and Carter recalled their tattoo experience on Twitter during season 7 of Below Deck. A fan noticed the delicate symbols running down Chastain's back and inquired about the origin of the tattoo. Chastain told the fan she got the ink with Carter in Tahiti.
Carter responded, "God that was a painful afternoon," he wrote. "note to self, never go to a tattoo shop and say do what you want @Kate_Chastain." He added, "I think I was never been in so much pain in my life. But all worth it (I think) they both look so good, not that my face says that though." Bosun Ross Inia chimed in that the process took so long that Carter almost missed his flight home.
Chastain agreed that getting inked immediately before flying wasn't the best strategy. "Also never get a massive tattoo before a 17 hour flight," she wrote. Chastain also shared a photo of Carter getting tattooed. Chastain chose to have her tattoo down her back whereas Cater went for the thigh. "I think you were passed out in pain at this point," she wrote.
They've gone their separate ways
Fans will likely never get another season of Carter and Chastain together again. Chastain announced she was stepping away from the series when season 7 wrapped. Plus, Carter is busy traveling the world and does not seem to still be working in yachting.
But Carter was still hurt when he tried to contact Chastain and she ghosted him. "She doesn't speak to me anymore," he told Showbiz Cheat Sheet. "I have no idea why. When we filmed the reunion, we were fine." 
"Maybe she's just busy," he said. "I thought Kate was really cool and fun. But I don't know. But no one is too busy to reply, 'I'm good how are you?'" Chastain also addressed the question when she appeared on Watch What Happens Live with Andy Cohen. "And I haven't spoken to him since I went out of the country for two months," she said. "But…I miss him." Host Andy Cohen reiterated that they seemed incredibly close.  "For like six weeks when we worked together on a boat, yeah," she replied. "The problem is we have different time zones and it makes it awkward." 
Source: Read Full Article