Bachelor Nation first met Caelynn Miller-Keyes on Colton Underwood's season of The Bachelor. Then, she went on to star in the next season of Bachelor in Paradise where she left the beach hand-in-hand with Dean Unglert. The two are still happily together today, almost a year later.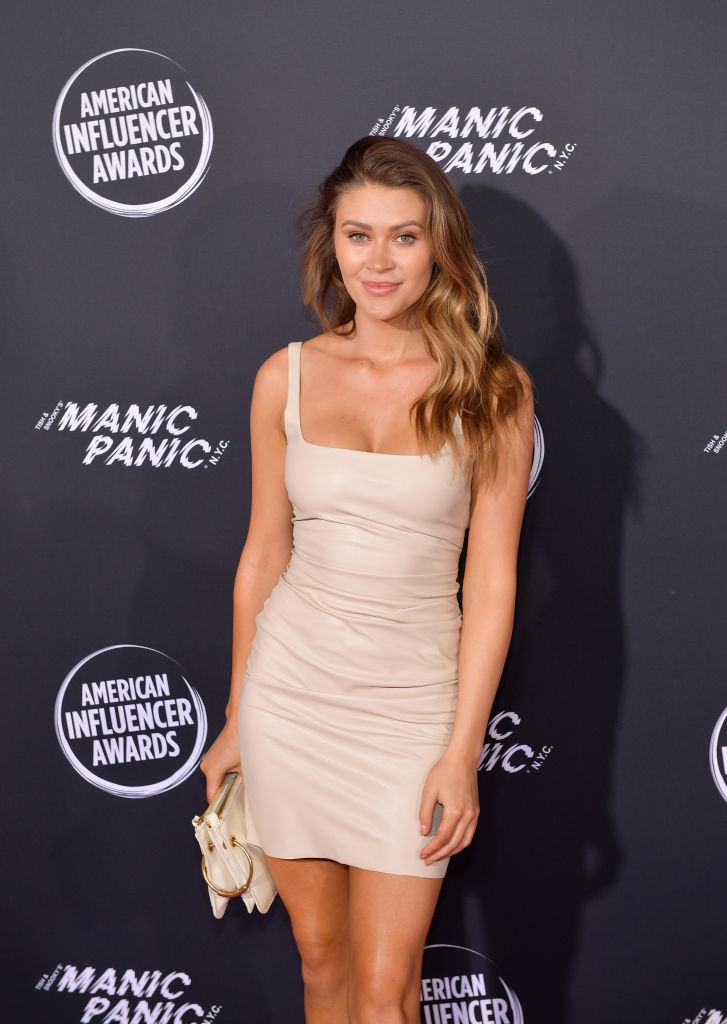 Caelynn Miller-Keyes is quarantining with Dean Unglert in Los Angeles
Currently, Miller-Keyes and Unglert are isolating in the former beauty pageant queen's Los Angeles apartment with their adopted dog, Pappy. In the past year, Miller-Keyes and Unglert have made an effort to share their travels, routines, and lifestyles with fans. Not too long ago, Miller-Keyes showed her fans what quarantining with Unglert has been like.
RELATED: 'BIP' Fans Are Loving Dean Unglert's Latest 'Quirky and Weird' Quarantine Photography Project
"We're just sitting at home doing the same thing every day, and I feel like I'm in one of those movies where you wake up and it's the same day repeating over and over again," Miller-Keyes said in the vlog.
The reality star shared that she and Unglert have spent their time building furniture, playing video games, decorating, organizing, journaling, reading, watching movies, eating, and drinking mimosas.
What Caelynn Miller-Keyes has been eating during quarantine (vegan)
On May 11, Miller-Keyes posted a vegan "What I Eat in A Day" video. She said this was "the most requested video [she's] gotten."
Early in the video, the reality star was sure to note:
"I am not a nutritionist. Dean and I, before the shutdown, we were supposed to go see a nutritionist together and just make sure we were getting all the nutrients we need and our diets are right for our bodies. I highly recommend going to see one because I'm not a nutritionist. I'm just listening to my body and doing what I think is best for it and right now that is cutting out meat and dairy and any animal products."
For breakfast, Miller-Keyes had some avocado toast. She mashed up one avocado in a bowl along with salt, pepper, red pepper flakes, a bit of cayenne pepper, and a little olive oil and put the spread on two pieces of sourdough toast.
RELATED: Fans Say Caelynn Miller-Keyes and Dean Unglert Are 'The Couple Bachelor Nation Never Knew We Needed'
For lunch, the reality star had a banana and greens smoothie from Daily Harvest, which included banana, cucumber, spinach, kale, lemon, and wheatgrass.
For a snack, Miller-Keyes had a chopped up green pepper with some spicy hummus from Trader Joe's, some vegan cheese, and a watermelon La Croix.
For dinner, the Bachelor in Paradise alum prepared roasted vegetables and sausage-less sausage from Trader Joe's. The vegetables included sweet potatoes, parsnip, carrots, purple asparagus, baby bellas, brussels sprouts, and onion. She tossed them in olive oil and spices and added balsamic vinegar toward the end of baking.
For dessert, Miller-Keyes had some Sweet Loren's fudgy brownie cookie dough.
RELATED: Dean Unglert Says It 'Really Stings' That Caelynn Miller-Keyes Doesn't Know If He's 'The One'
Fans seemed to particularly appreciate Miller-Keyes doing a vegan "What I Eat In A Day" video.
"love this! I feel like people don't talk about the transition very often, and when people start diets super suddenly it rarely works. thanks Caelynn!" commented one person.
"I loved that you did a vegan What I eat in a Day!  Your meals looked soo delicious :)" wrote another.
Read more: 'The Bachelor': Madison Prewett Feels Peter Weber and Kelley Flanagan's Leaked Chicago Photo Was a Jab at Her on Her Birthday
Source: Read Full Article