It's been nearly eight months since we said goodbye to HBO's Insecure, and we've spent that time collectively cycling through the five stages of grief. But some deity (read: Issa Rae) must have heard our desperate bargaining because we have been gifted with a new project from Issa to fill the "BLOCC" shaped hole in our hearts. Rap Sh!t, Issa's newest HBO Max comedy, is almost here.
Rap Sh!t follows Shawna (Aida Osman) and Mia (KaMillion), two estranged high school friends from Miami who reunite and form a hip hop group in their home city, à la the IRL rap duo City Girls (and that's no random comparison—both Yung Miami and JT of City Girls are co-executive producers for the show).
The first two episodes of Rap Sh!t are available to stream July 21 at 9 p.m. (that's tomorrow, FYI!) on HBO Max. So while you count down, here's every single thing to know about Rap Sh!t season 1.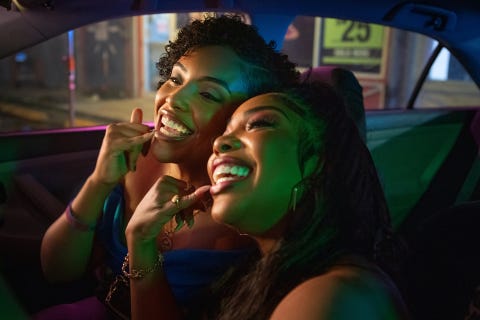 What is Rap Sh!t season 1 about?

Shawna is an aspiring rapper working at the front desk of a hotel in Miami, who writes and performs behind a stage name and mask when she isn't working her day job. One night, she takes to Instagram Live with Mia, a single mother working multiple jobs, and the pair's freestyle rap becomes a viral hit.
On top of showcasing Shawna's and Mia's navigation through the music industry, the show spotlights the power of female friendship, dream-chasing, and the real obstacles faced by women breaking into the world of hip-hop—like sexism, for one. Expect the show to reflect the criticisms thrown at major female rappers in the music scene, like Megan Thee Stallion, Cardi B, and naturally, City Girls.
When talking about the inspiration behind the show to The Hollywood Reporter, Issa said, "I saw these comments from a prominent producer about female rappers and how all they rap about is their vaginas, to say it euphemistically, and I thought that was so unfair. So I thought: let me start telling this story now."
How many episodes will be in Rap Sh!t season 1?
The first season of Rap Sh!t will have eight episodes. After the two-episode premiere on July 21, the episodes will release weekly on Thursdays at 9 p.m. ET, with the finale airing on September 1. And much like Insecure, the duration of each episode will be a half-hour.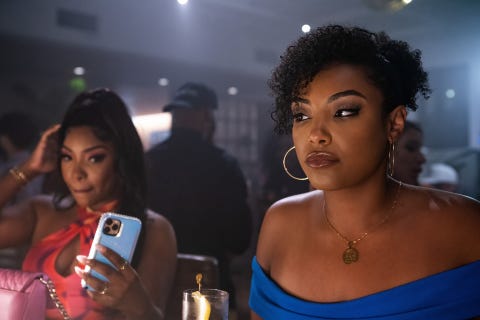 Will Issa star in 'Rap Sh!t' too?
Sad to say bestie, but don't think we'll get to see more shenanigans from Issa, Molly, Tiffany and Kelly in Rap Sh!t. In fact, Issa even told THR that a role in Rap Sh!t didn't even cross her mind. But while Issa won't be on screen this time around, she does serve as head writer and executive producer for the show, with Syreeta Singleton taking the helm as showrunner.
But, one thing is the same between Insecure and Rap Sh!t: In Issa's signature style, the episode names for the first season are idiosyncratic (think Insecure's "Insecure as Fuck," "Messy as Fuck," "Racist as Fuck," etc). Rap Sh!t's episode titles follow a similar format—"Something for The City," "Something for The Girls," "Something for The Hood." Call it an Issa egg.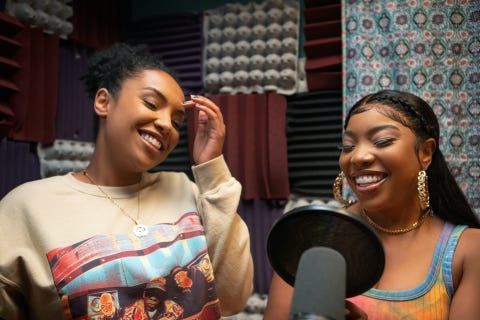 Will 'Rap Sh!t' get a season 2?
A second season has not yet been confirmed by HBO or Issa, but there is fairly strong speculation of a season 2 buzzing around the industry. Earlier this month, Deadline reported that Rap Sh!t received more than $12.6 million in "small screen tax credits" from the state of California, which speaks to a likely relocation of the show to the west coast (the inaugural season was filmed in Miami).
All of this is pretty insider right now, but it shows that a renewal is extremely likely, if not certain, at this point. Not to mention, a second season move to California would fall in line with the storyline at play. After all, where does every viral social media sensation migrate to? Time to go west, girls.
The first two episodes of Rap Sh!t will be available to stream on HBO Max starting July 21 at 9 p.m. ET.
Source: Read Full Article