On My Block has officially come to an end thanks to its very wild fourth and final season, but that doesn't mean we have to say goodbye to Freeridge just yet. Netflix has already announced a spin-off series named after the very town we've grown to love, and it'll feature a new set of faces. But what can we expect from this show? And will we get to see any familiar characters come back?
Here's everything we know about On My Block's new spin-off Freeridge:
So, wait, there's more On My Block coming?
Sort of! Currently, the show does seem to be moving forward with an all-original spin-off cast, meaning our favorites won't necessarily be front and center like on On My Block. But as we've seen, people always seem come back home for a variety of reasons. Even with a new leading cast, there's still a chance we'll see our faves from the original crew make an appearance.
Who is starring in the On My Block spin-off?
Unfortunately, cast announcements haven't been made yet. But it looks like we got a bit of a sneak peek at the end of the On My Block finale when a new Core Four was spotted looking into the big party: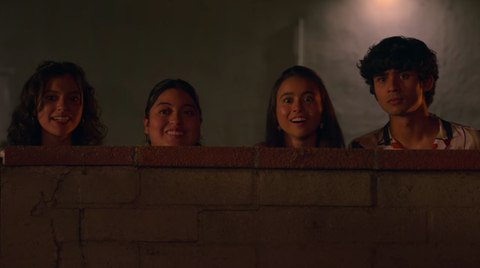 What is the new show going to be about?
If you're looking for another fun adventure like we've seen in the OG series, then you're going to love this. According to Netflix, "The stories of Freeridge continue in this On My Block spinoff following a new crew of friends who may or may not have unleashed a deadly curse kicking off an unforgettable adventure."
Co-Creators and Co-Showrunners Jamie Uyeshiro, Eddie Gonzalez, and Jeremy Haft, who also worked on the original series, will be back to run it and also shared more details about Freeridge:
"Some of the greatest comments we've heard about On My Block were from fans telling us that they felt seen and represented. As we embark on Freeridge, a more female driven show, we will continue to invest in authentic characters that represent our passionate audience… Oh, and there may be gnomies," they said in a statement.
So get ready y'all, because it sounds like things are just getting starting in this town.
Source: Read Full Article