When The Bachelor Presents: Listen to Your Heart premiered in April 2020, fans were skeptical. The new spinoff looked a lot like Bachelor in Paradise. However, viewers at home didn't know the cast and pairs received music-themed dates. Then everything changed in the third week. When the contestants finally paired off to perform live onstage, the elimination ceremony format shifted. So how does The Bachelor: Listen to Your Heart work now? Everything weighs on the judges' decision.
How 'The Bachelor: Listen to Your Heart' works for the first two weeks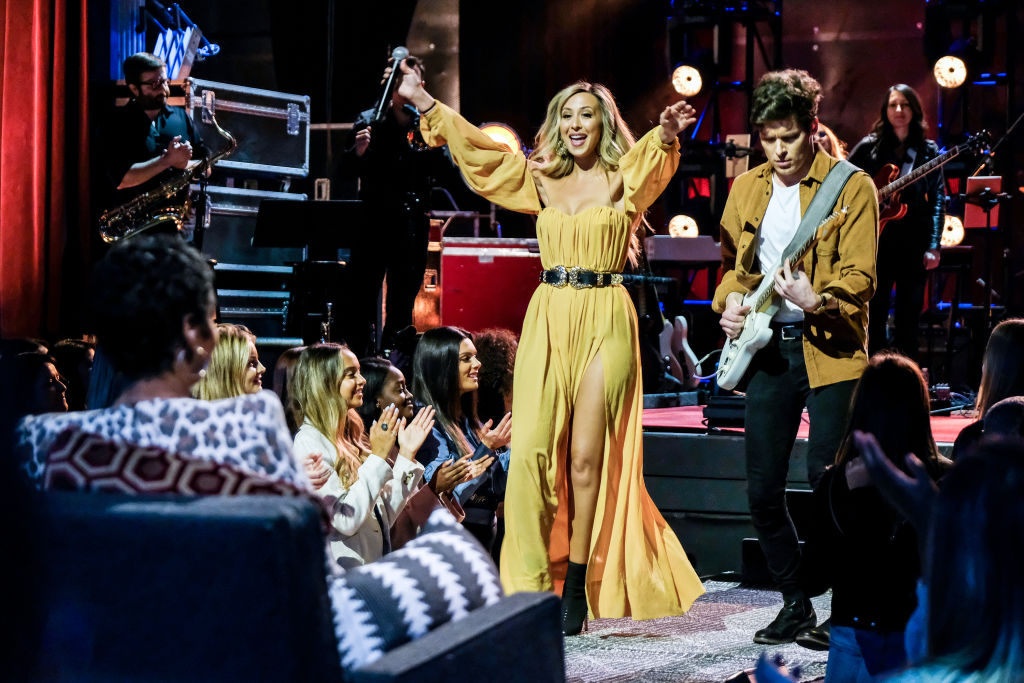 As mentioned, the first two weeks of The Bachelor: Listen to Your Heart played out like Bachelor in Paradise. In the first week, the women had the power and got to choose who would be sent home. The next week, more women were brought into the cast and the men determined who would stay.
"Early on, it really will feel more like Bachelor in Paradise in that there are true rose ceremonies of women giving the man roses and the men giving the women rose, and that's how people are voted off," host Chris Harrison told E! News on April 10.
How 'The Bachelor: Listen to Your Heart' works after performances begin
By The Bachelor: Listen to Your Heart Week 3, everything changed. Harrison explained no more cast members would be brought into the mix. Meanwhile, everyone in the mansion had to pair up. And those without a solid connection were expected to self-eliminate and go home. The couples remaining prepared a live performance.
While onstage, the contestants sang in front of a panel of judges. The pairs were critiqued on their chemistry and talent. Then the judges deliberated. And ultimately, they were the ones chose who went home. But as per Bachelor tradition, there was still a rose ceremony. Harrison was the one who handed out the roses. 
Of course, giving the power to the judges changes things for the franchise. That said, Harrison promised Listen to Your Heart will still focus on the relationships.
Harrison told E! News:
It doesn't feel like you're watching American Idol or The Voice because there's so much more invested in these people and there's so much more on the line. And when you're watching them, you're really seeing this relationship, less of just two people singing and how good are they as singers. 
You also get to see behind the scenes of, hey, maybe they're not getting along or they just had a fight, and how does this come out on stage? It was really interesting just to see how evident it was when you see a couple on stage, you can tell if they are in a good place or if they really have found love or are on the way to finding love.
Then in the fourth week, Listen to Your Heart showed how the show would put connections to the test outside of the live performances. A few select cast members were chosen to go on dates to see if they were compatible with their partner in music and love. This could potentially make or break a couple ahead of the actual performance.
Chris Harrison explains what the winners of 'The Bachelor: Listen to Your Heart' receive now
After The Bachelor: Listen to Your Heart wraps its finale, the winning couple is expected to receive the opportunity to create original music and go on tour. Then in an interview with Entertainment Tonight, Harrison revealed how the coronavirus (COVID-19) pandemic affects the grand prize.
"Obviously when we made that prize package, getting out and touring and concerts were a thing," Harrison said. "So [I'm] not sure [what will happen]. I mean, clearly that is still part of it. As soon as they can do it safely, we'll do that."
He continued: "Creating music, working with a music producer, [making a] music video, going on tour is all something that we definitely want to do as soon as we can safely do it. But yeah, how wild that you kind of look back, even when I'm watching the concerts back and I'm like, 'Wow.' When you look at it through this lens of a quarantine, it's very different."
That said, if the winners of Listen to Your Heart break up, Harrison confirmed there won't be a tour anyway. But even so, it seems everyone will just have to wait and see what's the cards moving forward.
Read more: Where Was 'The Bachelor: Listen to Your Heart' Filmed? Fans Already Miss the Original Mansion
Source: Read Full Article