Oh, Danny Tanner. The "Full House" father who will forever be known for excessively cleaning his San Francisco home while filling it with lovely memories. Speaking of memories, here's something you may not recall: The pilot episode of "Full House" actually stars John Posey as Danny Tanner, but Bob Saget was always a consideration. "I was offered it but I wasn't available because I was doing the morning program on CBS, where I got fired because I was a little too 'hot' for morning TV," Saget told Willamette Week. The actor-comedian "was thrilled" to fulfill his dream of being on a sitcom. 
He's created an interesting contrast between his most famous role and himself; Saget's stand-up comedy hasn't always been known as family-friendly. Fittingly, his memoir is called "Dirty Daddy: The Chronicles of a Family Man Turned Filthy Comedian." "In my career I've had the fortune of being able to work continually in radically diverse creative worlds. By day I've done some of the most family-friendly TV imaginable," wrote Saget. "Then, often in the same day, I've gone onstage in the L.A. comedy clubs and whirled off with an adolescent's delight about my grandma's projectile diarrhea."
Sure, his range might be shocking, but it also means that he has entertained a lot of people. Today, Saget devotes his time to meaningful pursuits, including making people laugh. If you "miss your old familiar friends waiting just around the bend," fear not. As the title of his podcast indicates, Bob Saget is here for you.
Bob Saget is a longtime scleroderma research advocate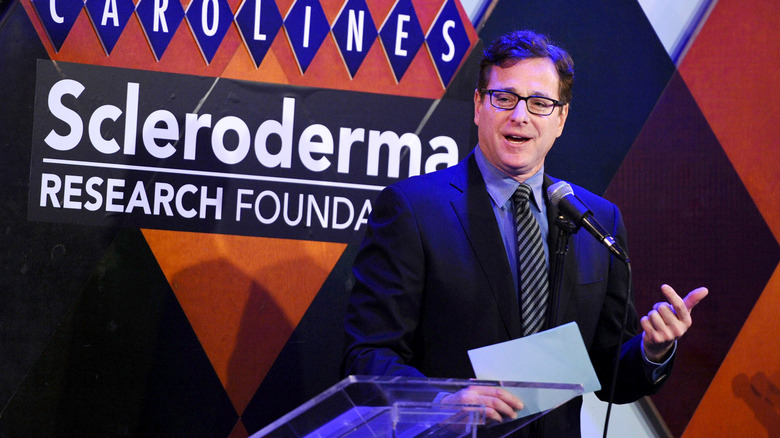 Bob Saget, as CBS News wrote, "is no stranger to loss." His two sisters passed before the age of 50: Andrea Saget died from a brain aneurysm, and Gay Saget died of scleroderma. 
The "Full House" star has been on the Scleroderma Research Foundation Board since 2002. He shared with MedlinePlus, "It is incredibly painful to have a loved one experience a condition like this. It is a very painful disease. My family is still having post-traumatic stress disorder." Saget is passionate about this work and is "committed to finding a cure" and uses his skills to raise funds and awareness for scleroderma. He first became involved with the Schleroderma Research Foundation through the "Cool Comedy Hot Cuisine" event, before Gay found out she had scleroderma. "Little did I know that just a few years later, my sister would be diagnosed with the disease," he told MedlinePlus.
"Cool Comedy Hot Cuisine" went virtual in 2020. Previously an in-person event (held in Las Vegas, San Francisco, Los Angeles, or New York), the fundraiser has brought in over $25 million for scleroderma research.
It's a touring comic's life for Bob Saget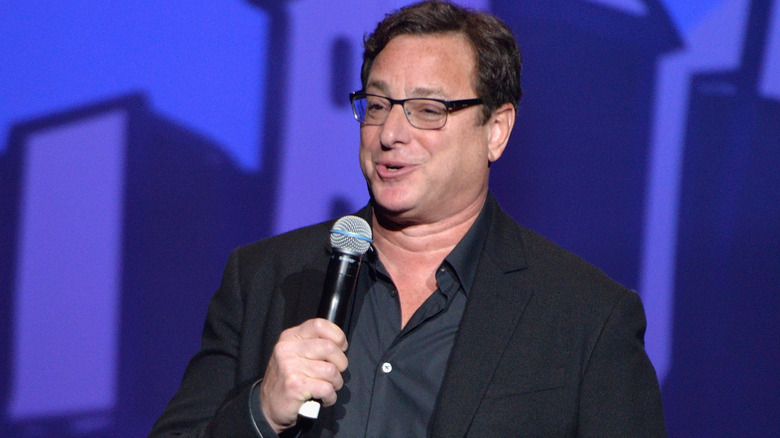 The coronavirus pandemic affected entertainers in every corner of the world, with musical, theatrical, and comedic events going virtual for many months. A gradual return to live events has thrilled both performers and their audiences. At the time of writing, Bob Saget is back with a live comedy tour throughout the United States and Canada. Saget enjoys reconnecting with friends and audiences everywhere, but it's even more precious for him to have those experiences now. Posing with comic friend Mike Young, Saget wrote on Instagram, "Loving standup like never before." 
Bob Saget has a way of living in the moment without forgetting the past. Stand-up is a job he knows well, considering that he started when he was 17 and still performs in his sixties. Saget remembers an early gig on the TV show "Bosom Buddies" where he was the warm-up act. Bob Saget has one guest star credit for a 1980 episode of the series, and Tom Hanks nicknamed him "Bob the Comic," Saget shared on the "Rachael Ray Show." He told CBS News that Jeff Franklin (the creator of "Full House") was a producer on "Bosom Buddies." When it came to "Full House," Franklin "knew about Bob's edgy side but he knew that I could also be the Richie Cunningham of the show," Saget said.
Comedians just wanna have fun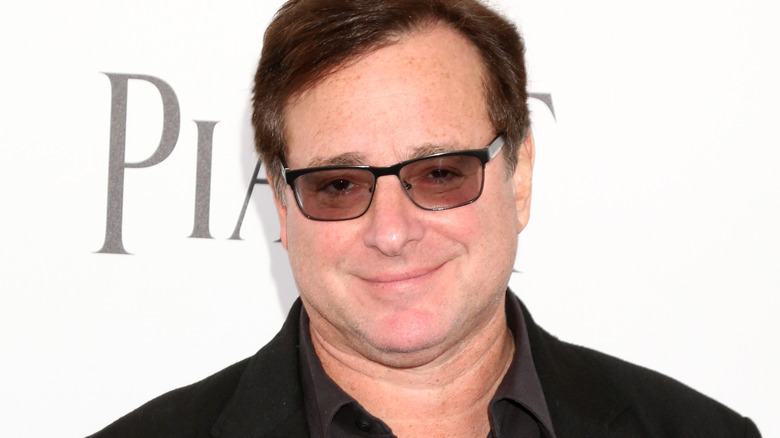 Fans of a certain vintage would recognize Bob Saget for hosting "America's Funniest Home Videos" from 1989 to 1997. A few decades later, the actor-comedian keeps spectators guessing what he will do next.
Bob Saget puts intriguing projects on his schedule. He hosted the game show "1 in 100" in the late 2000s and, more recently, "Nashville Squares" in 2019. Saget was even a guest panelist on "I Can See Your Voice" in 2020. And then he really kicked things up a notch when he became a contestant on another series. 
In the middle of the fourth season of "The Masked Singer," the judges sitting before the stage and the viewers sitting at home found out that Bob Saget was the human in the Squiggly Monster costume. He was ready to stay awhile on "The Masked Singer" and joked with Entertainment Weekly about the confidentiality of the program: "There's something comical about the whole damn thing, because the car picks you up in the morning and it says Squiggly on it. They can't use my name anywhere. 'SM, over this way.' I don't listen to that. I don't move. 'Squiggly!' Oh, okay. That's me." Sounds like a blast for a quirky guy like Bob Saget.
Bob Saget supports his comedy community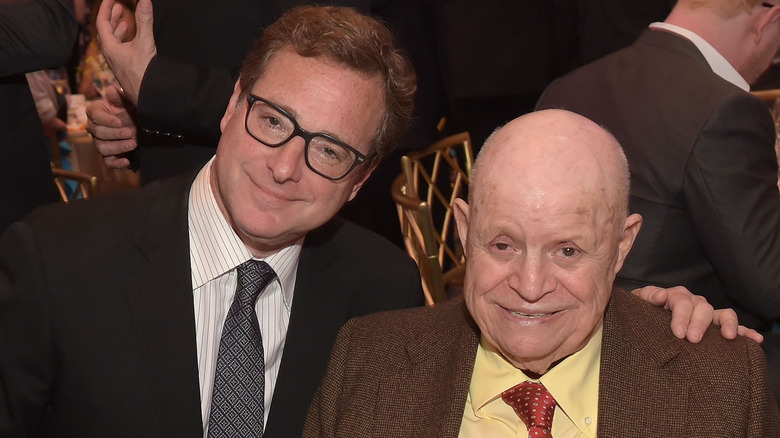 Bob Saget isn't one to hog all the attention. He'll let fans know what he's up to via social media, but he's just as quick to highlight the work of his colleagues. Saget was one of many celebrities to congratulate Conan O'Brien when his long-running TBS chat show ended in 2021. In his tweet, Saget called O'Brien "so funny, so kind, and so brilliant," adding, "And he's just getting started!" Another contemporary of Bob Saget's is Dave Chappelle, whom Saget clearly respects. Speaking with Variety about Chappelle and his documentary project "This Time This Place," Saget said, "Dave is someone who is passionate, poignant and has such clear messaging."
The sitcom legend also pays homage to the generation of comedians before him. When describing his relationship with the late Don Rickles on "Jimmy Kimmel Live," Saget said, "I became in love with him at 17 years old. I snuck into the Latin Casino in New Jersey, and I was underage, and so I got arrested. But I just — I loved him from 'The Tonight Show,' and I loved him from everything he ever did." Several years before Rickles' death, Saget honored the comedian at the Friars Foundation Annual Applause Award Gala in 2013, according to the AP.
If you think Danny Tanner's a good friend, you might find that Bob Saget is an even better one.
John Mayer played at Bob Saget's wedding to Kelly Rizzo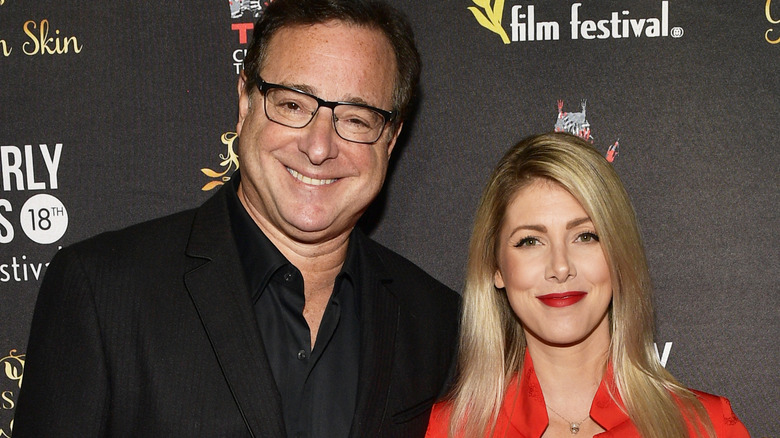 Bob Saget and his first wife, Sherri Kramer, divorced in 1997. Saget married travel blogger Kelly Rizzo in 2018. Bob Saget posted a wedding photo on Instagram with the caption, "Okay, so we went and did it. And damn are we happy." The nuptials had music, but it wasn't John Stamos rocking out to Uncle Jesse's version of "Forever" by The Beach Boys. John Mayer played "Free Fallin'" and "another very personal song," Saget said on "Access Hollywood." 
The "Fuller House" star also told "Access Hollywood" that the proposal was a private event, but he did divulge to People that the engagement occurred during a "Stranger Things" episode. "She got very emotional, and so did I. I tried to put it in words that make sense. I adore her. She's fantastic and I'm a very lucky man," Saget shared with the publication. 
It sounds like Kelly Rizzo and Bob Saget met the new-fashioned way. As she recalled on TikTok, he definitely slid into her DMs. "I think Bob was looking for a good Midwestern gal, a Chicago gal, like myself. So, he saw my Instagram, and he's like, 'Oh, it's not all selfies and bikinis. She actually does stuff…she has this food show and travel show. She seems interesting.'" Saget called up a friend in Chicago to find out what Rizzo was like. After hearing a good report, the comedian invited his wife-to-be out for burgers and lobster after his show. That sealed the deal for Kelly Rizzo.
What is Bob Saget's net worth?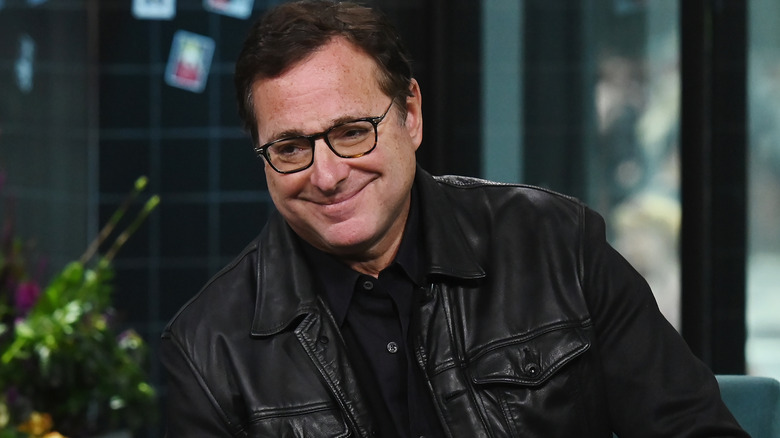 Bob Saget has a net worth of $50 million, according to Celebrity Net Worth. That's a respectable sum for a man who's been in the entertainment industry for his entire adult life. Between his successful comedy career and all those "Full House" reruns, Saget's financial needs are met.
He can enjoy life and see the world with Kelly Rizzo, whose brand is called "Eat Travel Rock." A trip all the way to Cabo San Lucas or just to San Francisco, California is perfect for these two, and yes, they saw the "Full House" house while in San Francisco. The lovebirds acted out a skit for Instagram in which Kelly Rizzo tries to find the Tanner residence and pretends Bob Saget is a stranger who can give her directions. "This random guy certainly had a lot of information about the Full House House. Weird. Kinda looked like @bobsaget," Rizzo captioned the post. Isn't that adorable?
Bob Saget strikes a balance of living it up and giving his resources to others. In his introductory Cameo video, Saget said that with each message he sends, he is "making donations to the LA Food Bank, the Food Bank of New York City, the Red Cross, Scleroderma Research Foundation, and all of the charities that we need to take care of right now."
Bob Saget stays in touch with the Olsen twins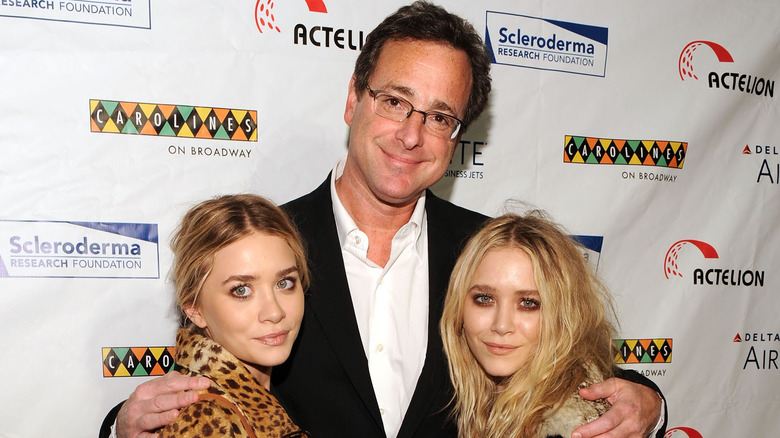 Mary-Kate and Ashley Olsen stole the show when they took turns playing Michelle Tanner on "Full House." After a gradual move away from acting in the late 2000s, the actors completely shifted their focus to their fashion careers. The Olsen twins famously opted out of the "Fuller House" reboot, where they each could have portrayed Michelle Tanner as an adult. Bob Saget supports Mary-Kate and Ashley's decision. 
He discussed the twins when Andrea Barber, who played Kimmy Gibbler, was a guest on his podcast, "Bob Saget's Here for You." "Some people were upset that Mary-Kate and Ashley didn't join 'Fuller House,' but I don't understand why people didn't understand that they didn't wanna act," Saget told Andrea Barber. Barber agreed, and Saget added, "It's sad for the fans, but they have to do what's right for them and for what makes them happy, and they're so successful and their clothes are so damn cool. They're literally, like, amazing." Kelly Rizzo even wears some of the Olsen twins' fashions.
Bob Saget sees Mary-Kate and Ashley Olsen when he goes to New York and considers them his friends. "I kind of got the whole thing of everything they're about," Saget said on "Inside of You with Michael Rosenbaum." The twins have come a long way since Saget first changed their diapers.
Bob Saget and Norman Lear go way back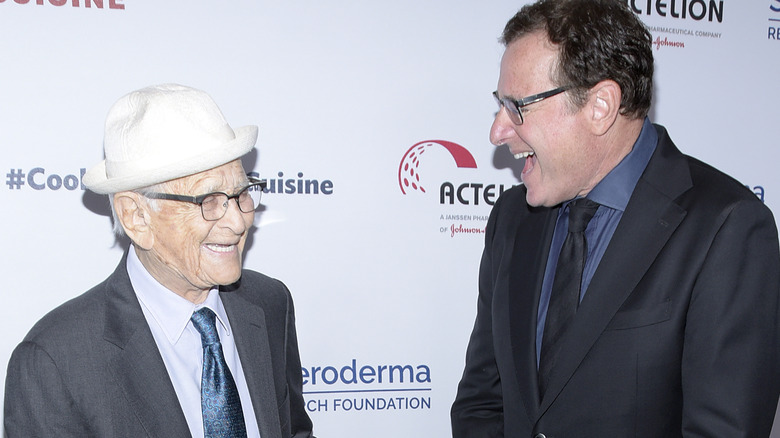 Bob Saget balances his comedy and television careers well, often bringing the two together. Saget has drawn inspiration from a true film and television icon: writer and producer Norman Lear.
Lear created one of the most important television universes in history, and Bob Saget has been a fan for as long as he can remember. As Saget recounted to LA Weekly, he once attended an "All in the Family" taping, calling it "live theater done to perfection."
In 2018, Saget presented Lear with a Lifetime Achievement Award, and the two remain good friends. When Lear celebrated his 98th birthday in July 2020, Saget didn't miss a beat. He expressed his love for Lear on Instagram with birthday wishes and a heartfelt sentiment: "He is a gift to all who have the good fortune to know and love him. Norman is a genius who changed television and more significantly, lives." And on an episode of "Bob Saget's Here for You," Saget told Lear that the beginning of their friendship "was one of the greatest moments of my life," to which Lear said, "Well, it cuts both ways."
From Wake Up San Francisco to Bob Saget's Here for You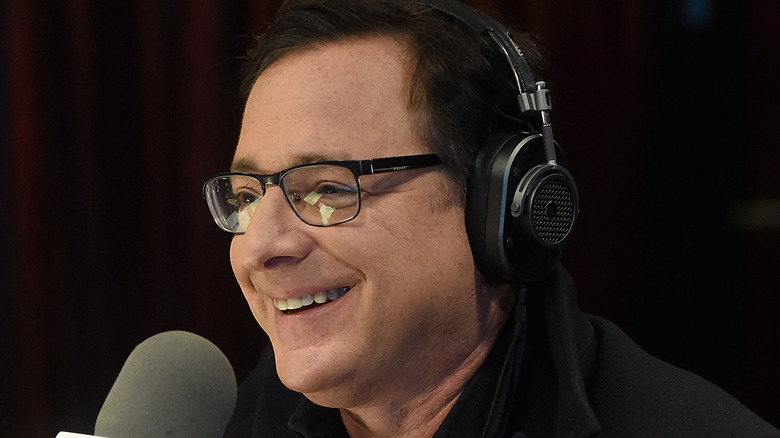 "Full House" fans know all about "Wake Up San Francisco," the show-within-a-show that Danny Tanner hosted with Aunt Becky. All kinds of guests and musical acts (including Jesse and the Rippers) appeared on the fictional program.
It's too perfect that Bob Saget played a talk show host for all those years and now hosts his own podcast in real life. "Bob Saget's Here for You" presents an honest conversation between Saget and each of his guests. Along with friends and industry legends like Norman Lear and Bob Newhart, Saget has invited much of his "Full House" family to be on the pod: Candace Cameron Bure, Jodie Sweetin, Andrea Barber, Dave Coulier, and John Stamos have all been featured as guests. Saget started the podcast in April 2020 and made it a weekly commitment.
And it sounds like just the content you'd hope for from the real-life Danny Tanner. His Apple Podcasts bio reads, "Bob is the dad with great advice, the irreverent funny guy who's always there when you need a laugh, and the free-associative Bob who goes off on crazy tangents then returns to the subject at hand, as serious or as comedic as it may be, to wrap up each episode in a way only Bob can do." Some episodes are also available in video format on YouTube.
Bob Saget is there for Lori Loughlin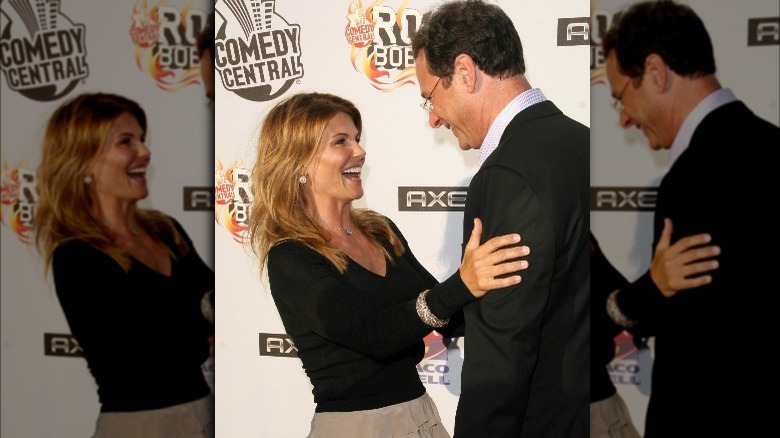 "Full House" stars have been hounded about Lori Loughlin since the Varsity Blues college admissions scandal broke in 2019. For their part in Varsity Blues, Loughlin and husband Mossimo Giannulli paid Rick Singer to secure Olivia Jade and Bella Giannulli's admission to the University of Southern California. The daughters were fraudulently positioned as crew team recruits. Loughlin and Giannulli both served time in prison.
Through continual questions, Bob Saget has shown his love and support for Lori Loughlin. In 2019, Saget said to Us Weekly, "I don't cut people that I love from my life unless they shot me in the eye." He added, "No matter what, everyone does something in their life that comes out in the press — no matter what we do. I just love her and I'll always love her." Per Page Six, Saget has texted Loughlin directly that he loves her.
The topic of Loughlin arose when Saget was a guest on "Inside of You with Michael Rosenbaum." Rosenbaum pointed out that he and Saget were each on TV series "with someone who got in trouble" before naming Loughlin, as well as "Smallville" actor (and NXIVM participant) Allison Mack. When Rosenbaum asked Saget if Louglin's scandal was a surprise to him, Saget repeatedly said, "I love her." He continued, "I've been asked it a lot, I've gotten whittled down…I don't know. I'd like to see a lot of other people doing time."
A shift in Bob Saget's comic stylings?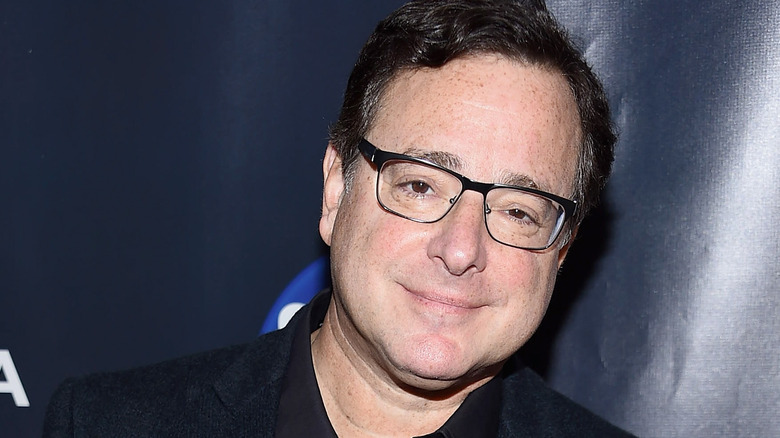 Bob Saget might be moving away from the "Dirty Daddy" title that he used for his 2014 memoir. When Saget answered questions for the Houston Chronicle's Preview about his return to the stand-up stage in 2021, he suggested he might be a little milder than he once was: "Well, I'm finding myself doing more family-friendly material. Or maybe not. Maybe it's just because families basically all curse at each other now. But it's no bluer than 'South Park.' But I'm loving being out there now." Saget also told Preview that he has "enough comedy for a lifetime" without using "COVID material. It's been too difficult with too much loss. People don't want to hear that." The former "America's Funniest Home Videos" host wants to "find a creative way to entertain people. To be as funny as I can in this climate. That's a challenge. But it's also an amazing gift to be given that opportunity," he explained. He has the right idea about entertaining creatively for the times.
In 2019, Saget was already dialing the dirty jokes back, telling The Barre Montpelier Times Argus, "I used to have an HBO special in which I told a couple stories that became, 'Tell the story about the donkey.' It's like no, we've had enough of the donkey. Let's not go there." 
Saget's had "enough of the donkey" and is happy to share comedy in a world that needs it, even if it means he's cleaning up his act.
Bob Saget loves being a dad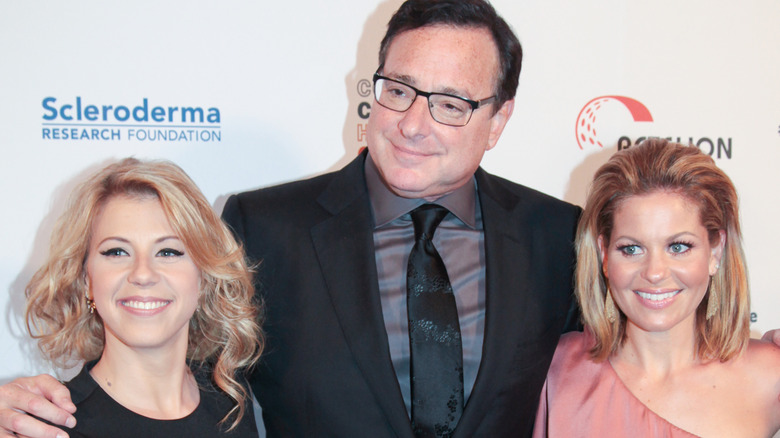 For Bob Saget, life imitates art in some ways. Mirroring Danny Tanner's TV family, Saget has three daughters in real life. When Jodie Sweetin was a guest on "Bob Saget's Here for You," Saget discussed his children. "My kids are artists…All of them are so special. But the thing is, they have a savviness to humor because comedians were always over the house, and they were always with comedians and actors, and so there's, they got enough taste of it to know they didn't wanna be in show business," Saget explained. 
Between his biological kids and the now-adult kids who became like family, several people have called Bob Saget "dad." On his podcast, Saget told Jodie Sweetin how proud he was of her, and then shared that one of his favorite "Full House" episodes was the one where Jodie, as Stephanie Tanner, "drove the car through the kitchen." Sweetin recreated that scene for a "Fuller House" Thanksgiving episode. 
Bob Saget was also sentimental seeing Candace Cameron Bure in DJ's wedding dress for the big "Fuller House" wedding, writing on Instagram: "It's so interesting to me how emotional I got and how much I enjoyed walking DJ down the aisle at the end of @FullerHouse. Maybe it's just 'cause I love Candace. And DJ. So lucky to be such good friends with her all these years."  What a cool dad.
How Bob Saget really feels about being Danny Tanner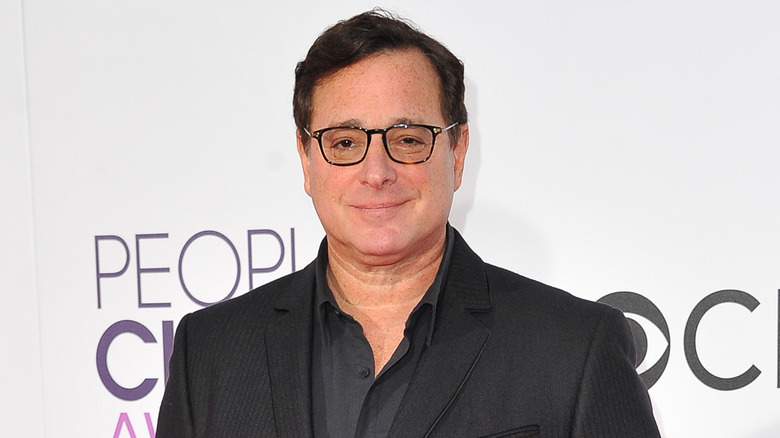 What is it like to play an iconic TV dad? Bob Saget would know, since he played the role of Danny Tanner on two sitcoms. And ahead of the first "Fuller House" Season 5 table read, he offered a tearful tribute to the character and the series.
"I wanted to be on a really good sitcom," he said in a video Andrea Barber took and posted on YouTube. "I became Danny Tanner and for years, you'd kind of fight a character that you're pegged because a sitcom is not like a movie … I'm so proud to have been able to raise these girls and know them since they were like my girls, like my own daughters … And we would look forward to our scenes together 'cause they were so real. This was at the very, very beginning." He also remembered that Jodie Sweetin would have sleepovers with his real-life daughter Aubrey Saget.
As Saget told Barber on his podcast, many "Full House" fans have more or less followed in Kimmy Gibbler's footsteps. "People call me Mr. T. constantly," he said. "Like if I'm on a TikTok, comments will be like 'Hey, Mr. T.' …it's a weird thing to walk around in this Big Bird suit that I'm in that is Danny Tanner, that is Mr. T. to people." There's nothing quite like seeing Bob Saget joke with his longtime cast mates. He seems to have embraced Danny Tanner without sacrificing what makes him Bob Saget.
Source: Read Full Article