Sharing positive update from the first project in the new DC Universe, the DC Studios co-chairman says that 'costumes, production design, and more now up and running.'
AceShowbiz -While still waiting for the release of his latest Marvel movie "Guardians of the Galaxy Vol. 3", James Gunn is already moving on to his next project. The filmmaker has announced that pre-production on "Superman: Legacy" has officially begun.
Sharing the news via his social media pages on Tuesday, April 18, the filmmaker posted a picture of the script which he wrote, but it only showed the cover page. "I'm honored to be a part of the legacy. And what better day than #SupermanAnniversary Day to dive fully into early pre-production on #SupermanLegacy?" he wrote in the caption, adding, "Costumes, production design, and more now up and running."
Over on Twitter, Gunn also engaged in a conversation with fans who wondered who gave him notes on the script if he, at the same time, is the co-head of DC Studios. "Listening to constructive criticism is the lifeblood for any writer," he responded to the question.
"So as the head of DC Studios, I give the script to people I trust (like my exec Chantal Nong or DC comics writer @TomKingTK) and get their thoughts about what works well and what could work better so I can improve the script," he explained. "I've always tried to take the notes that will actually make the film better and I argue about the ones I think won't work."
Gunn went on sharing, "This process has worked for me because I have been blessed in the partners I've chosen to work with – we are all moving towards one thing: making the movie better. And I can put my ego aside and be open when I need to be and convincing when I need to be."
"I KNOW this is not the case for everyone (and it wasn't always the case for me as a writer)," the 56-year-old noted. "Again, I'm blessed in this way. But that's how notes work, and I'm not going to suddenly stop taking them because I'm the head of a studio. #writing #SupermanLegacy."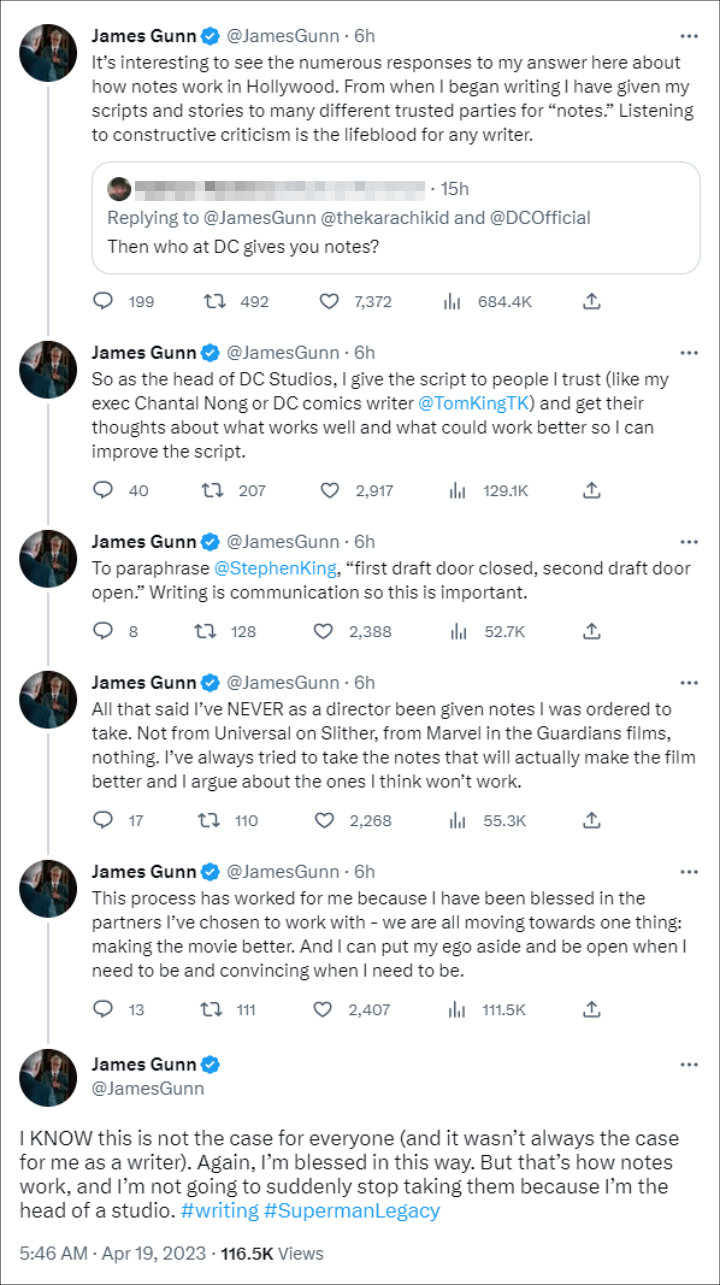 James Gunn responded to a fan's question about who gave him notes at DC.
Gunn will also serve as director for "Superman: Legacy" based on the script he co-wrote. The film marks the first project in the new DC Universe as supervised by Gunn and his DC Studios co-head Peter Safran.
There's still no official announcement on who will play Superman, but it has been confirmed that Henry Cavill will not be returning for the new movie because it deals with the character's early days. The film is expected to be released sometime in 2025.
You can share this post!
Source: Read Full Article