After it's announced that the Dean depicter is developing the new potential spin-off series, his former co-star tweets he's 'happy' for him, but wishes that he'd been informed beforehand.
AceShowbiz -Is Jared Padalecki and Jensen Ackles' close-knit brotherhood is going to be torn apart by the new "Supernatural" series. The former Sam Winchester depicter has admitted that he is "bummed" to learn about the prequel that is being developed by his former on-screen brother along with his wife Danneel Ackles.
Catching wind of the news, Jared took to his Twitter page to react to the potential spin-off series. While he is "happy" for Jensen, he wishes that he had been informed before he found out about it on Twitter.
"Dude. Happy for you," so Jared wrote on Thursday, June 24 along with a link to an article about "The Winchesters". He added, "Wish I heard about this some way other than Twitter. I'm excited to watch, but bummed that Sam Winchester had no involvement whatsoever."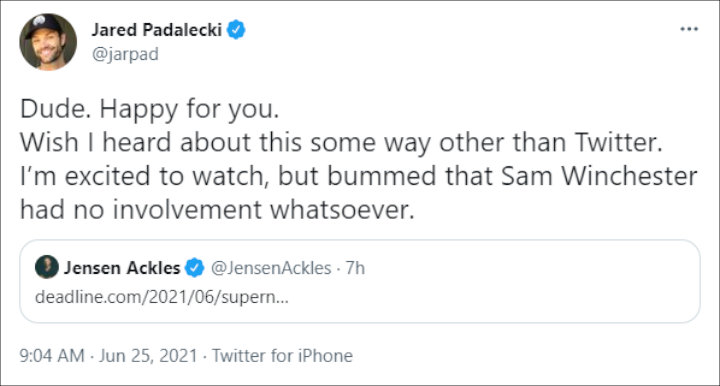 Jared Padalecki was 'bummed' to learn of the 'Supernatural' prequel.
Given the two actors' close friendship, a fan thought Jared was joking with his tweet. "this has GOTTA be a bad joke hello @jarpad @JensenAckles this ain't it sirs we're freaking out," the fan asked for confirmation.
The 38-year-old then assured that it was his honest reaction to the news, replying, "No. It's not. This is the first I've heard about it. I'm gutted."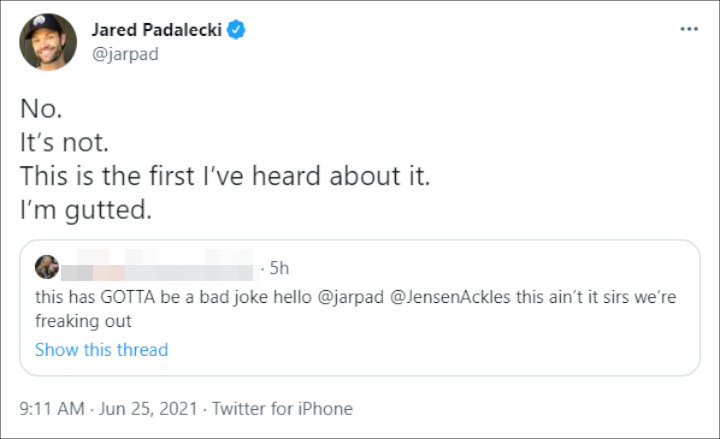 The Sam Winchester depicter said his initial tweet was his honest reaction.
It remains to be seen how Jared and Jensen will sort out this little issue, if there is indeed any. The two portrayed the ghost-hunting Winchester brothers on "Supernatural" from 2005 until the series finale in 2020. Following the end of the series, Jared now headlines "Walker", a "Walker, Texas Ranger" reboot series, on The CW.
As for Jensen, he is set to executive produce "The Winchesters" along with his wife Danneel Ackles. Described as an "epic, untold love story," the prequel would explore how the Winchester parents, John and Mary, met and "put it all on the line to not only save their love, but the entire world." Jeffrey Dean Morgan and Samantha Smith played the couple on the original series. Their involvement on the prequel is still unconfirmed, but Jensen will return as Dean to narrate the show, which is told from his perspective.
The network has handed out a script commitment to the drama, which hails from "Supernatural" writer Robbie Thompson. Robbie is also executive producing alongside the Ackles couple.
Source: Read Full Article