At the end of last year, Nicole "Snooki" Polizzi announced that she would not return to Jersey Shore: Family Vacation for another season. While the show certainly won't be the same without this fun-loving meatball, Polizzi's reasons for exiting the show are understandable.
Fear not, Jersey Shore fans — cast mate Angelina Pivarnick has the answer to Polizzi's removal from the series. In a recent interview with E News, she suggested who could replace Polizzi on Jersey Shore: Family Vacation.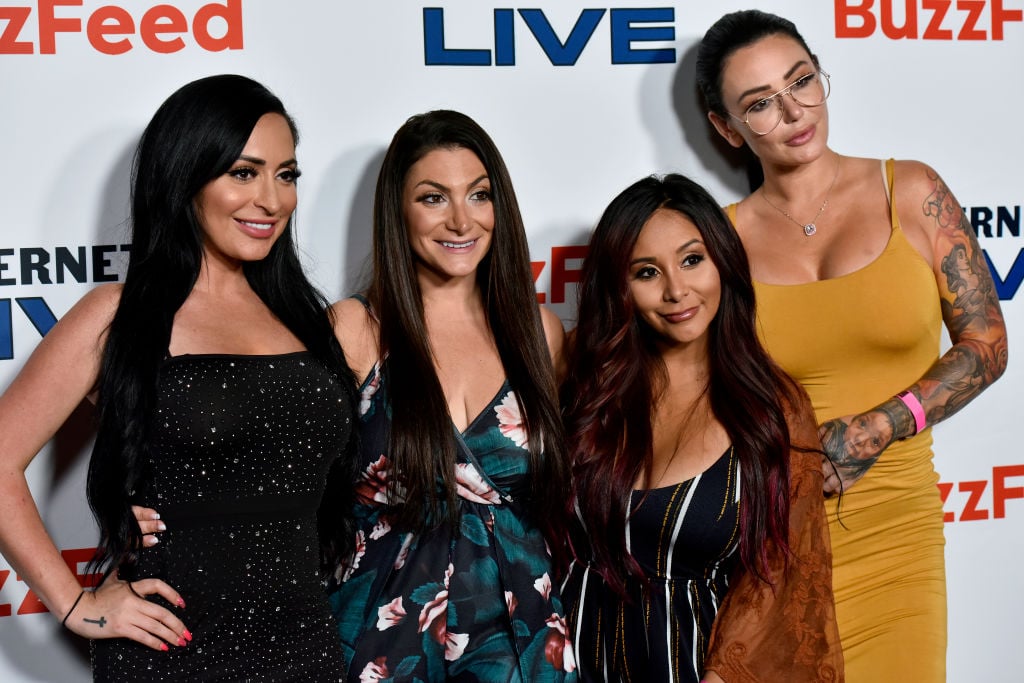 'Snooki' announced she was done with 'Jersey Shore'
In a discussion on her podcast, It's Happening With Snooki & Joey, Polizzi said "I am not coming back to Jersey Shore [Family Vacation] for a season 4 if there is one." Of course, her three children were a major deciding factor: "I wanna be home with the kids. You know, like, I don't mind here and there going to a dinner or whatever, but it's just really hard on me to leave the kids and film the show." 
Polizzi also pointed out that she can no longer party three days in a row. "It's just not my life anymore," the pickle-loving Jersey Shore alum explained. "There's a lot of reasons why [I'm leaving], but the main reason is really … I'm just like, I just can't do it anymore," the mother of three admitted. 
Angelina's suggestion for 'Snooki's replacement
In an interview with Pop of the Morning, Pivarnick defended Polizzi's decision to leave the show. "She has three kids. I mean, it must be hard for her to leave her kids to actually film. She has a newborn at home," Pivarnick conceded. She empathized with Polizzi, joking about the difficulty she has leaving her pets at home to film. 
Many people are wondering who will replace Polizzi once she's gone. If MTV decides to continue the series, will they carry on without their head meatball, or will they bring someone else in to fill her spot?
When asked about Polizzi's replacement, Pivarnick invited Lilliana Vazquez to join in on the fun: "Do you want to replace her? I mean, I gotta go with the girl right here," the reality star quipped to the other E News reporters interviewing her, Victor Cruz and Scott Tweedie. 
Delighted at the prospect of being part of Jersey Shore: Family Vacation, Vazquez gleefully stated: "We can get our nails done in Jersey." Pivarnick is sad to see her roomie go, though. "I understand if she wants to leave. But, hey listen, we are family at the end of the day, and it sucks. I wouldn't want anybody to leave," she said.
Will there be a season four of 'Jersey Shore: Family Vacation'?
From what we've seen throughout Family Vacation, this group definitely still knows how to party. But will they want to party without their favorite meatball around? 
Polizzi isn't the only parent on the show. Deena Cortese and Ronnie Ortiz-Magro both have babies at home, and Pauly DelVecchio and Jenni "JWoww" Farley are both parents as well. It's likely they all struggle leaving their families when it comes time to film a new season. And with Mike "The Situation" Sorrentino finally out of prison, he and wife Lauren Pesce are wanting to start a family together.
The truth is, only time will tell if there's going to be a fourth season of Family Vacation. 
Source: Read Full Article