Mike "The Situation" Sorrentino is enjoying his life as a free man. The Jersey Shore: Family Vacation star spent eight months behind bars for tax evasion, and he's used the time to better himself even more. Sorrentino recently appeared alongside co-star Angelina Pivarnick on Good Day New York, where the two discussed everything from the last person they texted to their celebrity crushes.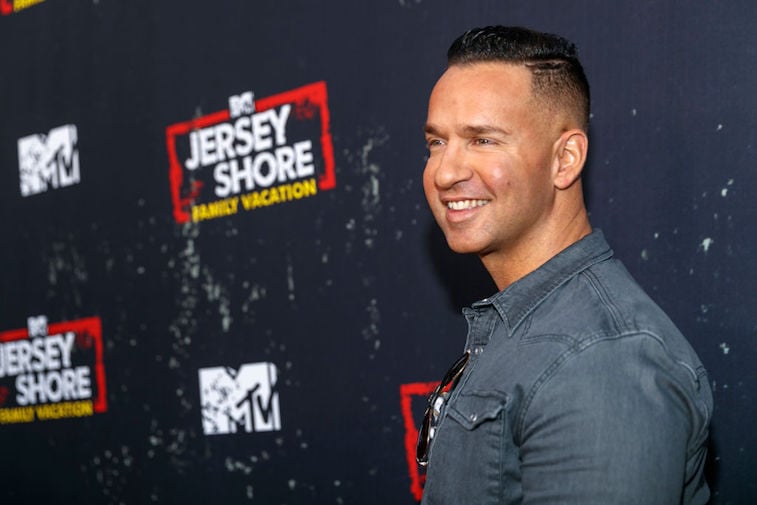 Sorrentino has been through a lot since 'Jersey Shore' started
When Jersey Shorefirst premiered back in 2008, nobody could have guessed the massive franchiseit would turn into. It was easily MTV's most successful show of all time, and ithas resulted in various spinoffs. These days, Jersey Shore: Family Vacation is in full swing, and Sorrentino isstill one of the stars, despite battling a tough past to get where he is today.
When the show first aired back in 2009, Sorrentino was hit with a lot of money and fame all at once. It led him to make some bad decisions, and he eventually became addicted to drugs. Sorrentino and his brother also opted not to properly report their income, which led to a charge for tax evasion — and landed Sorrentino in jail.  
His roommates — and wife — stayed by his side through the whole thing
As time went on, Sorrentino realized he needed to betterhimself. His now-wife, LaurenSorrentino, was his high school girlfriend, and when the two rekindledtheir romance, she worked hard to help him become a better man. And despite allthe drama he had caused in the JerseyShore house, his roommates were rooting for him as well.
The roommates attended all of Sorrentino's court dates and visited him in jail whenever possible. When Sorrentino was released, his wife and the roommates were there to greet him upon his exit for freedom.
Sorrentino revealed that his wife is his celebrity crush
Sorrentino and roommate Angelina Pivarnick both appeared on Good Day New York on February 27 to discuss the premiere of the newest season of Jersey Shore: Family Vacation. Good Day hosts Rosanna Scotto and Lori Stokes asked the two various questions, such as the last person they texted and the craziest moment from the upcoming season. But they also asked for each cast member's celebrity crush.
Pivarnick had no trouble coming up with hers: Leonardo DiCaprio. She said she met him many years ago when the show first started and that she's always been a huge fan. But Sorrentino wasn't so quick to answer. He said that since he's still "newly married" he doesn't really have a celebrity crush. "My wife is my celebrity crush. I love you honey," he said.
Sorrentino and Pivarnick hinted at a lot of drama in the show's newest season
When asked about the show's newest season, which premiered onFebruary 27, the two seemed to hint that therewas a lot of drama. Specifically, Pivarnick said something major went downat her wedding — but she wouldn't spill any details. She did say, though, thatdespite fighting with some of the women in the house, they're all family, andfamily ultimately moves past their problems.
Source: Read Full Article