LeBron James' Hollywood connection is nothing new to those who have paid attention to the NBA star's career. A national phenom before he ever finished high school, James has used his earnings in the NBA and as a pitchman to build an empire that stretches far beyond sports. One entertainment acquisition his production company made could make him a killing of a different kind.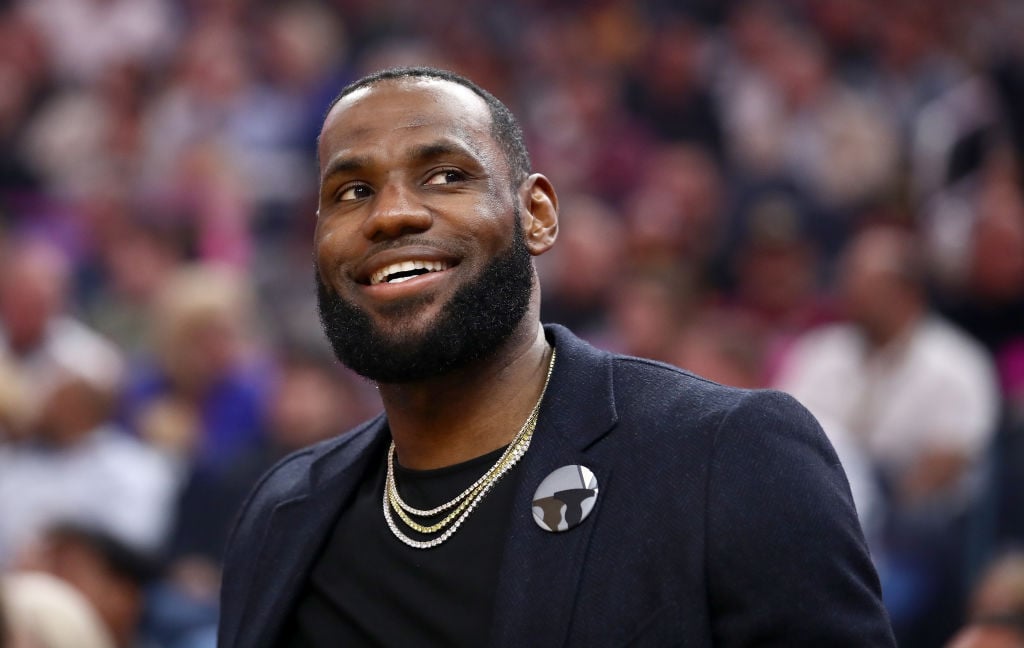 LeBron James goes to Hollywood
James' imprint on Hollywood was already there long before he joined the Los Angeles Lakers. A natural pitchman from an early age, James became bigger than basketball and Nike shoes. He became a brand unto himself. His commercials focused on this by having a more cinematic feeling than the average shoe ad, as reported by LA Times.
James went on animated adventures, played multiple versions of himself, and got into puppet-based duels with Kobe Bryant. As he grew older, however, his connection to Hollywood grew bigger and bigger. A 2015 appearance in the Judd Apatow comedy Trainwreck showed that he had acting chops, but James was becoming bigger than cameos in comedies. He was growing into his own entertainment company.
SpringHill Entertainment wasted no time producing films, television shows, and online content after its inception. Through the production company, James was able to bring the long-gestating Space Jam sequel to life and produce several documentaries about essential topics. Comedies, dramas, films, and game shows all bore James' name in their credits. 
Lost in all the hype, however, was one particular franchise that James acquired the rights for.
Friday the 13th
RELATED: LeBron James Has Always Shown an Interest in Cinema
Friday the 13th has now been a part of the international lexicon for forty years. The original film, which starred a young Kevin Bacon alongside several other actors who were picked off by an angry killer, spawned a franchise that lives until this day. Although the original film saw an older woman named Pamela Voorhees as the killer, the rains of the franchise eventually went to her son, Jason. 
Jason, who picked up a hockey mask in the third film of the franchise and proceeded to kill promiscuous teenagers and innocent bystanders for decades onward, became an iconic villain. He died more times than most people could count but always came back in the name of murder. He's been to space, battled Freddy Krueger, and taken to Times Square during his cinematic lifespan. Jason has also appeared on toys, video games, television, and more mediums than anyone can imagine.
The last attempt at a film came in 2009 when the series was rebooted for a modern audience. Since then, it has been in a complicated battle over ownership. 
LeBron meets Jason?
Although James' involvement will likely start and end with a producer credit, he made news after acquiring the rights to film a new movie in 2018, according to Variety. The movie industry had recently seen the successful reboot of the Halloween franchise, and this likely influenced James and company to hop on the bandwagon. 
While Space Jam 2, NBA 2K20, and several other properties are significant steps in SpringHill's journey to legitimacy, Friday the 13th is its biggest acquisition yet. James and company have a chance to revitalize a franchise that has made millions of dollars and worked its way into the folklore of horror history. 
It could be a while before fans of the horror franchise get to see their beloved Jason take the screen, however. Jason's complicated on-screen folklore makes the rights to his likeness as a character a chore to figure out. Original screenwriter Victor Miller owns the rights to the original movie and all of its characters. Some could argue, however, that Jason is a different story. 
Whatever happens, James' interest in the franchise show he is not here for ceremonial inclusions into major Hollywood events. He wants to be a power player, and if everything goes right, Friday the 13th could be his ticket to all of this. 
Source: Read Full Article