Bella ciao! Bella ciao! Bella ciao ciao ciao! Netflix finally dropped its official full trailer for La Casa de Papel/Money Heist part four. It's bananas. If you weren't ready to watch the series before, you definitely are now.
They promised chaos, and in two minutes, they pack in explosions, in-fighting, death teases, and an escape that changes everything.
With so much to digest, fans are biting their nails and wondering if the Money Heist gang will actually prevail this time. Here are some things that have everyone concerned.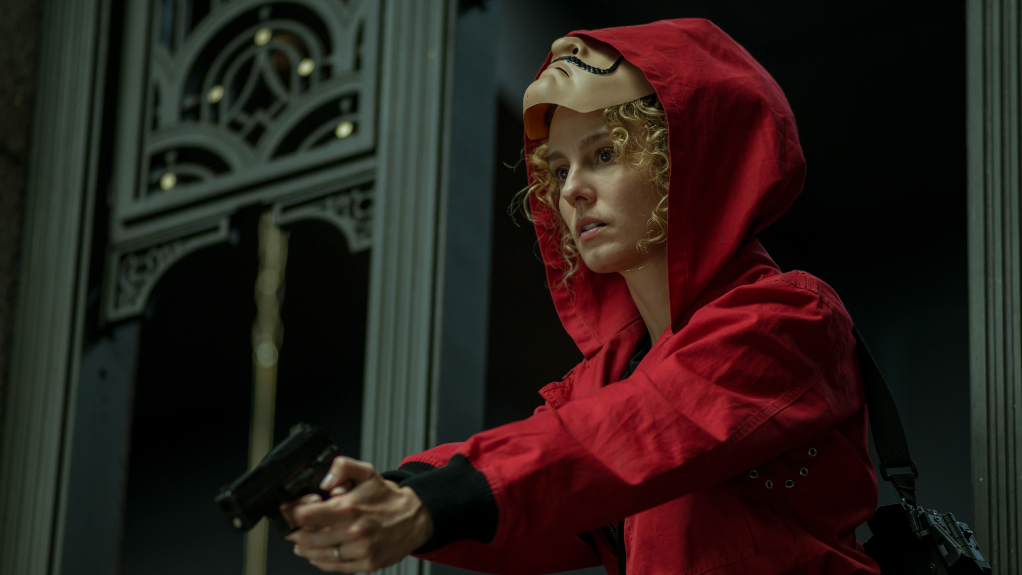 Will Raquel snitch?
Before she and Professor became lovers, Raquel was the crime-fighting inspector on one side of the law. She defected from the force, joined the resistance squad and in part three, became Lisbon, the gun-toting mastermind's girlfriend.
Now she's caught and Professor doesn't know she's alive. In the trailer, Alicia is threatening her with prison time, and Raquel looks torn. She has her kids and mother to worry about, but Professor changed her life.
Is that love enough to keep her loyal to him and the rest of the group? Or will she trust Alicia and choose freedom?
Some fans are worried that Raquel will break down and betray the robbers, but some think there's a contingency plan in place for this situation. The Professor has a habit of preparing for the worst-case scenarios, so maybe it will be time to activate the "Just in case we get caught" plan.
Will Rio and Denver die?
So much is going on this trailer, and the war that's emerginginside the Bank of Spain has everything to do with its head of security, Gandía.He escapes from his handcuffs, suits up, and goes on a rampage shooting up theplace and tossing grenades.
One quick shot shows a grenade rolling into an elevator withDenver and Rio, and immediately after that, there's an explosion in theelevator shaft.
Fans can't bear to think that both of them will die in thisinstallment of La Casa de Papel, but there have been casualties on theteam in the past, including Denver's dad, Moscow.
Who's going to be able to escape alive?
Viewers who've been down with Money Heist since day one are aware that no one's survival is guaranteed. Berlin, Moscow, and Oslo are examples of that, and now Nairobi's life is on the line.
But as you see from the clip, Tokyo gets shackled by Gandía, there's a rope around Helsinki's neck, and Palermo, a wild card, is reminded about keeping his word.
Marseille is still on the outside, and he seems to be theonly one who can stealthily help the group swim, ride, or fly away from thebank, but how? Fans are justifiably worried that those who walked into thisheist alive are not all going to walk out.
The trailer is just a glimpse, but it looks like so manythings go wrong that it will be difficult for all of your favorite charactersto outsmart their foes make a clean getaway. Let's all hope Inspector Sierra goesinto labor and leaves the investigation early.
Rumors abound that La Casa de Papel is poised to return for a fifth season, and if those are true, fans should be prepared to head into it without some of the original crew. The series arrives on Netflix on April 3.
Source: Read Full Article