When legendary grunge band Pearl Jam gives your show a shout-out, you know you must be doing something right. The Apple TV+ series Ted Lassocaught the attention of band members when they were mentioned in a recent episode of the award-winning show.
Part of the charm of Ted Lasso is the constant clever references to books, bands, movies, and anything else relatable to pop culture. Fans and celebrities alike love it, and they can't seem to get enough of the witty banter that occurs on social media after the episode airs.
What makes 'Ted Lasso' so popular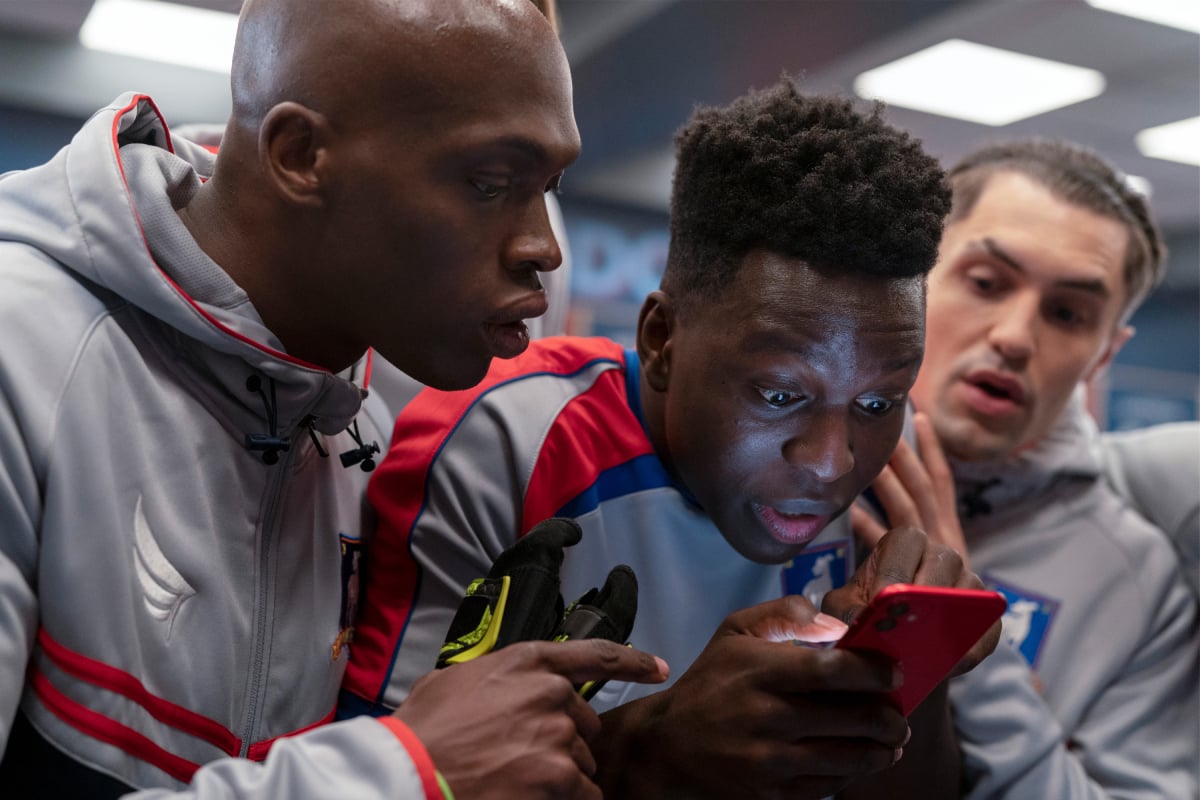 Ted Lasso is a feel-good series that encourages happiness and inspires others to be kind. It is devoid of guns and violence found in many of today's shows. People love to laugh along as Jason Sudeikis' character, Ted Lasso, portrays an American football coach who finds himself coaching an English soccer team. Filled with optimism, he helps turn the team around by working together.
Currently, in its second season, Ted Lasso has become a favorite among celebrities who enjoy hearing their name called out on the popular show.
For The Win explained, "There's something about Ted Lasso that feels real and relatable, in part because of the celeb name-drops, or because it's so feel-good that in the middle of a rough year, we want it to be."
Pearl Jam is a fan of 'Ted Lasso'
In Season 2, Episode 6, titled "The Signal," Lasso and Coach Beard (Brendan Hunt) are talking about the competition in the FA Cup. It is a March Madness-style tournament with teams from across the country.
According to TV Show Transcripts, the coach refers to the competitors as "Davids versus Goliaths" and "Rockys versus Apollos." When Lasso asks the coach for another one, he says, "Pearl Jam versus Ticketmaster." Lasso responds, "Mmm. Classic battle of art versus commerce right there."
It is unclear if frontman Eddie Vedder was watching the show, but the Pearl Jam Twitter account responded, "@TedLasso getting into the spirit tonight! Amazing episode."
NowToronto explains how in the mid-90s, the hugely successful band, Pearl Jam, took a stance against Ticketmaster, "specifically taking issue with the massive surcharges the vendor was levying against consumers." The band filed an antitrust complaint and boycotted any venue that used Ticketmaster as a vendor.
Ryan Reynolds sent a cease and desist notice to 'Ted Lasso'
Deadpool actor Ryan Reynolds and Rob McElhenney from It's Always Sunny in Philadelphia recently purchased the Wrexham Association Football Club for $2.78 million. According to Inside Hook, the new owners are behaving like Lasso and "will cover the money that the team's employees lost when they were furloughed due to COVID-19."
On a recent episode of the hilarious comedy, Higgins (Jeremy Swift) tells Rebecca (Hannah Waddingham) that he just got a call from the "showbiz magnates" that are the AFC Wrexham's new owners. He says, "I can't tell if them buying the club is a joke or not."
Mashable reports the actors got a kick out of being referenced on the show and issued a formal letter in response. It read, in part, "We must insist that you cease and desist from the casting of any doubt regarding our commitment to the club, the fans and the entire Wrexham community."
The letter, which was clearly in jest, stated, "to avoid legal action, please send 2 LARGE boxes of Ted Lasso's biscuits to the Racecourse Ground." Apple TV immediately responded, "Our team of 2,000 lawyers are furiously baking as we speak."
The Wrexham AFC Twitter account later posted a picture of several team members holding pink boxes of biscuits, writing, "A man of his word, thanks @Ted Lasso. Better late than never, 50 boxes of forgiveness are gratefully accepted."
In true Ted Lasso fashion, the show responded on Twitter, writing, "Croeso gents! Like I always say about the films of James Cameron, if you can't be on time, at least be big."
Source: Read Full Article