Back in the days of yore, I imagine couples spent time together reading books and playing board games and doing puzzles. Maybe they even hung out and just—gasp—had a conversation?! Thankfully, because of the glorious magic of streaming services, those of us partnered folks don't have to participate in any of that nonsense anymore. Everyone is out here binge-watching Netflix with their S.O. and yelling at each other when one of you secretly watches the next episode solo. (Cut it out, it's rude.)
Choosing which show you'll jointly devote hours of your life to can be tricky. It's gotta be something that you'll both like (duh), which means the two of you have to be equally on board with some true-crime dark sh*t or the esteemed genre of dumb reality TV. Because times are tough and your relationship is probs hanging on by a thread, I decided to do you a solid and take the guesswork out of selecting your next show. Here are 28 addictive Netflix shows to watch as a couple.
Stranger Things
Stream Now
This series has got everything: supernatural powers, a creepy government lab, dark secrets, awesome '80s style, and a group of way cute, way lovable kids. After Will Byers goes missing from from his Indiana town and a young telekinetic girl shows up, his friends, family, and the local police search for answers, but quickly find themselves in the midst of a top-secret government experiment. (BTW, if you haven't already watched this show at least once…what are you doing with your life?!)
Love Is Blind
Stream Now
If you're looking for something that'll immediately make you feel better about your own relationship, this. is. it. This reality show is based on the premise that singles will speak to, develop relationships with, and get engaged (!!!) to each other without *ever* meeting face-to-face. It's as entertaining as it is WTF-worthy.
Schitt's Creek
Stream Now
The suddenly broke (but formerly loaded) Rose family finds themselves having to taking up residence in the, shall we say, quirky Schitt's Creek—a town they once purchased as a joke. You'll be LOLing watching Johnny, Moira, and their two adult children, David and Alexis, try to navigate life without money.
Tiger King
Stream Now
If you haven't seen all the Tiger King memes by now, check to make sure your wifi is still working! This show is full of truly wild twists and insane turns. It follows roadside zoo owner Joseph Maldonado-Passage (aka Joe Exotic) and his sworn enemy, the sanctuary owner Carole Baskin. There are animal rights issues, creepy cult-like relationships, wildly unsafe working conditions, an insane presidential campaign, and a possible murder. Need I say more??
Mindhunter
Stream Now
If Criminal Minds was your jam back in the day, you'll love, love, LOVE Mindhunter. It tells the (mostly) true story of how the FBI developed its serial killer profiling technique by interviewing some of the country's most infamous killers, from Ed Kemper to Charles Manson. The casting in this show is so eerily spot on that you'll feel like you're watching the actual OG interviews with the killers.
The Crown
Stream Now
Newlywed 25-year-old Queen Elizabeth has a lot going on, like, you know, taking over the most famous monarchy in the world. This series delves into all the drama the royal family has dealt with over the years—and trust, there's plenty of it—that you probably have never even heard about.
Mad Men
Stream Now
It's the '60s in New York City and the womanizing Don Draper is an extremely talented executive at a prestigious advertising agency. The show follows Draper's heavy-drinking, chain-smoking antics as he deals with people in his personal and professional lives.
Breaking Bad
Stream Now
When high school chemistry teacher Walter White develops stage 3 lung cancer, he and his former student Jesse Pinkman start cooking and selling crystal meth to make sure his family is set up financially once he dies. It's five straight seasons of non-stop drama, suspense, and a little humor that's honestly a must-watch for any couple.
Big Mouth
Stream Now
Adult cartoons might not usually be for everyone, but this show totally is. You've got Nick Kroll and John Mulaney playing pubescent boy who are hilariously tryna figure out their bodies and stuff, while a sassy hormone monstress (Maya Rudolph) intrudes on the pre-teens' lives. What more could you want?
Cheer
Stream Now
If you're dating someone who doesn't think cheerleading is a "real" sport, they'll promptly change their minds after streaming Cheer. The Navarro cheer team is one of the best college teams in the country, and they take their sport seriously, enduring intense practices, pushing through painful injuries, and abiding by their coach's strict rules. If nothing else, you'll fall in love with Jerry's infectiously positive "mat talk."
Great British Baking Show
Stream Now
If you want something light, wholesome, and uplifting for a change, there's nothing better than the Great British Baking Show. Watch all of the aspiring bakers try their hardest to nail each of the competitions as you lazily eat store-bought cookies from the comfort of your couch. Side note: there are seven seasons available to stream on Netflix, so you won't get through it too quickly.
The Staircase
Stream Now
After Michael Peterson's wife mysteriously dies, he claims she fell down the stairs and hit her head. But some investigators think Michael might have been responsible. So what actually happened? That's for you and your boo to decide.
Dead to Me
Stream Now
Recently widowed Jen is trying to come to terms with the death of her husband—he was killed by a hit-and-run driver—by attending a group therapy session, where she meets Judy. Judy is there grieving for her fiancé, who died of a heart attack, but she also has a deep dark secret that could change everything. (Dun dun dunnnn.)
The Sinner
Stream Now
Each season follows Detective Harry Ambrose as he investigates a different case. In season 1, Ambrose looks into the past of a very troubled woman (Jessica Biel) to figure out WTF made her stab a man to death at the beach. In the second season, he heads to his hometown after a young boy confesses to poisoning a couple, and he starts to learn about the secrets the townies are trying to keep buried.
The Stranger
Stream Now
Imagine a complete stranger coming up to you and telling you that your wife has maintained a massive lie (I'm talking M-A-S-S-I-V-E lie) for years—and then finding out that she's disappeared. Then you learn that you're not the only person who this same stranger has visited with a crazy revelation. Well, that's exactly what happens to Adam Price. With mystery, thrills, and British accents, The Stranger really has it all.
The Good Place
Stream Now
What do you get when you mix Kristen Bell with Ted Danson? The greatest! show! ever! When Eleanor Shellstop wakes up in the afterlife, she's in the utopia-esque "Good Place." There's just one itty bitty problem…she was definitely sent there by mistake.
Scandal
Stream Now
People who have never even seen Scandal still know the name Olivia Pope. So here's the deal: she's a former White House Communications Director who opens up a crisis management firm in Washington, D.C. For the rich, the powerful, and even the freakin' President, she makes problems go away before anyone ever knows about them.
The Trials of Gabriel Fernandez
Stream Now
Another quick fix for the true-crime junkie couples out there, this docuseries investigates the horrifying death of an 8-year-old California boy who suffered unspeakable abuse from his mother and her boyfriend, and looks at the broken systems that failed to save him. Basically, it's one of those too-horrifying-to-look-away binges.
Riverdale
Stream Now
Archie-comics-meet-murder-mystery in this adaptation that gets weirder and weirder with every new season. If you can really suspend your sense of reality, this is definitely going to be your shared guilty pleasure watch.
Parks and Recreation
Stream Now
If you've already watched The Office more times than you can count (it's okay, we've all been there), allow me to introduce you to a little show called Parks and Rec. It's a similar ensemble cast workplace mockumentary about the Parks and Rec department in Pawnee, Indiana. With Amy Poehler, Nick Offerman, Aziz Ansari, Aubrey Plaza, Chris Pratt, and Rashida Jones taking over your screen, you both will love it.
The Witcher
Stream Now
If Game of Thrones used to be your show, you'll definitely love The Witcher since it's got a very similar vibe. It follows the story of Geralt of Rivia, a lone monster hunter who's trying to find his place in a world where the people are often more evil than the beasts he hunts.
Black Mirror
Stream Now
A miniseries that explores the incredibly dark and effed-up influence that technology could have on modern life. That might not sound immediately intriguing to you, but the production quality is so high and the plots are so inventive that you won't be able to look away. If you two want something to discuss for hours, this is a show that'll spark loads of discussion and debate.
The Office (U.S.)
Stream Now
Even if you've seen it a thousand times, this wacky sitcom never gets old. One of you will love the Jim and Pam romance, and one of you will fall in love with the insane yet human sidekicks. Or you'll both love both. You might both love both. You will probably both love both.
Broadchurch
Stream Now
It's a murder mystery so good that the season two plot was being protected by "unprecedented measures." I can say no more. Once you start, you will not stop. Clear your joint Google calendar, get a cozy blanket to snuggle under and grab a handle of whiskey. You're in for one helluva ride!
Orange Is the New Black
Stream Now
If you want to feel better about the state of your relationship, all you need is a quick dose of Piper and Larry's dysfunctional coupling. Seriously, three episodes in and I was giving my boyfriend a massage and thanking him for not being in prison.
Arrow
Stream Now
If one of you really wants to watch something superhero-y and one of you wants some romance and lovey dovey-ness, Arrow is for you. It's fast-paced, kind of goofy, sweet, and filled with kick-ass hijinks. Best of both worlds.
Sherlock
Stream Now
Classic whodunit vibes and Benedict Cumberbatch. Everyone's happy.
Twin Peaks
Stream Now
If you haven't watched David Lynch's classic crime drama, you are in for a real treat. Log Lady 4 lyfe. You can take bets on who murdered Laura Palmer and whoever guesses correctly can win something. Might I suggest a snack prize that you can eat during your next binge-watch!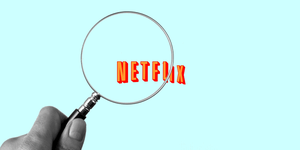 Source: Read Full Article